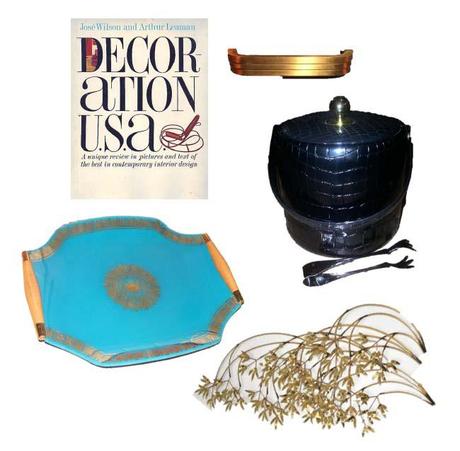 1. "Decoration U.S.A.," by Jose Wilson and Arthur Leaman, 1965. I had to check out this book when I read this L.A. Times article on the decor in Don and Megan Draper's new Manhattan pad on Mad Men.  It was one of the set decorator's main reference materials.
2. Art deco brass handles. These will dress up a pair of Ikea Malm dressers in our hallway.
3. Georges Briard faux alligator ice bucket. This was $6(!!). I love everything about it!
4. Georges Briard turquoise tray with wood handles. I love this turquoise color and the seller came WAY down on the price (86% down).
5. Brass C. Jere-esque wall hanging. I've been stalking these on eBay for a long time. This is a great, large piece.
Hope your week is going well!
XO,
Heather