Eaton's Moeller series xStart range is being upgraded with Push-in technology. This new tool-free connection technology makes wiring even faster, safer and more efficient. The PKZ and DIL solution with Push-in technology offers maximum reliability, can be used anywhere in the world and integrates seamlessly into existing control panel designs.

The PKZ and DIL Range with Push-In Technology - For Faster and More Cost-Effective Wiring:
Technicians and purchasers alike love the new Push-in range Wiring has never been more efficient than with Eaton's motor-protective circuit breaker and contactor range. Push-in technology eliminates the need for tools and is trusted by millions of customers around the world. This simple, tool-free wiring method ensures secure connections and maintenance-free contact points, for optimum efficiency during installation and servicing. The xStart solution with Push-in technology, consisting of our DIL contactors and PKZ motor-protective circuit breakers, makes your job easier while offering global compatibility and maximum reliability.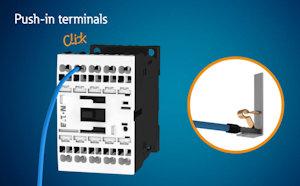 The Trick With The Click - Who Needs Screws?
Push-in technology makes wiring switchgear cabinets faster and more secure than ever - all you need to do is click the components into place. What's more, with a modular system and wide range of accessories, you'll always find the right solution for your needs. The components are small and compact, so you can use them in existing switchgear cabinets and as well as to wire new ones. We even offer a combination Push-in/screw-in solution for use with three-phase busbar links. In other words, Push-in technology makes wiring significantly easier and operations even faster.
Who Ensures Global Operational Reliability? You Do!
With the xStart range and the new Push-in technology, you can ensure operational reliability for customers around the world, thereby reducing downtime to a minimum. You can also help your customers to become future-proof, since Push-in technology is by its very nature ideal for automated assembly processes. The bottom line: Push-in technology is a future-proof and within-budget solution.

Optimise Machine and System Performance:
The Push-in technology offers machine builders and system integrators a number of advantages, the most important of which is simplified manual assembly: The ferrule-terminated cable simply has to be plugged into the terminal, which can be done with one hand and without any tools. Compared to conventional screw terminals, the connection time can thus be reduced by up to 50 per cent.

Future-Proof Your Switchgear Cabinet the Simple Way - With Eaton's Push-In Range:
Trusted by millions of technicians and purchasers around the world, the xStart range from Eaton's Moeller series is at the cutting edge of innovation. Why? Because it makes life easier for technicians and managers, thanks to the simple, efficient and cost-effective Push-in technology. You too can benefit from this win-win effect when you future-proof your switchgear cabinet the simple way.
Enquiry Form: http://www.epreston.co.uk/contact/
Home Page: http://www.epreston.co.uk/epblog/