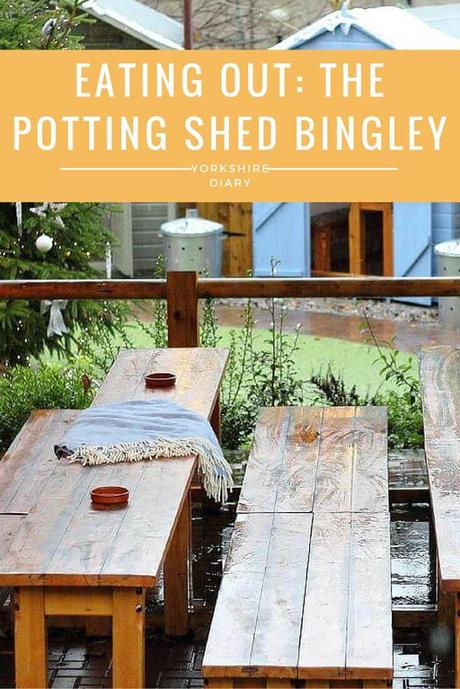 Some weekends I love just getting out of the city, even if it's only for a short morning walk or a bite to eat somewhere. Last Saturday morning I did exactly that and headed out to Bingley as I was kindly invited over to The Potting Shed Bingley to try out their vegetarian menu and decided it would make a perfect Saturday lunchtime trip.
I've talked about Bingley before – though it's a small West Yorkshire town, there's a surprising amount to do there and some great places to eat. My fingers were crossed for Saturday to be a crisp winter's day, the kind where you can wrap up and go exploring, so I could combine lunch at The Potting Shed with finally visiting the Five Rise Locks (a kind of canal "staircase", if you will, with five locks in a row to transport boats up and down the hill). Alas it wasn't to be and the heavy rain made even the two minute jog from the station car park to The Potting Shed decidedly unpleasant, not to mention the huge puddles that flooded the country roads en route.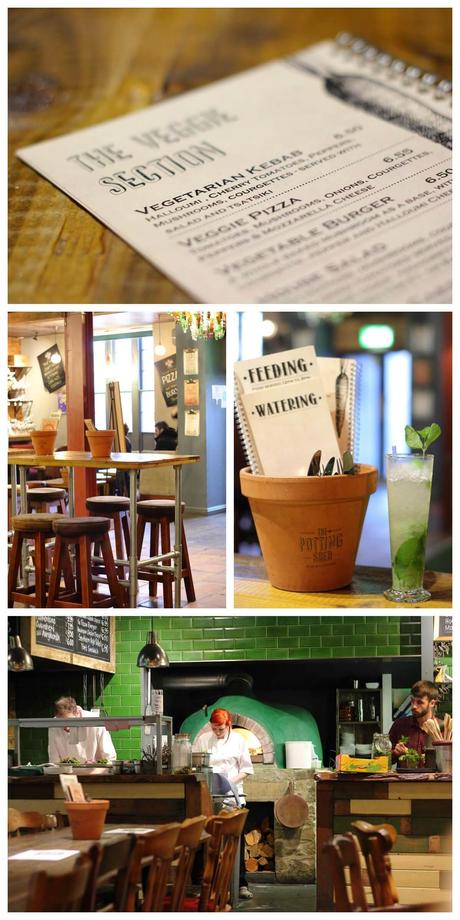 Fortunately stepping out of the rain and into The Potting Shed's cosy interior made the journey immediately worth it. The open plan kitchen with a roaring wood burning pizza oven, terracotta plant pots on the tables and greenery behind the bar are all indicative of The Potting Shed's approach to food – freshly made from fresh ingredients, without too much fuss. We were welcomed right away by the friendly staff too, who were attentive but not invasive throughout the whole meal.
There's also a gorgeous outside area with benches and blankets and a row of sheds with seating in; in any other kind of weather I would have loved to sit outside – if only I'd got my crisp wintry day I'd been dreaming of! Sadly as there was nothing but the aforementioned rain on the day I visited, the most I could do was brave a few minutes outside to take these photos.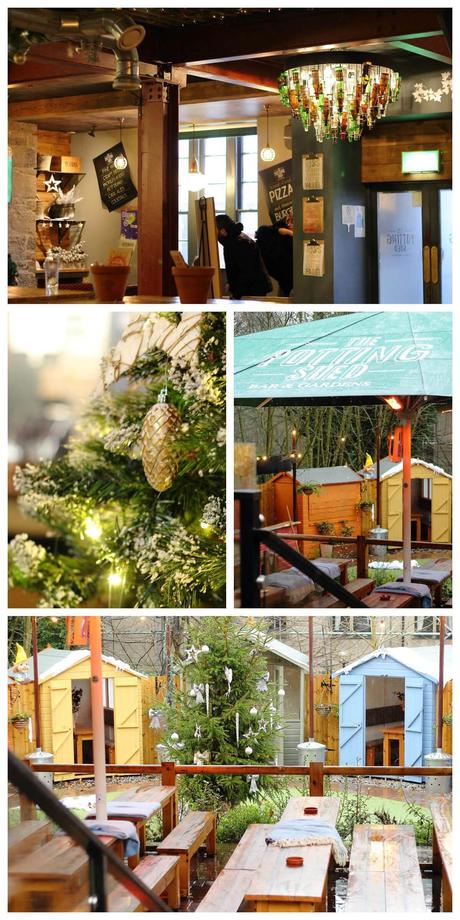 Although the sign at the bar for mulled wine had caught my eye, since we had warmed up and dried off so quickly (and with it being lunchtime), we opted for mocktails to begin with – an apple mint mojito and a very berry. Both were fruity, refreshing and exactly what we'd hoped for.
As I mentioned before, The Potting Shed is all about fresh food that's cooked on the spot. They have a small but well-thought out menu of pizzas, burgers, kebab skewers and salads. If there's one thing I always appreciate, it's a menu like The Potting Shed's that has a veggie section with all of the meat-free dishes listed together.
I opted for the vegetarian kebab – a flawless combination of grilled chunks of halloumi, cherry tomatoes, peppers, mushrooms and courgette served on a bed of salad with a tangy wholegrain mustard dressing, a side of tzatziki and a triangle of flat bread. To go on the side, I also chose a portion of red and white battered onion rings. The side definitely wasn't a healthy treat but the crunchy batter was worth every mouthful. The food was very reasonable at £6.50 for the skewers, with burgers around the same price, freshly made pizzas around £8-£9, and sides at only £2.50 each.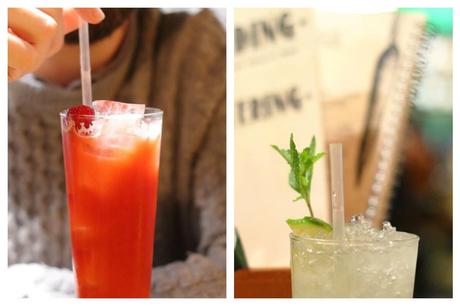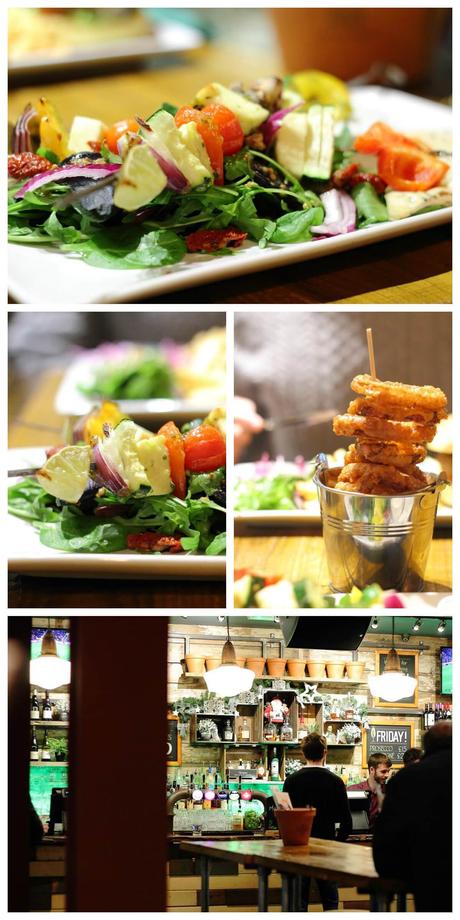 Overall I would definitely return to The Potting Shed Bingley next time I'm in the area – but it'd be a difficult choice whether to try out the pizza or go for the kebabs again! You can hop over to their Facebook page to find out more.
How do you like to spend your Saturdays?