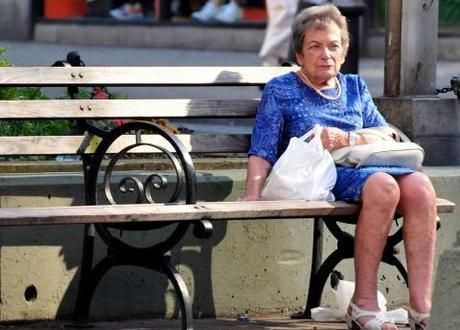 Women as old as 75 are suffering from eating disorders.
The background
Older women are just as at risk for developing eating disorders as their younger counterparts, according to a recent study from researchers at the University of North Carolina.
The study, published in the International Journal of Eating Disorders, revealed that 62 percent of women aged 50 and over claimed that their weight or shape negatively impacted their lives. So much so for some that 3.5 percent reported binge eating in the last month, nearly 8 percent reported purging in the last five years, and more than 70 percent are actively trying to lose weight; of those trying to lose weight, some reported using dangerous methods, including laxatives, diet pills, and excessive exercise. Of the women surveyed, 27 percent were obsese, 29 percent were overweight, 42 percent were normal weight and 2 percent were underweight – indicating that other problematic eating behaviors may also be prevalent.
What's it all mean?
The results fly in the face of the common perception that eating disorders such as anorexia or bulimia are primarily a younger woman's disease, say researchers, and highlight an overlooked area of concern. "The bottom line is that eating disorders and weight and shape concerns don't discriminate on the basis of age," said Dr. Cynthia Bulik, director of the Eating Disorders Program at the University of North Carolina School of Medicine, which conducted the study. "Health care providers should remain alert for eating disorder symptoms and weight and shape concerns that may adversely influence women's physical and psychological wellbeing as they mature." Additionally, eating disorders may be more harmful to older women, whose bodies are less resilient, TIME's Healthland blog noted: "Disordered eating can lead to other systemic health problems affecting the heart, bones, gastrointestinal tract and mental health."
Personal stories: 'I was too old to be anorexic'
The Sun spoke to two older women who "who know the horror of battling an eating disorder as a mature woman", 53-year-old Alison Alden who began suffering from anorexia in her 40s, and 59-year-old Sarah Walker, who has had anorexia since age 17. Alden reported that she started dieting when she and her husband started running a business from home and she felt she looked "tired". Food became something she could control, but soon, she said, it controlled her; despite only weighing 6 stone (84 pounds), she thought she was far too old to have anorexia. Walker was unable to have children, having stopped having her periods at 17, and now also suffers from osteoporosis, pain in her hip joints, almost constant nausea and muscle wastage.
Why are older women susceptible?
The Sun also turned to Mary George of the eating disorder charity, BEAT, who told them that increasing pressures on women at this stage of life can contribute to developing an eating disorder. "It could be career pressures, family pressures, marriage problems, bereavement – all things which may affect women more in later life…. And of course, we are all bombarded with so-called ideal images of celebrity role models. Women in their forties are now gracing the pages of our magazines looking flawless and years younger than their true age."
More on eating disorders

 Duchess of Cambridge and Pippa Middleton are 'thinspiration' for anorexics
Eating disorders on rise, media looks for answers