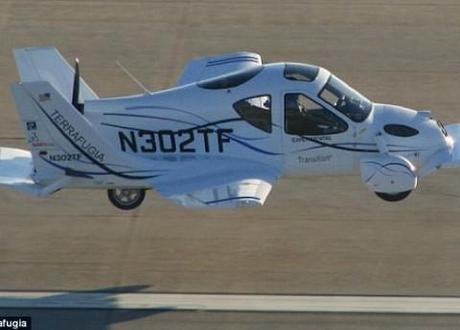 Terrafuglia Transition. Photo credit: Terrafuglia
In news which will delight all teen boys and excite commuters sick of sitting in grid-locked traffic, aviation experts are saying that a car with wings could be in regular use in the UK within five years after a flying car model was formally declared street legal by US authorities.
The $250,000 (£155,000) Terrafugia Transition two-seater, which has been cleared for road use by the US National Highway Traffic Safety Administration, has a top speed of 115mph, a range of 500 miles on a tank of fuel and requires just 20 hours training to fly. At the touch of a button it takes just 15 seconds for the wings to fold up automatically and the power to be re-routed from the propeller to the rear wheels. It can then be driven at up to 65mph and will comfortably fit in a standard size garage, reported The Daily Mail, who noted that 20 Britons have already declared an interest in the potentially revolutionary carbon-fibre vehicle.
Cheaper than a Rolls Royce Phantom. "The Terrafugia works as a conventional car, with a perfectly respectable fuel consumption of 35mpg and a top speed of 65mph," observed Daily Telegraph Transport Editor David Millward, who noted the price tag is "still £85,000 cheaper than a Rolls Royce Phantom." Millward reminded that the Transition will require approval from the European Aviation Safety Agency before it can be used in Britain and that anyone using it will need both a driving and pilots licence.
'It's like a little Transformer,' said Terrafugia founder Carl Dietrich, referring to the children's toys that were turned into a blockbuster movie franchise.
"With the Transition, I can fly somewhere and if the weather isn't good enough to fly back, I can just drive home. Or when I get to an airstrip I can explore nearby restaurants without renting a car," commented Sherry Grobstein, a software engineer from Massachusetts who is one of 100 US customers who have already shelled out a $10,000 deposit.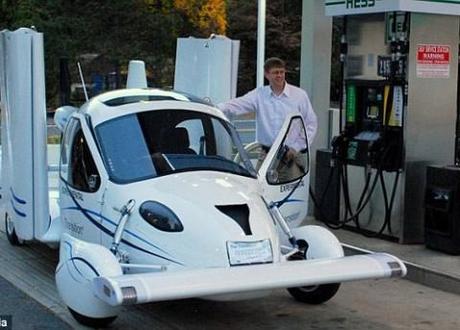 Terrafuglia Transition. Photo credit: Terrafuglia