The Russian Tea Room is a restaurant in Manhattan that's known for its fine dining experiences and luxurious Russian decor. This tea room has rested beside Carnegie Hall for over eighty years and was originally started up by members of the Russian Imperial Ballet, hence its name. On top of its history, the Russian Tea Room is also known for having employed Madonna in the past and also being featured in Gossip Girl in recent years. While I was in Manhattan, I felt obliged to go to this restaurant to experience the ambiance of one of New York's most iconic venues.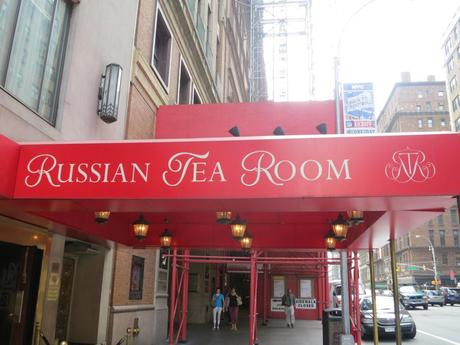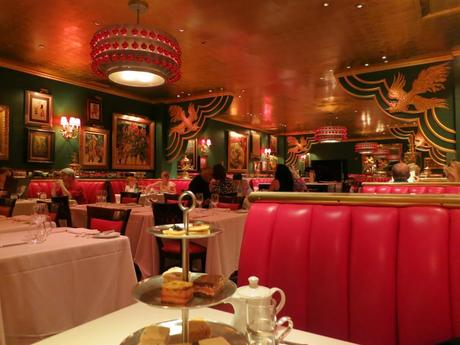 I visited the Russian Tea Room during their hours of high tea, between 2pm-4:30pm. I opted for their regular high tea ($50) which includes an assortment of sandwiches and desserts with a tea of my choice. I chose the chamomile tea because I find it most soothing to have while eating savories and sweets.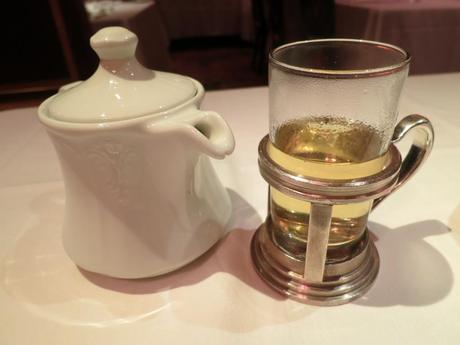 Chamomile Tea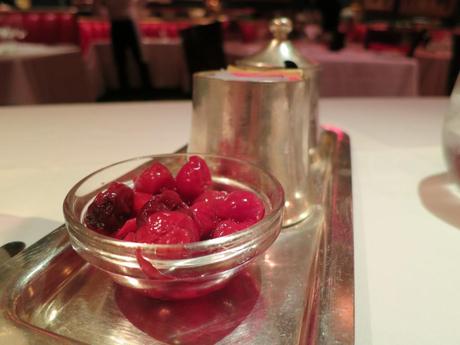 Condiments
The first tray that was served to me had Sandwiches and Blinis. Our server was very kind and patiently explained all of our food to us and what order it should be consumed in. I was thoroughly impressed with the elegant display of the sandwiches and how it matched with the entire restaurant's atmosphere.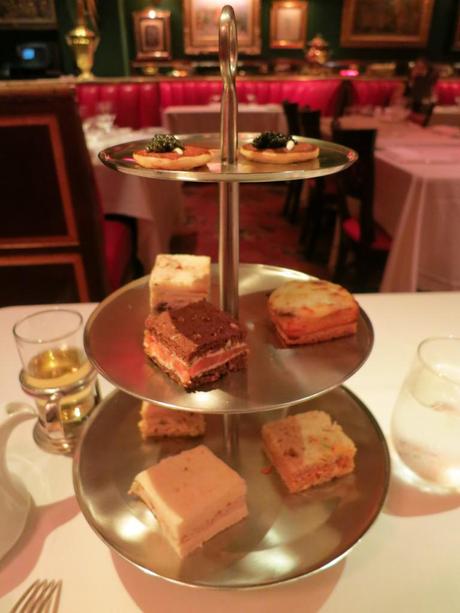 Sandwiches and Blinis
The caviar on blinis on the top tray was very flavourful. Although I'm no caviar expert, I can tell that this caviar had a good consistency and was fresh. It was also interesting to have the caviar on blinis (a mini pancake) rather than plain bread.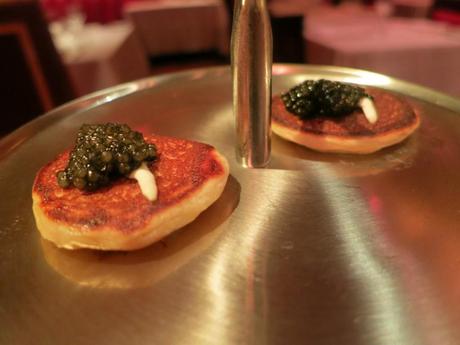 Caviar on Blinis
The assortment of sandwiches was overall quite delicious. I liked having them all in bite-sized portions because I was able to sample a lot without stuffing myself too full. My high tea set included the following:
Curried chicken salad with raisins and pecans
Shrimp salad with rémoulade
Smoked Scottish salmon with chive cream cheese and cucumber
Artichoke with red pepper and a sun-dried tomato goat cheese
Smoked ham and turkey with truffle croque monsieur
N.Y smoked sturgeon with dill and sour cream
Roquefort bleu cheese and pear with walnuts
My favorite sandwich was the smoked ham and turkey with truffle croque monsieur. It was a warm sandwich drenched in cheese that practically melted in my mouth – simply amazing.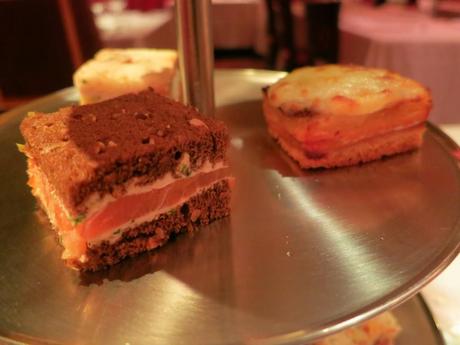 Middle Sandwiches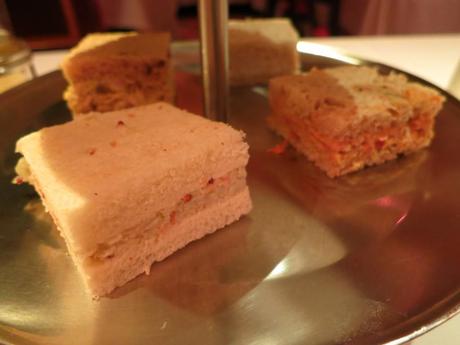 Bottom Sandwiches
After the sandwiches came the dessert tray. It consisted of scones and cupcakes with two chocolate truffles.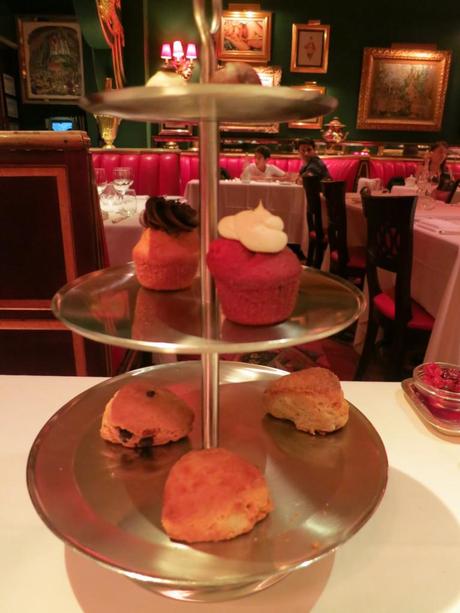 Dessert
The scones were all still warm and fresh when I got them. Some were more flavorful than others, but with some jam they all tasted fantastic. The jam came in individual small jars and tasted naturally fruity.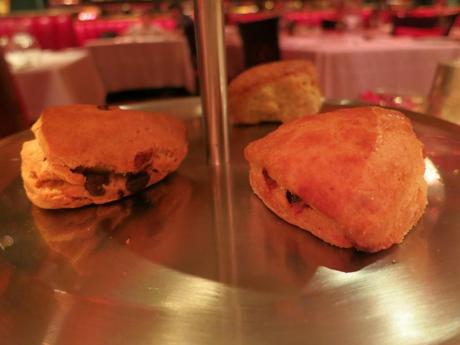 Scones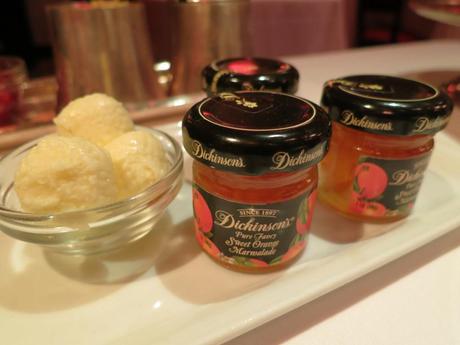 Butter and Jam
The cupcakes on the middle tier were a little too sweet for my liking, but other than that I liked the texture of the cupcakes a lot. After scooping off the icing sugar, I was able to finish both these cupcakes.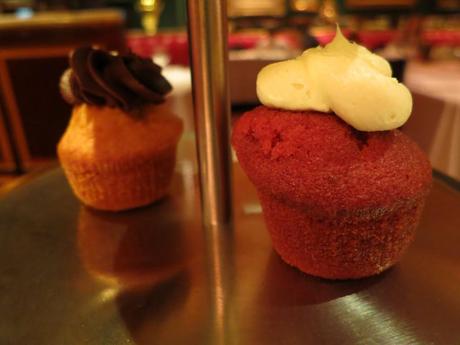 The truffles on top were a nice way to finish my afternoon tea. However, I did not enjoy the white chocolate one very much, since it was too sweet. The milk chocolate one was fairly good and creamy though.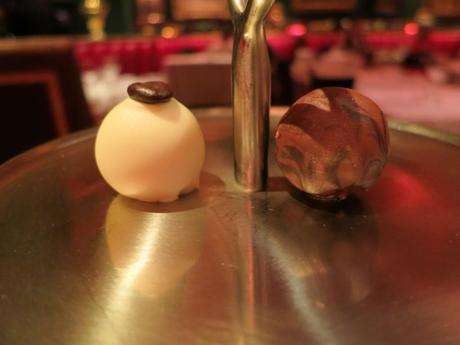 Chocolate Truffles
The entire elegance of my high tea at the Russian Tea Room was unlike anything I've ever experienced before. Our service was excellent, the atmosphere was amazing, and the food was not bad. For a $50 high tea, I definitely felt that I got my money's worth here. The only flaw I found at this restaurant was their desserts being overly sweet, but I do admit that I don't have much of a sweet tooth. But whether its for the food or the experience, the Russian Tea Room will certainly be worth your while visiting.

Amazing Russian decor
Genuine and kind service

Desserts were a bit too sweet