After some shopping on the past Sunday, I went to eight 1/2  in Mt. Pleasant to have a late lunch. This restaurant/lounge gets its name from its location, as it rests between East 8th and 9th ave. The most interesting fact about this restaurant is that it's located in a 100-year-old historic building. Don't worry though, although its outside is true to its heritage, the inside is very clean and nicely renovated.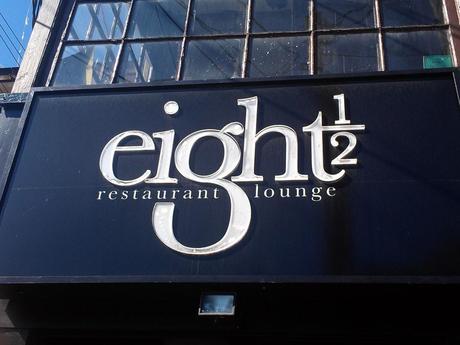 eight 1/2 Sign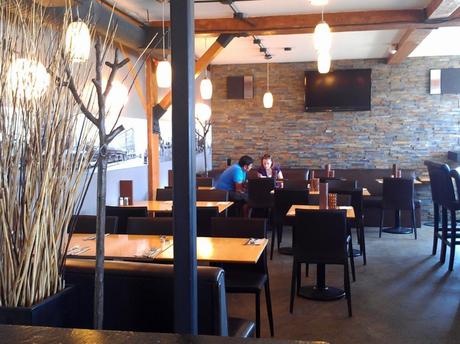 Dining Area
In the midst of a hot day, I decided to get a Sangria (instead of a Caesar's) to quench my thirst. I haven't had one since I was in Spain last year, so I jumped once I saw it on the drinks menu. This Sangria wasn't the best I had, since the flavor wasn't all that concentrated. However it wasn't bad either, and they gave a generous amount of fruits.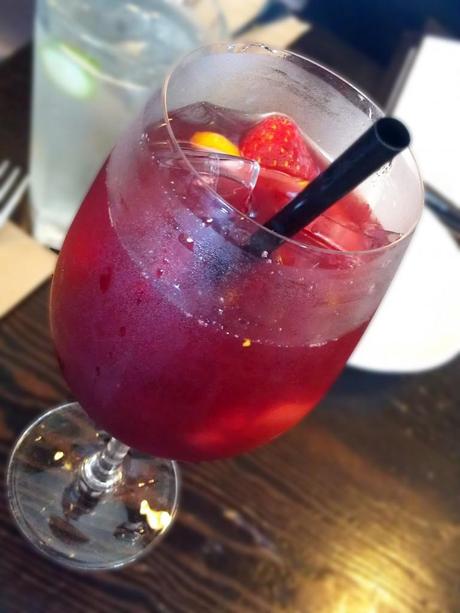 Sangria ($6.50)
For food, me and my friend ordered two dishes to share. The first was this Chicken Brie Sandwich that comes with a complimentary salad. To my surprise, the salad was very delicious and had fun toppings such as caramel nuts and strawberries. The sandwich was also very tasty and the chicken was extremely soft and tender. Not bad at all for its price.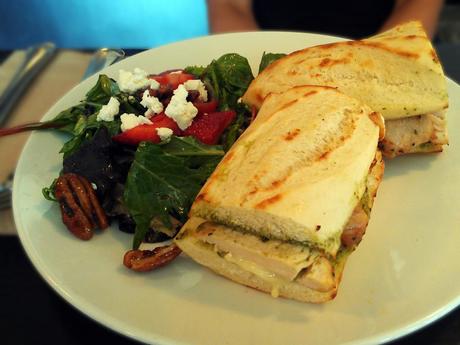 Chicken & Brie Sandwich ($9.50)
I normally stray away from eating pizza, since I always fear for its over-greasiness. But my friend wanted to try their Pesto Shrimp Pizza so I decided to give it a shot. I kid you not, this pizza blew my mind! It wasn't too greasy at all, and nor was it too salty or dry. It also had generous portions of shrimp and I like how it had a thin crust. Squirting some lemon juice on top can help make it less dry. And all this for just over ten bucks? Unbelievable.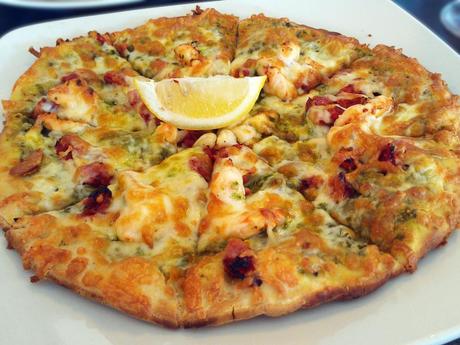 Pestro Shrimp Pizza ($11.50)
eight 1/2 exceeded my expectations in more ways than one. I'm completely sold on its heritage lounge atmosphere and amazing food. The food portions aren't big though, but for a light lunch or snack its just perfect. What's even better is that they're open till 2am on weekends, making it a great place to stop by after a night out. I anticipate on coming here again and also trying out other food options are available in this area. Three thumbs up!

Interesting heritage atmosphere
Amazing, amazing food (especially the shrimp pizza)
Very reasonable prices

Small portions, not ideal if you're super hungry
Sangria was so-so