When my parents asked me to take them out for brunch, I decided to take them to Cafe Medina, the supposed best place for brunch in Vancouver. I haven't been here for a while because it's far away and they constantly have long line ups; but of course, my tourist parents didn't mind waiting a little longer for something better. This cafe is located in the historic district of Gastown and is truly a gem of the neighborhood.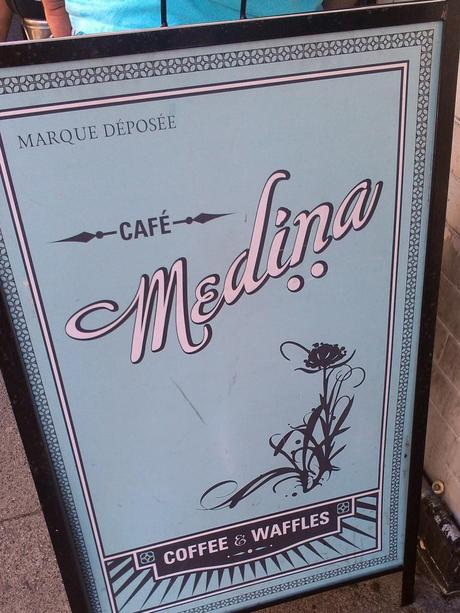 Cafe Medina Sign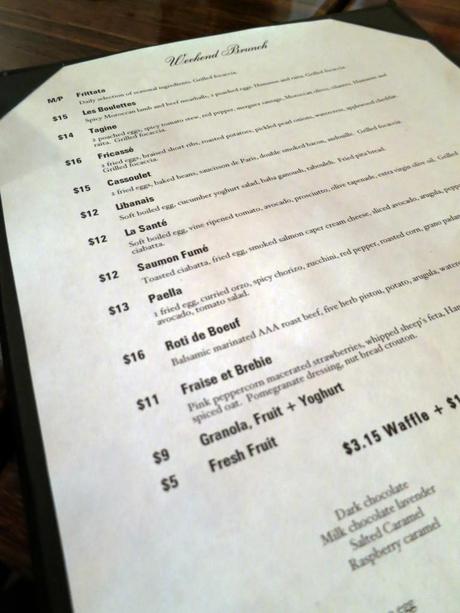 Brunch Menu
My sister got a latte and we were all really fond of how nice it looked. And of course, it tasted great too. I've always heard that Medina has a good bar and this has certainly proven so.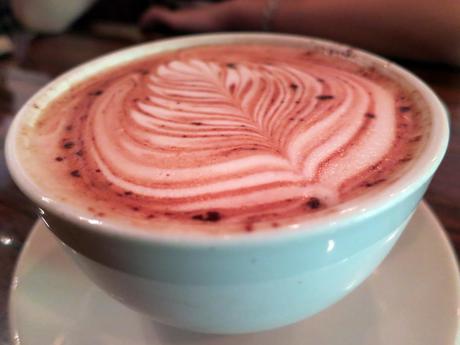 Latte ($4)
It was early in the morning so I needed a coffee to wake myself up. I got an Americano with some cream and sugar and it was one of the best coffees I've had lately; I liked how it was silky smooth and not very bitter.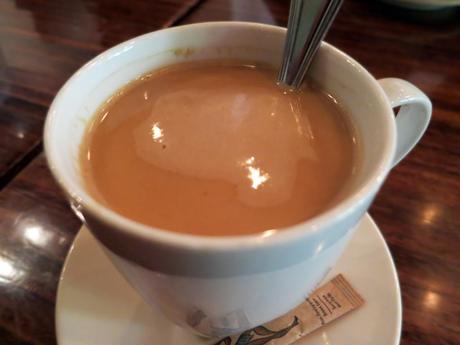 Americano ($2.5)
Other than coffee, Cafe Medina is best known for their waffles. We got three of them with different toppings to try out: mixed berry, raspberry caramel, and milk chocolate. Each waffle had just the right amount of sweetness and crispiness, making it a delicious side to have for alongside brunch.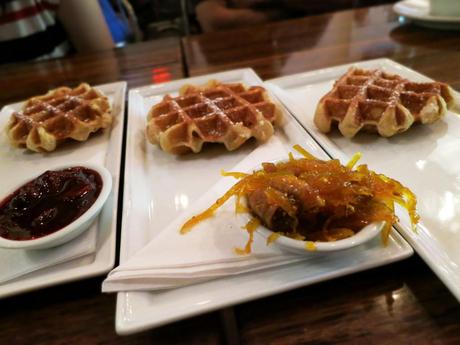 Waffles ($3.15 each)
I was super hungry that morning and so I ordered a Paella to eat. I haven't had one since I went to Spain and have been looking for them everywhere. Compared to the ones I've had over there, this paella was more moist and was flavoured with heavy tomato sauce. I would've preferred the rice to be drier, and but other than that this dish was decent and very filling.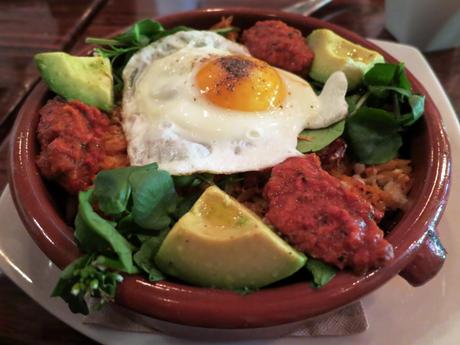 Paella ($12)
My dad got a La Santé to eat, an assorted dish that consists of a soft boiled egg, avocado, tomatoes, grilled ciabatta, and more. He said it was like eating a bunch of appetizers, and I completely understand why. The egg and avocado were the best part of this dish, whereas the meats had a bit of an acquired taste.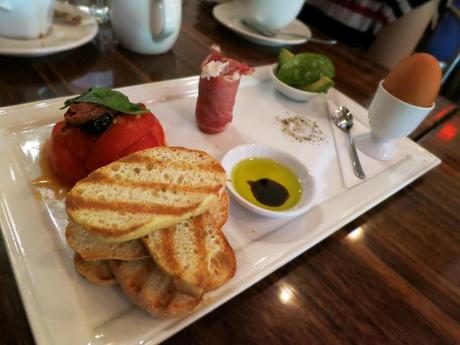 La Santé ($12)
My mom's a light eater and so she just got a Fraise et Brebie, which is essentially and artistic rendition of a strawberry salad with feta cheese. It's an easy sweet and healthy meal for those with smaller stomachs; and it's also fun too look at.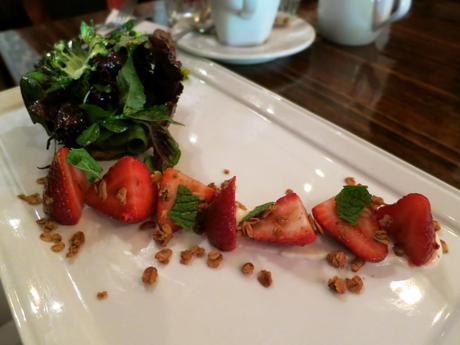 Fraise et Brebie ($11)
Lastly, we had a side of roasted potatoes to share. Even though it's just a side, it was presented as if it were a dish of its own. The potatoes were the melt-in-your-mouth kind and were very yummy.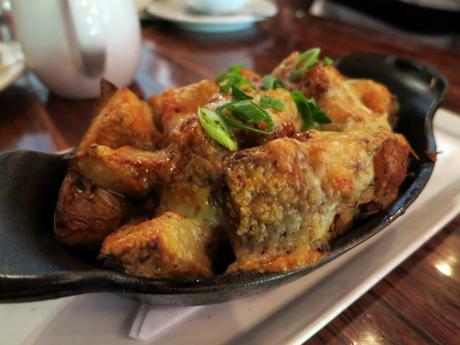 Roasted Potatoes ($5)
From my experiences, brunch at Cafe Medina is always worth the drive and the wait. The best things in life tend not to come easy. The food here is always satisfying and at a reasonable price too. So if you're ever hungry while up early on a morning, this is where you should be heading for a awesome meal to kick off your day.

Amazing food and drinks (especially the waffles)
Reasonable prices
Hip atmosphere

Long waits for brunch and no reservations