My first brunch in the Big Apple took place at August, a pan-European restaurant located in the quiet neighbourhood of West Village. My friend wanted to try out this restaurant because it has a glass-covered garden patio that's lovely to dine on during a sunny morning. Although this restaurant is small, we didn't have to wait to long to be seated on the patio as we had asked.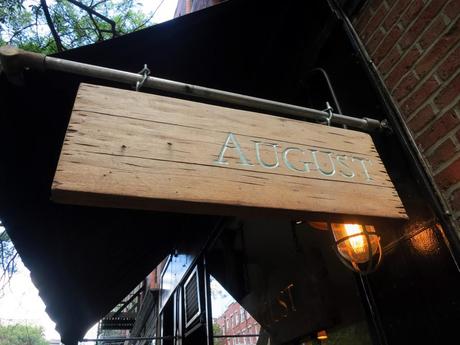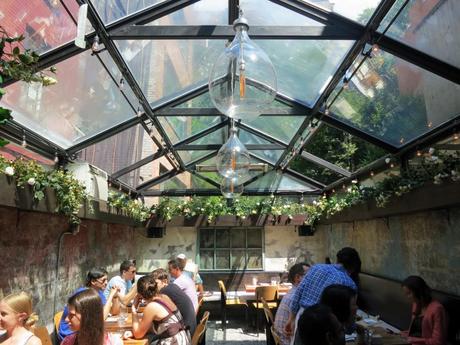 I started off with a tomato juice to drink because I thought that it would go nicely with the steak that I had ordered. This juice tasted fresh and had an appropriate hint of spiciness that wasn't too overpowering.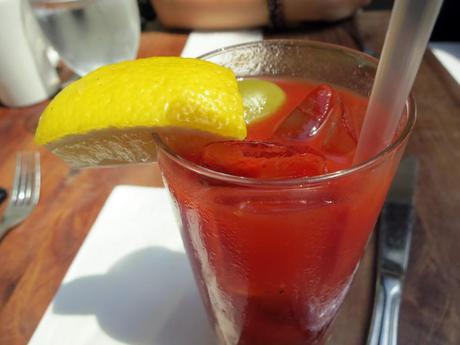 Tomato Juice ($4)
I ordered a Grilled Steak and Eggs in Medium Rare as my entree, which is a skirt steak with eggs and a toast. My food took quite a while (almost half an hour) to come, but our server was apologetic and explained that it was because my friend's chicken took a longer time to bake. I liked how juicy and soft my steak was, but unfortunately it took me only a few bites to devour it all. Although fairly delicious, this dish was far from filling and left me hungry afterwards.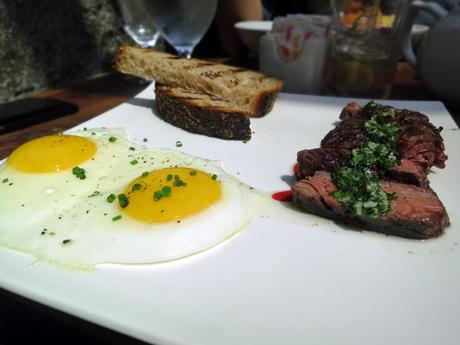 Grilled Steak and Eggs ($19)
My friend ordered a Roasted Organic Chicken served with mashed potatoes and beans. As mentioned earlier, this chicken is baked upon ordering to guarantee a fresh-out-of-the-oven taste. This chicken was very impressive, particularly because I liked how it was crispy on the outside but soft on the inside – they surely didn't lie about the baking. The side vegetables were also very good. However, the extremely long wait it took to make was really a bit of a turn off.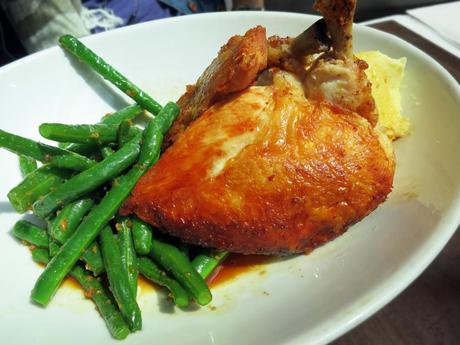 Roasted Organic Chicken ($23)
A brunch at August on a summer morning is a true slice of New Yorker living. This restaurant has a great atmosphere and the food I ate here was great. But, I can't seem to ignore the fact that their food came in small portions and with a long wait. All in all, this wasn't a bad restaurant visit, but maybe not for those who have some post-brunch activities afterwards.

Garden patio was nice
Food was great

Small portions at high prices
Long wait for food