This post may contain affiliate links. Please read my disclosure.
This easy and delicious Vegetarian Spaghetti Sauce with hidden fresh veggies, served over whole wheat pasta, makes for a quick and satisfying meal.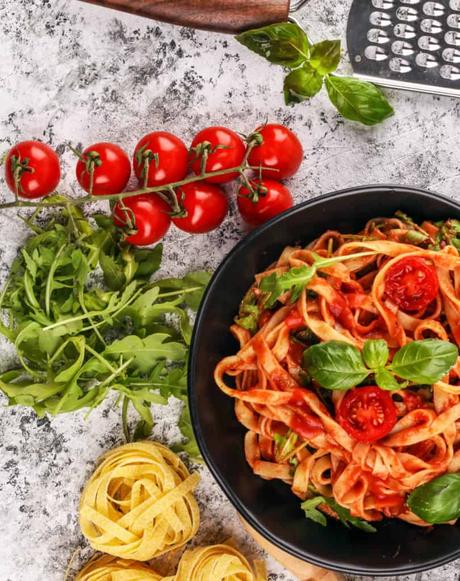 Tonight was one of those days when I didn't feel like making an elaborate meal, but I still wanted something healthy and satisfying. I turned to my fridge and pantry, and came up with a quick easy healthy vegetarian spaghetti sauce with whole wheat pasta! It didn't take longer than 30 minutes to make, yet it tasted so fresh.
This sauce is perfect for a quick weeknight meal. It tastes like it's been simmering it all day, but it's so easy to make!
There's only a handful of ingredients needed, and just 5 minutes of prep...mainly some chopping!
Store bought sauce gets added flavor with bell peppers, onions garlic, and spices. Serve with whole wheat pasta and top with cheese for a complete meal!
Tools and Equipment You'll Need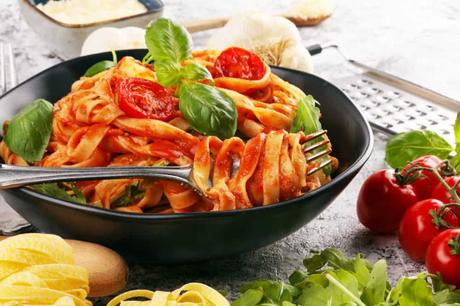 How To Make this Easy Vegetarian Spaghetti Sauce - Step by Step
Step 1: Add 2 tsp olive oil to a pot over medium heat. Add garlic, and red onions, saute for 5 min. Then add the rest of your veggies (bell pepper through spinach) and saute until they are soft - about 5-10 minutes.
Step 2: Add pasta sauce to the pot and bring to a simmer. Add dried italian seasoning and salt to taste. Simmer on medium-low heat for 10 minutes until the flavors have combined.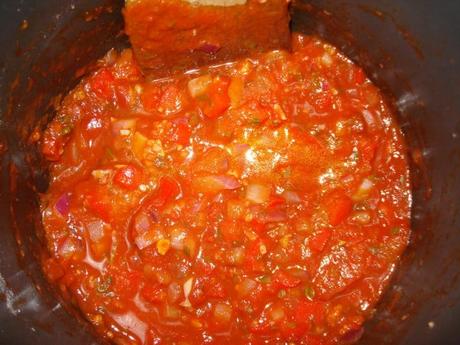 Step 3: Turn the heat off and blend the sauce with an immersion blender, blending it in "bursts" so that it remains somewhat chunky and doesn't become completely pureed.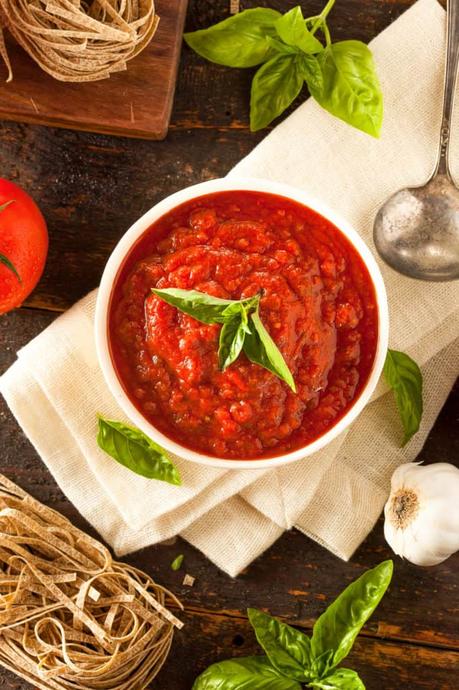 What makes this Vegetarian Spaghetti Sauce healthy?
Low in Fat and Calories: This pasta dish is low in calories with about 240 calories per serving and 4 grams of fat. Whole wheat pasta has slightly fewer calories than white pasta.
High in Fiber: Serving this pasta sauce with whole wheat pasta increases the fiber which improves digestion and helps you to feel fuller longer.
Extra Veggies: The hidden added veggies creates a chunky hearty sauce increasing the vitamins and nutrients. It's also great for picky eaters - because you can sneak a ton of veggies into their diet this way!
Will kids enjoy this Vegetarian Spaghetti Sauce?
Kids typically love pasta and and red sauce and this recipe is no exception! Your kids won't even notice the hidden veggies, making this perfect for pickier eaters. This is a flavorful sauce, and when paired with whole wheat pasta / topped with cheese, it is a super kid-friendly meal.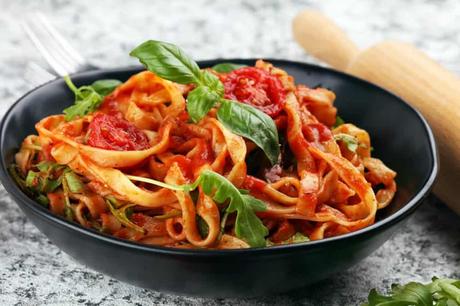 What is the secret ingredient in spaghetti sauce?
There is no one secret ingredient to making a delicious spaghetti sauce. It all depends on the flavors you prefer. In this sauce the secret ingredient is the added herbs. It really brings out the flavors for the veggies and makes this sauce taste homemade.
How can I make spaghetti sauce taste better?
Add your favorite chopped vegetables, fresh herbs, a 1/4 cup of red wine, and a touch of sugar to balance the acidity. You can truly empty your fridge by adding whatever vegetables you have on hand. I suggest chopped mushrooms, or zucchini, asparagus, of summer squash as excellent additions.
What do you serve with Vegetarian Spaghetti Sauce?
Serve with whole wheat spaghetti or other whole wheat pasta. Top with a blend of Italian cheeses, or parmesan. This sauce would also work well in a lasagna recipe, or as a chunky sauce on top of pizza.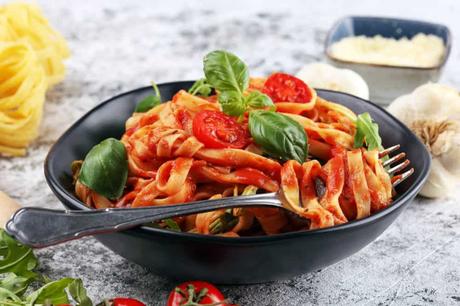 Top Tips For This Healthy Vegetarian Spaghetti Sauce
Use any vegetables you have on hand to increase the nutrients in this pasta sauce! If you don't have spinach, kale or any leafy green would work well. If you don't have zucchini - substitute any squash! This is a great "clean out your fridge" spaghetti sauce recipe.
Serve this dish on top of whole wheat pasta. For added protein, use a legume or chickpea based pasta.
Make sure to salt your water when cooking the pasta.
Stir the pasta regularly, when cooking, to prevent it from sticking.
Use a high quality marinara sauce.
Add additional herbs and seasoning such as dried basil, oregano or rosemary. For an extra kick, add more crushed red pepper to your finished sauce.
Be sure to check out these other healthy pasta dishes!
If you have tried this Vegetarian Spaghetti Sauce, or any other recipe on my blog, then please rate it and let me know how it turned out in the comments below! You can also FOLLOW ME on
FACEBOOK
,
TWITTER
, INSTAGRAM and
PINTEREST
to see more delicious, healthy, family friendly food!
Vegetarian Spaghetti Sauce with Whole Wheat Pasta