This post may contain affiliate links. Please read my disclosure.
When you are short on time but wanting something healthy and tasty for dinner, this vegetarian flatbread pizza recipe has you covered! With a crispy crust, loaded with veggies and topped with cheese, this pizza-inspired flatbread is great as a main meal for one, or as an appetizer for guests.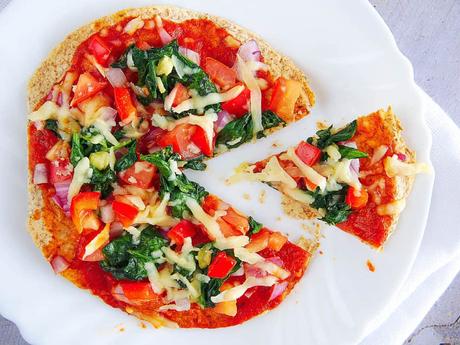 This recipe goes all the way back to my mid 20s, when I'd often be cooking for one (when my husband was traveling for work). But it was so good that it has literally made an appearance on our weekly menus almost every week since! This healthy vegetarian flatbread pizza is perfect when you want a quick and easy dinner, but don't want to order takeout. It will satisfy your pizza cravings but is much better for you! It starts with a sprouted wheat tortilla as a base, and then you can top it with pretty much anything you like. What you end up with is an ENTIRE flatbread pizza for less than 400 calories! Super easy to make, kid-friendly, delicious and nutritious too!
Kitchen Equipment and Tools You'll Need to Make This Vegetarian Flatbread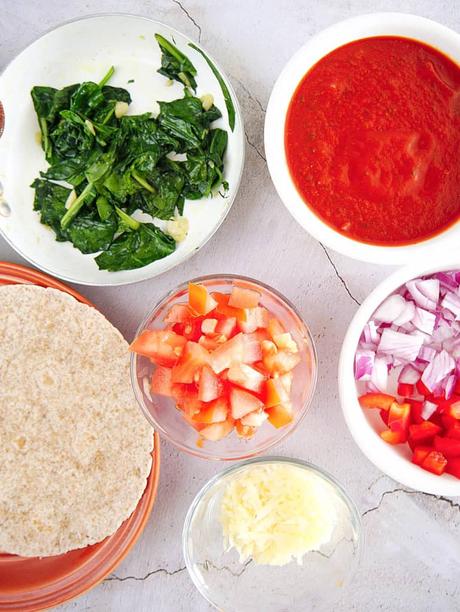 How to make this Easy, Healthy Vegetarian Flatbread Pizza - Step by Step
Step 1: Bake the tortilla in the oven or toaster oven until slightly crispy. If you're using a toaster oven, set it on medium darkness and toast the tortilla. If you're using the oven, bake at 350 degrees for 5 minutes (or until crispy and golden brown). While your tortilla is baking, heat the olive oil in a small skillet over medium heat. Add the garlic, spinach and salt to taste, and saute until the spinach is wilted. Remove from heat and set aside.
Step 2: Take the tortilla out of the oven, and top with sauce.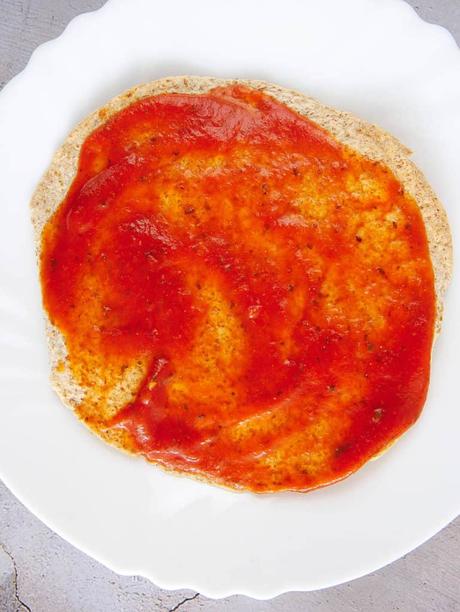 Step 3: Add the veggies and cheese on top!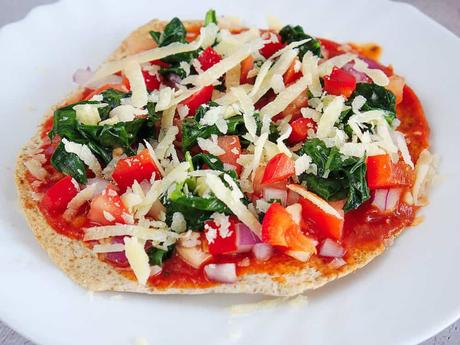 Step 4: Put the tortilla back in the oven and bake at 350 degrees for 5 minutes until the tortilla is crispy and the cheese is melted. If using the toaster oven, put it back in on medium-darkness and toast.
What Makes this Vegetarian Flatbread Pizza Recipe Healthy?
High in Fiber: Traditional pizza uses a white flour crust which is made of simple carbs that are high glycemic. We swap out the white flour for a sprouted wheat tortilla as the base of this pizza - adding in fiber and healthy whole grains for this recipe.
Tons of Veggies: You're truly eating the rainbow with this pizza! Along with a healthy dose of fiber, the veggies in this pizza provide key vitamins and minerals to help keep your body healthy. The bell peppers are rich in Vitamin C, K, E, A, Folate and Potassium; Tomatoes are full of the antioxidant lycopene; and Spinach is packed with Potassium, Magnesium, Vitamins V6, B9, E, C, K, Iron and Calcium.
Plant Protein: Each serving of this recipe has 16g protein, guaranteed to keep you feeling full for a long time!
Low Calorie: Most pizzas run upwards of 1500 calories for the entire pie. This pizza is less than 350 calories for an ENTIRE personal pizza!
Will Kids Enjoy This Vegetarian Flatbread Pizza Recipe?
These pizzas are so easy to make and you can literally top them with anything you like - making it super kid friendly! When making it for kids, I like to put out a "toppings bar" and let them help make their pizzas themselves. A toppings bar can be an easy way to encourage your kids to eat more veggies too! My kids love this recipe, it's always a hit in our household!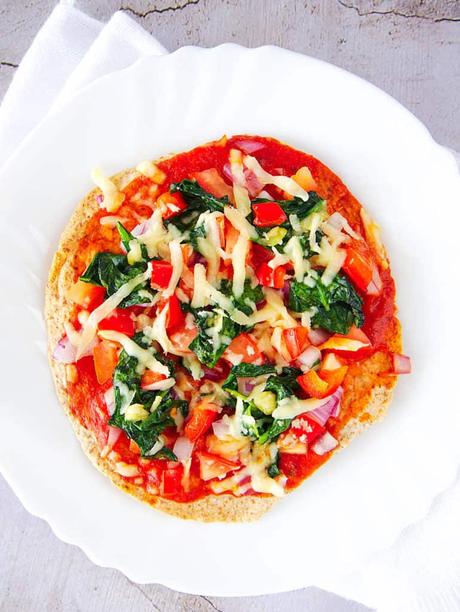 What Other Toppings Can You Use for this Flatbread Pizza Recipe?
For this topped flatbread, I grabbed the veggies that I had in my fridge - bell pepper, tomato and red onion. Simple, fresh and tasty! This is a great recipe to experiment with, try out whatever veggies you have to hand, mushrooms and spinach would work well, or how about a little jalapeno to spice things up?!
How to store and reheat leftover flatbread pizza
This recipe will keep in the fridge for up to 3 days. You can also freeze it in an airtight container for up to 2 months. When reheating, place the cold slices on a rimmed baking sheet, cover the sheet tightly with aluminum foil, and place it on the lowest rack of a cold oven. Then set the oven temperature to 275 degrees and let the pizza warm for 10 to 15 minutes.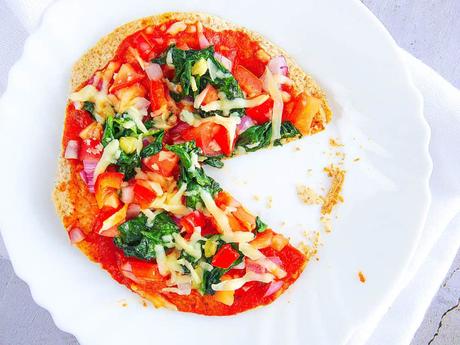 How to make a gluten-free flatbread pizza
This dish can easily be made gluten free, just use a gluten free tortilla instead of the sprouted wheat tortilla and bake it until crispy (follow the same directions as the regular tortilla!) I wouldn't recommend using corn tortillas to make this recipe gluten free - they'll be too small, and won't taste as good with the pizza sauce and toppings.
What To Serve With This Flatbread Pizza Recipe
I love serving this pizza with a warming soup, it reminds me of the classic combo of grilled cheese sandwich and tomato soup, so comforting!
You can also go for a nice salad, keep it light for the summer or a bit more hearty for those winter months. Roasted vegetable salads pair well with this flatbread pizza, as do hearty salads made with cruciferous veggies like arugula, cabbage, or kale.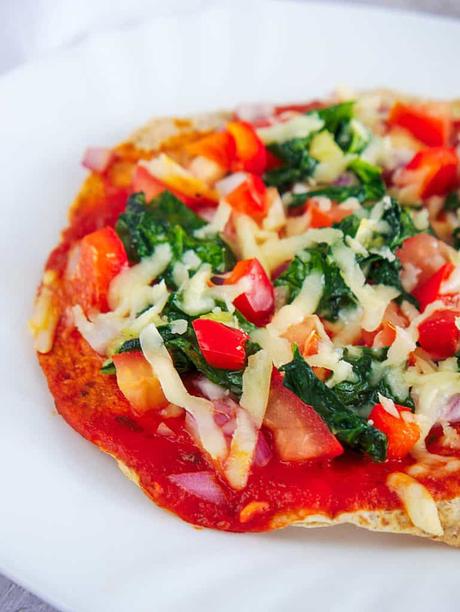 Top tips to make Easy, Healthy, Vegetarian Flatbread
Use a sauce that is low in added sugar.
Make sure to get your tortilla really crispy before topping it, so that it doesn't become soggy under the weight of the sauce and veggies.
If you want to change things up from your usual pizza sauce, try one of these creative pizza sauces: Homemade Spicy Red Wine Tomato Sauce, Vegan Vodka Cream Sauce, Vegan Alfredo Sauce, Spicy Alfredo Sauce, Vegan Bolognese Sauce and Pesto Sauce
Mix it up with whatever veggies or cheese you have on hand.
Swap out the regular cheese with vegan cheese to make it vegan, and/or swap out the sprouted wheat tortilla with a gluten-free tortilla to make it gluten free.
Let pizzas cool slightly (for 5 minutes) then slice.
Serve with a soup or side salad.
If you're making this recipe for a crowd, just double or triple the ingredients as needed!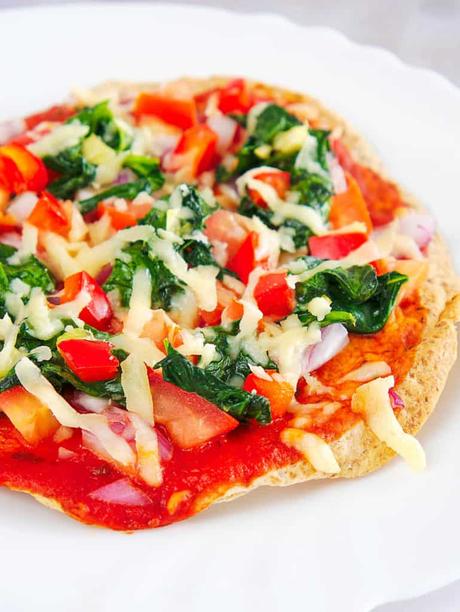 If you have tried this vegetarian flatbread pizza recipe, or any other recipe on my blog, then please rate it and let me know how it turned out in the comments below! You can also FOLLOW ME on FACEBOOK, TWITTER, INSTAGRAM and PINTEREST to see more delicious, healthy, family friendly food!
Check out these other tasty vegetarian flatbread & pizza recipes!
Easy, Healthy Vegetarian Flatbread