It seems like every week I'm buying salsa, either to add to a recipe, or to have with some chips, and the other day, when I looked in the cabinets, I suddenly realized that I was out. But, I had a can of organic chopped tomatoes, a can of pineapple, some cilantro….and the internets!!! Here's what I cobbled together from a few recipes I found. I think it turned out great. (Next time I gonna try it with fresh organic tomatoes!)
Easy Tomato-Pineapple Salsa
Ingredients:
1/2 med onion (chopped)
4 garlic cloves (pressed*)
14.5oz can organic diced tomatoes drained (or about 4 or 5 plum tomatoes chopped)
8oz can crushed or chunk pineapple drained (or 1 cup of fresh chopped pineaplle)
3 tbsps finely chopped cilantro
1 tsp sugar
2 tsps salt
1/2 tsp chilli powder
Juice of 1 lime
1 or 2 jalapeño peppers (stemmed and seeded)
Pepper to taste
Cayenne pepper to taste
Directions
Make sure that both the pineapples and the tomatoes are well drained, then mix all ingredients together in a bowl until well blended. Add all peppers to taste.
That's it.
No really. That's it.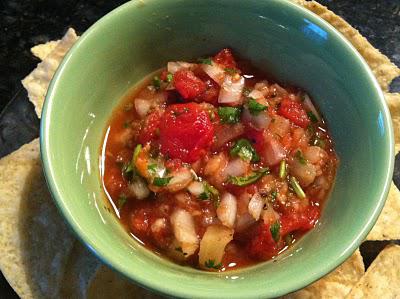 I like crushed peppercorns the best. We like a lot of garlic here at the House of Brown, so feel free to decrease that amount if you'd like. The cilantro is also really strong in this recipe, so don't overdo it! Make sure to squeeze the limes a bit before you cut into them, it really makes them juice better. If you have the time, and have some corn tortillas laying around, these go great with Homemade Baked Tortilla Chips too. It's that simple, enjoy!
How do you make your salsa?