After returning from a round of golf this week, my husband offered his usual outpouring of what he did
right
and what he could have improved upon from tee to green. I listened attentively
(as all good wives do)
and took a few notes to share with our readers.
Together, we came up with a short list of basics which we all should remember but sometimes, as we we get caught up in the overall experience, tend to forget out on the course...in real life situations.
These
golf tips
, because of their simplicity, should enhance your round and improve your overall
golf experience
. Feel free to add your own thoughts in the comments section of this Golf for Beginners blog - your notes could help improve someone else's game!
Easy Tips to Remember During a Round of Golf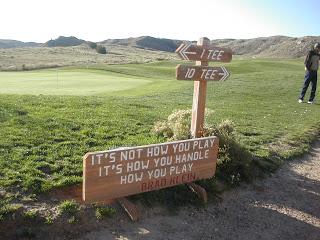 1. Eliminate three-putts. Get into the "circle of trust" when making longer putts (snuggle up to the pin) so that your next putt is an easy drop-in.
2. Choose the right club. Hank Haney once mentioned to me that beginners and amateurs rarely take enough club when moving the ball down the fairway. Click on the Haney link (above) to listen to the entire interview.
3. Don't go for low percentage shots. What is a low percentage shot? It's a shot that you aren't likely to make and where your downside is adding more strokes. An example of such a shot is when you are looking down the fairway to get as close as you can to the green but the fairway gets really skinny with traps or water surrounding it; don't try to go for it, Lay-up instead in a safe spot. Play smart - plan each hole.
4. Swing easy and let the club do the work.
Don't
 rush your swing which is the tendency when you are excited or anxious. When you over-swing or when you swing too hard, you are much less likely to make good ball contact.
What golf tips can you add to ours in order to play a better round of golf? Share in the comments section or on Twitter @
Golf4Beginners
.