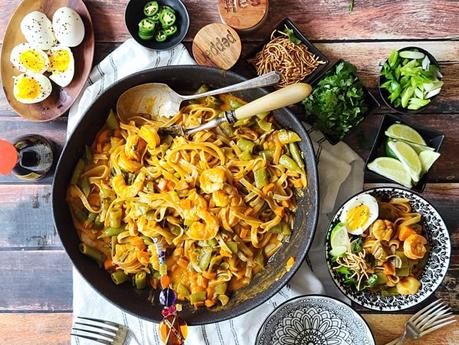 You'll be sitting down to delicious Thai Red Curry Shrimp Noodles in no time at all! Rice noodles drenched in a red curry coconut milk sauce!
Authentic Coconut Curry Shrimp
You're going to feel like you're in Bangkok when you take your first bite of these red curry shrimp noodles!
Having traveled to Thailand, China, Singapore and Honk Kong and spending a long amount of time, I know that noodle bowls are staples for Asian families.
breakfast singapore hawker style
Thai Coconut Curry Shrimp Noodle Soup
Be it breakfast, lunch or dinner, bowls of delicious broth and sauce, chicken, pork, seafood, and noodles. Yes, glorious noodles. Experiencing the flavors of Asia has been one of my all-time favorites of traveling! And, the recipes that I create are based on my tastebuds, visual memories, photos, cooking with locals and more!
Dim Sum Dumpling Making
Thai Red Curry Shrimp Noodles
Red curry shrimp noodles are perfect on any week night for dinner. That's because they're just so simple to prepare. Keeping certain staples in your pantry sure does help. And, one thing that I certainly recommend is red curry paste and coconut milk. You might also think of keep an extra package of rice noodles. They're good for pasta recipes, too. And, rice noodles, of course, are gluten free.
Thai Red Curry Noodle Soup with Shrimp
Yes, this dish is full of flavor. I highly recommend you buy shell/tail on shrimp. You can find the 'easy peel' in most grocery stores (frozen), if you can't source local shrimp.
The shells and tails provide a flavorful shrimp stock for the sauce!
Believe me, I've tasted some strange things in my travels. And, I probably won't be re-creating snake soup!
Is It Too Weird For You To Try
Noodle Bowl Recipe
In my pantry staples I always have at least one extra jar of red curry paste! Other things that are standby staples, coconut milk. If you are familiar with other recipes I've created, you'll see that I love to use these two ingredients.
And, when your buying your coconut milk, make sure it's UNsweetened!
Thai Noodle Bowl with Chicken
Now, this very same recipe could be made with chicken. In order for it to cook relatively quickly, you'll need to dice the chicken into smaller pieces. And, it will take longer than just about 5 minutes required for the shrimp.
Both dark and white meat chicken would be delicious if you don't do shrimp. So, this recipe is still for you! Another option would be diced pork. I'd use boneless pork chops and dice them into bite size pieces. Again, cooking would require a bit longer.
Spicy Noodle Bowl
Not sure about you, but one thing that adds to my dining experience is the 'feel' and 'mood' of the food I'm eating, especially if it's ethnic food. So, if you don't have noodle bowls, consider buying some. They're perfect for other meals, too. So, it's not like they're exclusively just for your Asian dishes!
Thai Red Curry Noodles Recipe