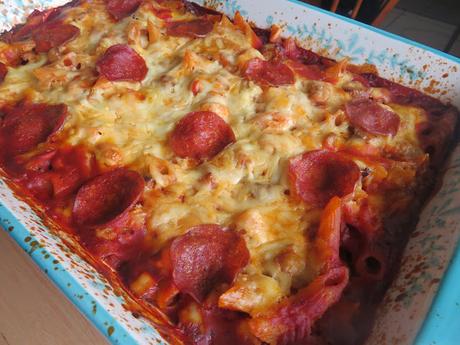 I apologize upfront for the quality of the photographs of this recipe for this pizza casserole with pasta that I am sharing with you today. Its not the prettiest crayon in the box.
I also couldn't take a photo of the insides of it as I served it for company. My sister and Dan.  Dan loves pasta bakes and so I made it to please him. He likes pasta bakes and he likes pizza. Why not combine the two!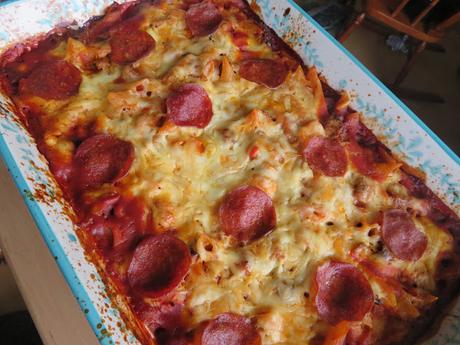 This easy recipe takes everything we like about pizza and combines it with pasta noodles to form one great pasta bake that the whole family is sure to love! 
Not only is it very easy to make and bake (it all mixes and bakes together in the one pan) but you can very easily adapt it to your own family's likes and dislikes!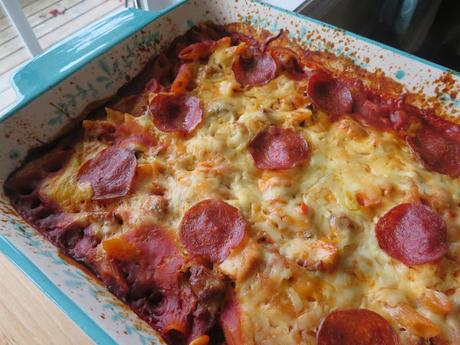 There is literally no faffing about with having to cook pasta ahead of time.  If you don't like pepperoni, just leave it off!
If you don't like mushrooms of peppers, leave them out.  Love hot Italian sausage or sweet, use whichever one you want, or replace it completely with some ground beef.
Craving a Hawaiian Pizza? Use Ham and pineapple.  Its really up to you.  
You can do a meat lovers and use all sorts of different meats, add olives, or hot peppers to the top at the end, etc.  It really is a delicious and incredibly adaptable recipe!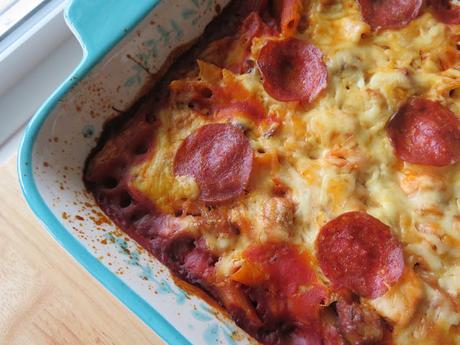 WHAT DO YOU NEED TO MAKE EASY PIZZA CASSEROLE
Nothing fancy really, and you can adapt it to your own likes and dislikes.
uncooked pasta (I use penne, but you can also use fusilli or any other similar shaped noodle/pasta)
pizza sauce (I like the garlic and basil one)
water 
chopped veggies (I use peppers, onions and mushrooms)
cooked meats (I used sweet Italian sausage and pepperoni)
cheese (I use a combo of mozzarella, cheddar and parmesan)
salt and black pepper (I didn't use any at all) 
Really you can feel free to use any favorite pizza toppings, etc. that you enjoy!  The important thing is to keep the measures of the pasta and the liquid ingredients the same as per the recipe requirements!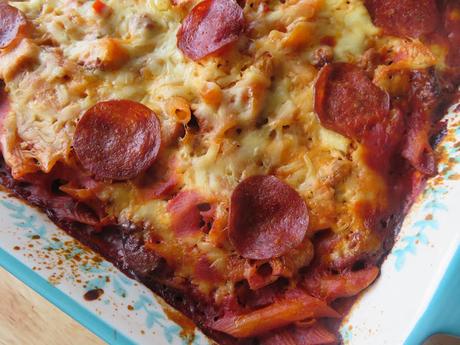 HOW TO MAKE EASY PIZZA CASSEROLE
It really is such a simple, no fuss, no muss recipe. If you can stir things together you can make this! It is really as simple as all that.
If you are using Italian Sausage or Ground beef, you will need to crumble the sausage and beef first into a skillet and cook until browned. You could use ground turkey as well if you wanted to make it a bit healthier.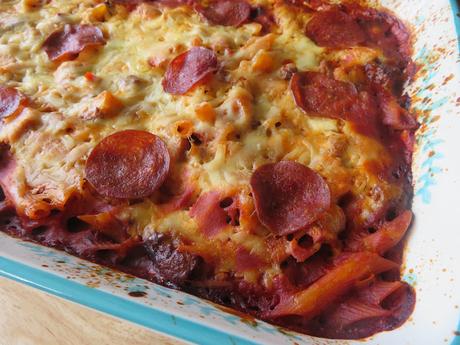 Sometimes we like ham or bacon with our pizzas, and they also work well in here.  Just cube the ham if you like that. Or you can fry and crumble the bacon.
In the UK you could get bacon or pancetta lardons, which were like little cubes of bacon or pancetta (an Italian bacon). They were really easy to  brown in a skillet.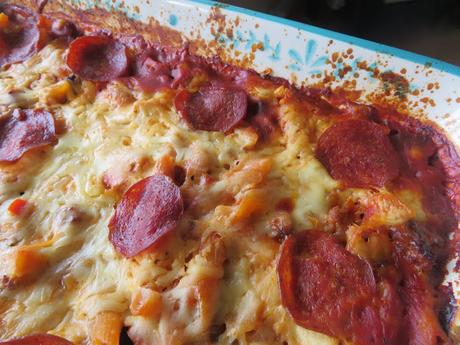 There is no need to precook the pasta for this recipe. The pasta actually cooks in the oven in the sauce.  That is why you need extra water. I adore pasta cooked in this way as it actually absorbs all of the flavors of the sauce you are using, and don't worry, it cooks properly and you do not end up with a watery finish! 
It is very important however that you keep the measurements of the past and the liquids as per the recipe. This is the proper amount to use for this recipe, and the proper liquid for this amount of pasta.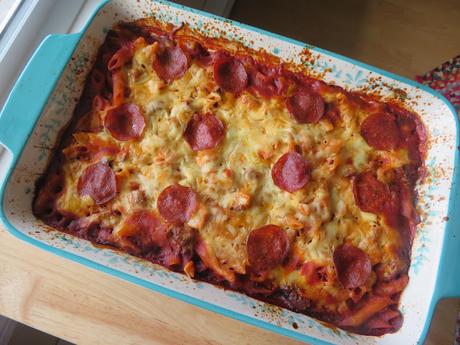 You begin by putting the pasta into a buttered baking dish. You don't really need to butter the dish, but I always do just in case things stick.  That's just me!  I prefer to err on the side of caution.
The pizza sauce and water get combined with all of the add ins and poured over the pasta in the dish. Give everything a good stir together to make sure everything is evenly distributed.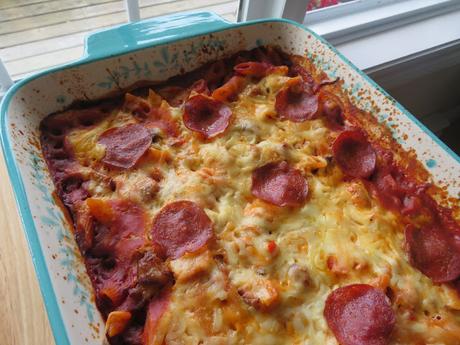 That's probably the hardest part, making sure everything is evenly distributed and you don't end up with all of the meats in one corner, or all of the vegetables in another. 
Its okay to stick your fingers in and give everything a little bit of help.  But then again, I am a person who doesn't mind getting my fingers dirty.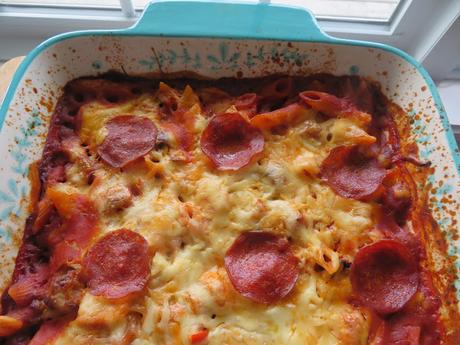 Once everything is as you want it you combine all of the cheeses. I choose to use three different kinds.
Mozzarella for its stretchy pizza goodness.  Cheddar for its flavor, which I really enjoy. Mozzarella can be quite bland.   Also Parmesan (or smelly sock as we used to call it when we were growing up).  Also for its saltiness and its flavor.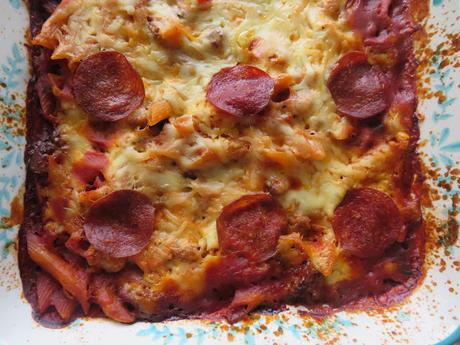 If you have other cheeses which you prefer more, by all means use them.  These cheeses get sprinkled evenly over top of the pasta in the dish.
Finally you want to place the pepperoni if you are using it over the top of the cheese. Feel free to use other toppings as well if you wish. Sliced or chopped black or green olives, red onion, hot peppers, etc.  Choose and use what you and your family enjoy!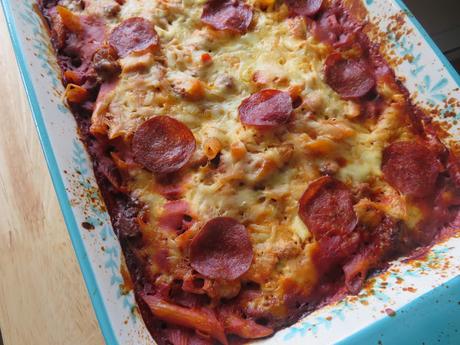 Finally you just tightly cover the casserole dish with a sheet of aluminum foil and bake for half an hour and then uncover and bake for a few minutes longer to brown everything up a bit.  Your pasta will be cooked perfectly al dente and everything with be tasty delicious! 
Dan really, really enjoyed this. I served it with a tossed salad and some garlic bread on the side.  He was in man-pizza-pasta heaven!  I confess, I really enjoyed it as well and I thought you would too, which is why I am sharing it with you today! I wish I could have taken a photo of the insides, but everyone was too hungry. It smells amazing when it is baking.
This is a real family pleaser, any way you look at it. I took the leftovers over to my daughter after dinner and she messaged me later on to tell me it was delicious. I love serving and feeding my family.  That puts me in my happy place. 😃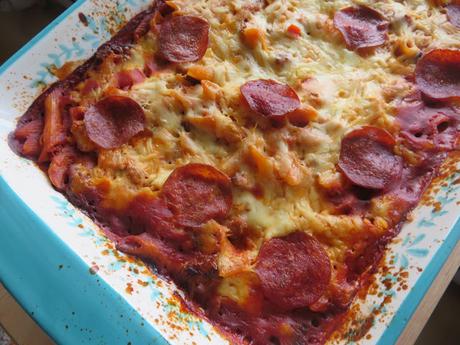 Easy Pizza Casserole
Yield:
6
Author:
Marie Rayner
Prep time: 5 Min
Cook time: 40 Min
Total time: 45 Min
This is a real family favorite. It makes a lot but you can separate it into individual casseroles and freeze them.
Ingredients
2 cups (230g) penne pasta (can also use fusilli)
2 cups (480ml) pizza sauce
1 1/4 cups (300ml) water
1/2 cup (60g)grated mozzarella cheese
1/2 cup (60g) grated cheddar cheese
1/4 cup (45g) grated Parmesan cheese
1 small onion, peeled and chopped
1/4 each, red, green and yellow peppers, chopped
6 fresh mushrooms, sliced
4 Italian sausages, skinned, crumbled and browned (you decide if you want hot or sweet sausage)
12 pepperoni rounds
Instructions
Preheat the oven to 425*F/230*C/ gas mark 7.  Butter a 7 by 11 inch baking dish.
Pour the dry pasta into the dish.
Whisk the pizza sauce and water together in a large glass bowl, along with the chopped onions, peppers, mushrooms and sausage. Pour this mixture over the pasta in the baking dish.  Stir to coat all the pasta with the sauce and distribute the vegetables and sausage.
Combine all three cheeses.  Sprinkle them evenly over top of the pasta in the dish, then place the pepperoni rounds on top of the cheese, evenly spacing them.
Cover the casserole tightly with aluminum foil.  Bake in the preheated oven for 30 minutes.  Remove the foil and bake for 10 minutes longer until the pasta is al dente, the cheese has melted and the pepperoni has browned.
Serve hot.
Did you make this recipe?
Tag @marierayner5530 on instagram and hashtag it #TheEnglishKitchen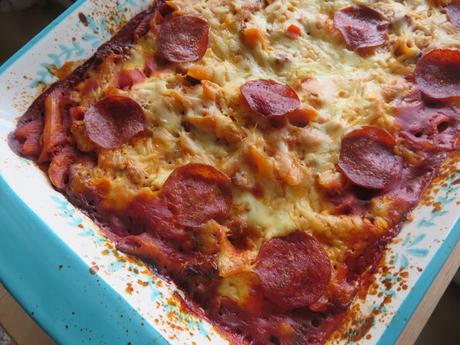 All of the content you see here on this page, both photography and written, are the sole property of The English Kitchen, Marie Rayner. Any reposting or misuse is not permitted. If you are reading this elsewhere, please know that it is stolen content and you may report it to me at mariealicejoan at aol dot com. 
Follow me on Bloglovin