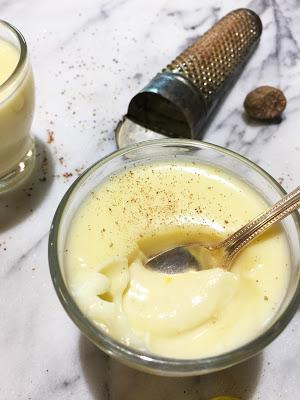 I admit it. I have a sweet tooth; an insatiable one actually. Since we are trying to watch our weight, I avoid keeping treats in the house escape temptation. Tonight the cravings were so bad, I went rummaging through the pantry (dried beans, sugar), the freezer (peas, pizza pockets), and the fridge (kale, radishes, lemons, a little leftover cream and parmesan). I was desperate, so I took to the internet. This is the part where I say, "I love Google!" I entered sugar, cream and lemon in the search bar and found posset. Of course, I had forgotten about this old-school gem!
In Merry Olde English days of yore, a posset was a drink made from hot milk laced with ale or wine and spiced. It was popular in the Middle Ages as a remedy for colds and minor ailments and a sleep-aid. Posset appeared in Shakespeare's Lady Macbeth knock out the guards outside Duncan's quarters with a poisoned posset.
Using just three ingredients, it seems almost magical, and sets up almost immediately. The wonders of food science in front of your very eyes make this a quickest, easiest dessert, like ever. Curdled cream becomes a thickened cream dessert; similar to lemon curd or key lime pie.
1 cup heavy cream
1/3 cup sugar
Juice of one medium lemon
Nutmeg (optional)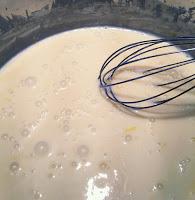 In a small saucepan, heat cream and add sugar, stirring to dissolve sugar. Bring cream to a low boil and continue to boil for 5 minutes (give or take). Watch the heat very carefully and don't let the cream boil over.
Remove the cream mixture from the heat and stir in lemon juice. Let the posset cool for about 10 minutes before pouring into ramekins. This custard is very rich, so I recommend using smaller dishes. I used these proportions (which makes two nice servings) because I only had 1 cup of cream, but the recipe can be very easily doubled, tripled, etc.
Refrigerate until set. Depending on how thick you want the pudding, it may take up to 2 hours. Top with a sparse grating of nutmeg (sounds a bit odd, but it's quite a good match). It is traditional to serve with shortbread cookies, but sadly I found none in the pantry.