About 2 months ago, I made a promise to myself I would start cooking more often.  Initially, I had intended to make more dinners.  I never imagined, in a million years, I would have the time or courage to start baking as well!  Over the past few weeks, I've baked a number of yummy desserts including Banana Coconut Muffins, Peppermint Biscotti with Chocolate Drizzle, Coffee Cake Cheesecake (post still to come) and, most recently, Cookie Cupcakes! 
I'm constantly second guessing myself when it comes to cooking anything, but I've been proving, lately, that it's completely unnecessary.  Apparently, I rock at baking! Don't mind me as I give myself a much needed pat on the back.  It's really about time I started giving myself a little credit instead of harping on my cooking failures. You would think with the amount of harping I do, that I've failed more times than I've succeeded, but that's not the case at all.  Let's just say, I'm a tad hard on myself.  I may have even been told, on occasion, I set unrealistic expectations for myself.  Who me?  WHAT!?  Okay, okay, I guess I do.  And talk about seeing the glass half full, but here it is: at least the foods that haven't come out quite the way I imagined they would were still edible.  In fact, I may have been the only one in the house that didn't like their turnout.  They have been both eaten and enjoyed by the hubby and Alivia; God bless 'em!  So there it is; the truth!  I am in no way a professional baker or much of a cook in general, but I'd be lying through my teeth if I didn't admit I've been enjoying the new me!  I like cooking for my family and there's major satisfaction in hearing Alivia make mmmm…. noises as she scoffs down one of my banana muffins quicker than I can say "take smaller bites!"  When the husband says "you really can't make these often" I immediately smile.  Translation: "These are way too good for me to be able to control myself around them."  Considering he's watching his cholesterol, like the good little doobie  he is, I make a pinky swear.  Of course, I'm giddy inside they were such a success!
You are probably wondering when I'm going to share this fantastic recipe with you.  Well it's a good thing you stuck around through my rambling of insecurities, 'cause here it is!  Another recipe from Taste of Home Magazine by the very talented Sue Smith.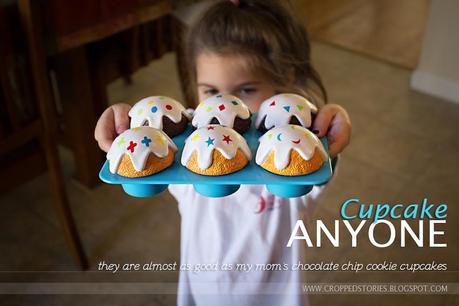 COOKIE CUPCAKES
(Click here for the PRINTABLE VERSION)
PREP TIME: 20 minutes / BAKE TIME: 25 minutes / MAKES: 1 dozen
INGREDIENTS
1/2 cup of softened butter
6 tablespoons of sugar
6 tablespoons of packed brown sugar
1 egg (I used an x-large egg)
1/2 teaspoon of vanilla extract
1 cup plus 2 tablespoons of all-purpose flour
1/2 teaspoon of baking soda
1/2 teaspoon of salt
FILLING
1/2 cup of packed brown sugar
1 egg (I used an x-large egg)
1/8 teaspoon of salt
1 cup (6 ounces) of semisweet chocolate chips (I used Ghirardelli milk chocolate chips)
1/2 cup of chopped walnuts
DIRECTIONS
1. In a large bowl, cream the butter and sugars until light and fluffy. Beat in egg and vanilla. Combine the flour, baking soda, and salt; gradually add to creamed mixture and mix well.
2. Spoon about 2 tablespoons of dough into each of the 12 paper-lined muffin cups, filling each halfway. Bake at 375 degrees for 10 minutes or until edges are light brown.
3. Meanwhile, in a small bowl, beat the brown sugar, egg, and salt for 5 minutes or until lighter in color. Stir in the chocolate chips and walnuts.
4. Remove partially-baked cupcakes from oven. Spoon rounded tablespoonfuls of filling into the center of each cupcake. Bake 12-14 minutes longer or until deep golden brown. Cool for 10 minutes before removing them from pan to a wire rack to cool completely.
And, as Alivia would say, "da da" as in "TA DA"!  Too funny; she cracks me up.  Anyhow, this is the end result: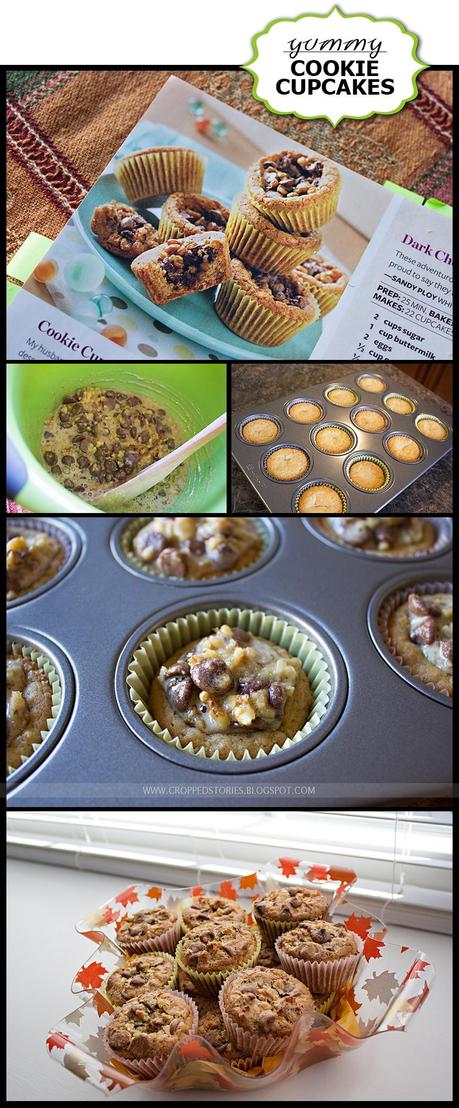 Are you drooling yet?
---
If you missed my previous post, The PINcentive Blog Hop (Week 9) & GIVEAWAY, I hope you'll stop by and link up!  Don't forget to enter our giveaway for a chance to win $100 in PayPal cash, a $75 Amazon gift certificate, and FREE ad space right here on Cropped Stories!
Feeling lucky? Feel free to visit my CURRENT GIVEAWAYS page for additional opportunities to win some AMAZING prizes!
Have an awesome hump day and I'll catch you all later.
Technorati Tags: recipe,taste of home,cookie cupcakes,food photography,food,dessert,family,new,aliva,child photography,cooking