My biggest struggle since becoming a mom is cooking. I never thought I would say that, but here we are. Let me remind you that this blog started out as a cooking blog. I LOVED to cook, always have. But from the moment I got pregnant with Willa, I hated being in the kitchen. Now that she's almost 18 months old, I don't hate cooking as much, but the meal planning and nightly cooking started to overwhelm me enough to give me anxiety. I needed something that involved no planning and easy meal prep or I was going to lose my mind.
While telling a friend of mine about this anxiety, she suggested the cookbook Cook Once Eat All Week by Cassy Joy Garcia as a guide to easy meal prep and planning. I bought the book that same day. I followed the weekly instructions and the recipes and oh my gosh, you guys. This book is exactly what I needed in my life. I've already purchased it for three friends and told countless others about it. I think it would be helpful for everyone, but if you're a busy mom who still likes cooking healthy for her family, this book is for you. 
Cook Once Eat All Week Basics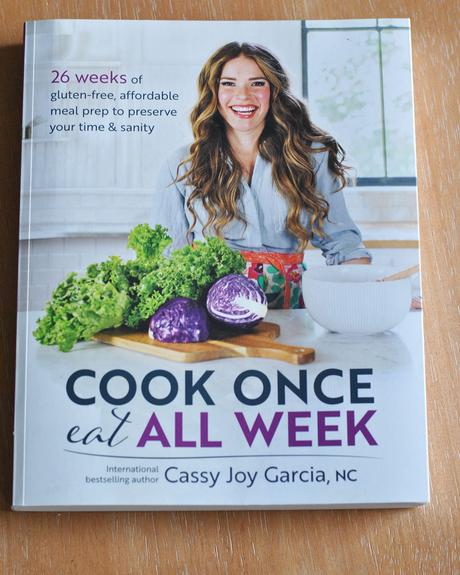 This meal prep plan is so easy to follow. Basically, the book is broken down into 26 weeks of meals. Each of those weeks, you purchase a protein, a vegetable, and a starch. And you buy a lot of each. Then, one day during the week (I do Sundays) you take 1-2 hours to prep the ingredients for your three meals that week. You don't cook an entire meal and put it in the fridge to heat up for leftovers. Instead, you actually prepare each ingredient, and then throughout the week, you use those pre-cooked ingredients to whip up (quick, simple, and different) meals.
What I love about this meal plan:
You are making a fresh meal each night, not just heating up leftovers
You make all the meals using the same three ingredients, so there is less waste
The meals are different each night, so there is a variety
Prep time takes only 1-2 hours, easily done one morning of your weekend
Nightly meals take 15-30 minutes on average
The recipes are healthy and customizable (they are all gluten-free, but you can certainly use gluten)
There are also options to make many of the recipes paleo-friendly, dairy-free, grain-free or low-carb.
Easy Meal Prep
The meal prep for these recipes takes me about one to two hours each weekend. Each weekly plan includes a shopping list with ingredients and how much you'll need of each. I personally place a grocery delivery order* every Friday to be delivered on Saturday and then do my prep work on Sunday mornings. I usually start around 10 AM after breakfast and am done with all the prep by lunchtime.
*I use Amazon Prime Now for my grocery delivery, which is fulfilled by my local Whole Foods
This week took me 1 hour and 45 minutes. The meals we'll be having this week are pork tacos with cilantro-lime slaw, Swedish meatballs with potatoes, and an egg roll stir fry. Here's what I did today:
Browned 2 pounds of ground pork, separate for 2 meals
Made a batch of pork meatballs and roasted them
Made a cilantro lime dressing
Shredded a cup of carrots
Cheated and bought slaw mix instead of slicing green and purple cabbage (this is a pro tip – ALWAYS cheat where you can!)
I also cheated by skipping the roasted potatoes for the taco recipe. Ben isn't a huge fan of potatoes in his tacos, so I took that as permission to skip that whole step. You really can take liberties with these recipes and make them your own! 
The Weeknight Recipes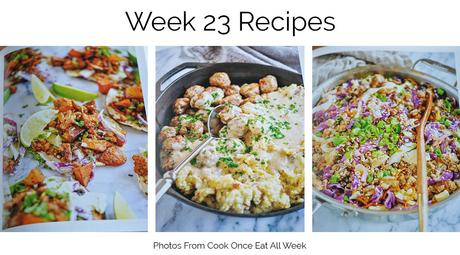 Each week you prep for three recipes with enough food to feed a family of four with each recipe. Willa usually eats what we eat so we are a family right now of about 2.5 and had so many leftovers the first couple times that I have since learned to pare down the volumes. As mentioned above, instead of the recommended 4-5 lbs. of protein, I normally buy 3 lbs. 
Each night you plan on cooking, you find the recipe for that night and it tells you which prepared ingredients you'll use as well as other ingredients, such as broth or spices, to make the recipe come together. This week I prepared week 23 of the cookbook and with all the prep steps I listed above, I made:
Pork tacos with a cilantro-lime slaw: I added the pre-cooked meat and some spices to a pan to warm it through, tossed my pre-purchased cabbage slaw with my pre-made dressing, then heated the tortillas and served.
Swedish meatballs with mashed potatoes: I made a quick pan gravy with some butter, flour, and broth. Added the pre-cooked meatballs in to warm through and then heated up my pre-made potatoes and served.
Egg roll in a bowl: I heat up the pre-cooked meat, adding some flavorings like ginger and soy sauce, and then add the cabbage. I am going to serve this with rice though it doesn't call for it and just use my rice cooker on the night of.
These recipes ranged from about 10-20 minutes of preparation time each night. Every week is similar to this. You pre-cook the ingredients and then use them to create new meals each night. It's that simple!
Tools Needed
I don't think you need a lot more in your kitchen than the actual basics. The items I recommend purchasing if you don't already have them:
A medium saucepan (~ 2-quarts)
Glass storage containers 
The following items are NOT necessary, but I have used them to speed things up with my prep because I already have them. 
Rice Cooker
Pressure Cooker
Instant Pot (for a rice cooker and pressure cooker in one)
Food Processor
Aside from the InstantPot, these are all the brands and/or models I personally have so I can tell you I actually love them and use them often.
Cook Once Eat All Week Review
Overall, you can tell I absolutely love this easy meal prep plan. I think it's sustainable to do every single week, it's healthy, and it takes all the stress out of planning meals. 
The only critique I have is that it makes A LOT of food. So much that sometimes we cannot eat it all. When reading the recipes (you'll get the hang of this as you cook them more) don't be afraid to cut down the volume of the ingredients, especially the protein. My husband and I rarely eat 5 pounds of chicken in a single week, regardless of how tasty the meals are, so I now cook about 3 pounds for us and adjust my prep as necessary. 
If you want to try this for your family, pick up a copy of Cook Once Eat All Week and let me know in the comments if you give it a try. I really hope it can help make some other parents' lives easier throughout the week like it has for us. And a huge shout out to my friend Michelle for telling me about this. Can't thank you enough, mama!
This post contains affiliate links. At no cost to you, I may receive a small commission for any items you purchase through one of my affiliate links. Thank you for your support!