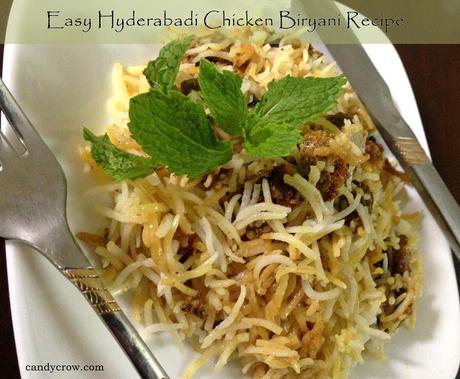 Hyderabadi Biryani is the first thing that pops into my mind when I think about Hyderabad. It is one of the most famous biryani recipe made using Dum type cooking. It is usually served along with Mirchi ka salan and onion raita. This recipe is an easy version of Chicken Dum Biryani, which needs overnight marination of chicken in spices and cooking of all the ingredients in a very slow flame in a sealed container. You need a heavy round bottom, handi and a fitting lid for making this dish. Don't get scared seeing the long ingredient list; it is an easy breezy task.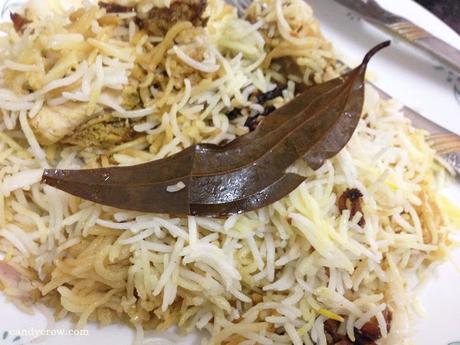 To Marinate:
Chicken: 500 gm
Curd: 1/2 cup
Oil: 1/ 2 cup
Chilli Powder: 2 tsp
Coriander powder: 1 tsp
Ginger Garlic paste: 2 tsp
Coriander finely chopped: 2 tbsp
Mint finely chopped: 2 tbsp
Green Chilli: 1 
Lemon juice - 1 tbsp
Salt: To taste
To Powder:
Shah Jeera: 1 tsp
Black Peppercorn: 1 tsp
Cardamom: 4
Cinnamon: 1
Clove: 3
Other Ingredients:
Basmati Rice: 2 cups
Fried onion: 2 tbsp
Saffron: Pinch
Bay leaf: 2
Star Anise: 2
Procedure:
1. Clean the chicken, grind the ingredients mention in the "to powder section" and add it to the chicken. Add Chilli powder and all the other ingredients mentioned in "to marinate" section to the chicken and mix well. Leave it overnight in the refrigerator.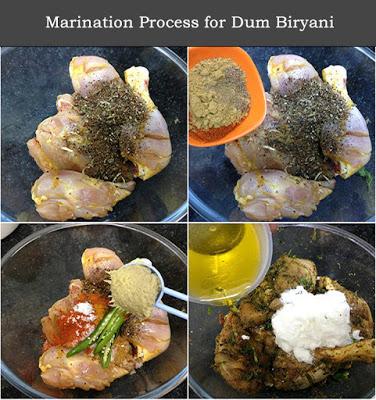 2. Wash basmati rice and soak it in water for an hour
3. Heat one liter of water in a large pan, add Bay leaf, mace, and salt to it. Once the water is hot, add the soaked basmati rice to it.
4. Cook until it is 3/4 cooked, it must be a little bit undercooked when you taste it. Drain the water and keep the rice aside.
5. Take the Handi and add the marinated chicken in it, layer the 3/4 cooked rice over it.
6. Top it with fried onions, few chopped coriander, and mint leaves.
7. Soak the saffron in warm water or milk before hand for 15 to 30 minutes. Add it to the rice. 

8. To make a perfect dum, Make a dough with wheat and layer it over the closing lid. Now close the handi with the lid.
9. First, cook the biryani on high flame for 3 minutes, then switch on to the low flame for 15 min.
10. Now place the Handi over the tawa and cook it for 20 more minutes in low flame.
11. Open it after 10 minutes and serve it along with onion raita or Mirchi ka salan.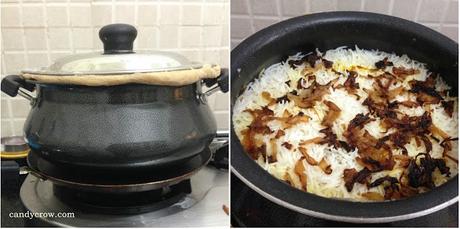 Tips:
*  Adjust the spices according to your taste.
*  To get crispy fried onions, roll the onions in cornflower before frying it.
*  You can 2 tsp of ghee to the rice before closing the lid
*  Do not open the dum immediately after cooking, as some of the ingredients will be still getting cooked in the heat.