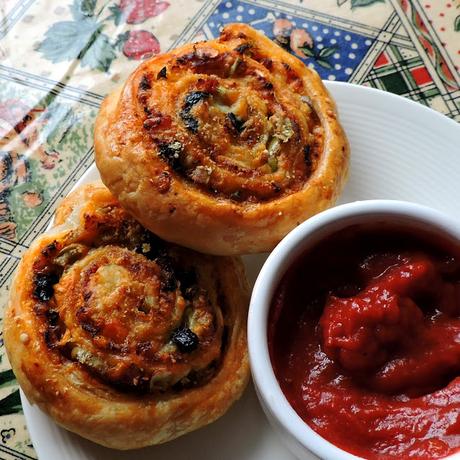 Easy Homemade Pizza Rolls. Pizza Pockets were always something which my children enjoyed.  What child doesn't!  Small pizzas, with the filling enclosed that you can eat with your hands.  I would buy them the frozen ones from time to time.
I also use to make them from scratch. Actually my friend Debbie and I used to make them from scratch for the school lunch program in Geary, NB when I lived there.  It would take hours and hours to make enough for the whole school, but I do confess they were incredibly delicious, however time consuming.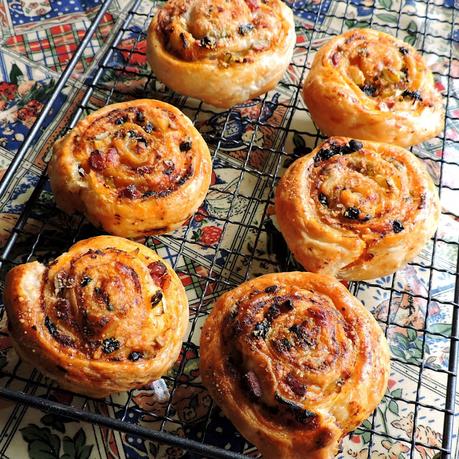 This recipe for Easy Homemade Pizza Rolls is a whole lot simpler and quicker to make. It makes great use of some store-cupboard ingredients. I personally like these a whole lot better than the regular pizza rolls.
And not in the least because the recipe uses puff pastry.  I mean, puff pastry.  If something uses that I am all over it like a rash. I simply adore the stuff!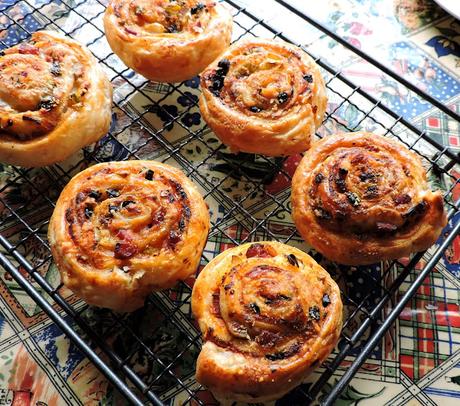 All Butter Puff Pastry is something which I keep in my freezer all the time. Only the all butter one.  I don't ever buy anything else. All butter is the best. 
It is such a convenient thing to have in the house and comes in handy for all sorts of things. Most chef's make use of prepared puff pastry if they can.  
Making puff pastry from scratch can be very time consuming. If you use the frozen all butter one, there is really no huge difference between that and from scratch. Its a real time saver.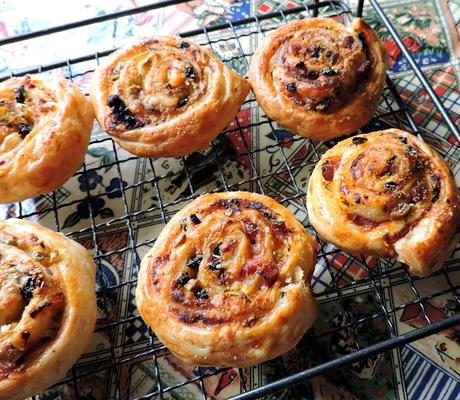 These homemade pizza rolls are so quick and easy to make. You simply unroll the puff pastry, spread it with a few bits and bobs, roll it back up again, slice and bake. Easy peasy lemon squeezy.
Simply thaw a sheet of  frozen all butter puff pastry as per the package directions and unroll. I like to press it out evenly with a floured rolling pin to get rid of any bumps or wrinkles left from it having been rolled up.  Then it is simply a matter of layering on the ingredients.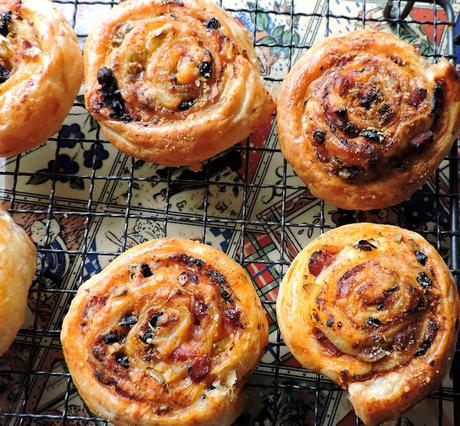 For these you want the filling to be fairly simple and you really don't want to over-do it.  Less is more in this instance. Too much and it will be falling out all over the place. You need to make sure that you chop all of the filling ingredients up finely.
You begin by spreading the pastry with a bit of sun-dried tomato paste. Why not pizza sauce?  Its quite simple. Pizza sauce is too wet and sun-dried tomato paste packs a real taste wallop in comparison. You don't need as much of it.  Trust me when I say it adds lovely pizza flavours into the mix.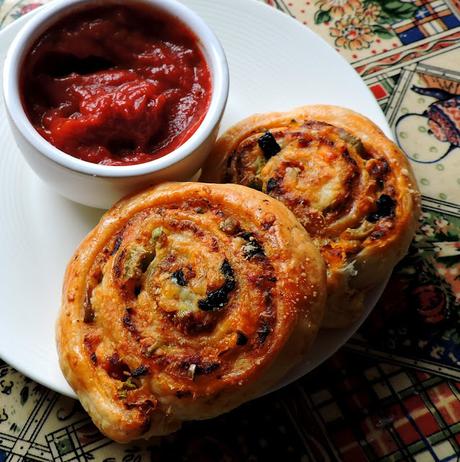 Plus you are going to be serving these rolls with warm pizza sauce for dipping, so you really don't need pizza sauce in the rolls. Just make sure you leave a border all the way around so that these stick together well when it comes to rolling and cutting.
I like to keep the filling ingredients simple. Parmesan cheese, sharp cheddar, chopped green and black olives, minced red onion, chopped pepperoni. (You can use hotdogs or ham instead, depending on what your family enjoys.)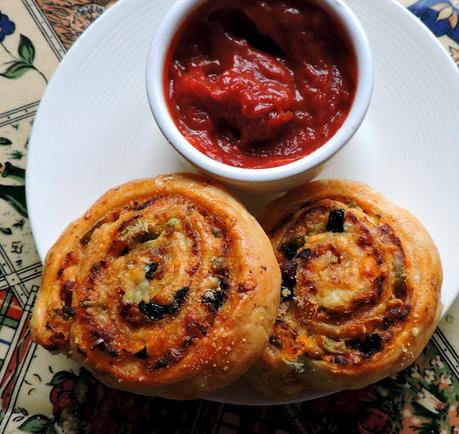 I like to use good cheeses and I always grate them myself. You could also use a mozzarella, but I think the Parmesan and cheddar make a great mix.  
You could put a bit more cheese in the filling if you like them really cheesy, but I find the amounts I have suggested to be quite perfect.
One reason I always grate my own cheese if I can is because there is nothing extra added. Its cheese, end of, period.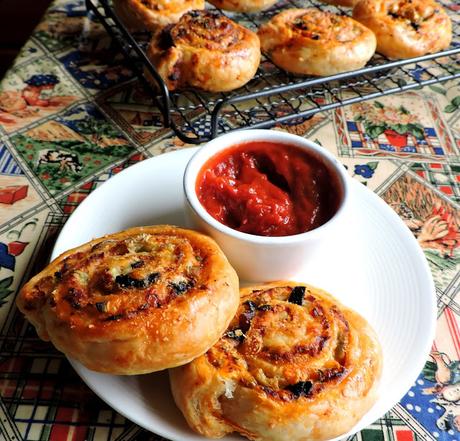 I love the dried olives if you can get them. Sometimes they have been cured with garlic and they have really fabulous flavours.  A little bit of them goes a very long way.
If you can only get jarred olives, by all means use them.  I just favour the dried.  It is a personal preference.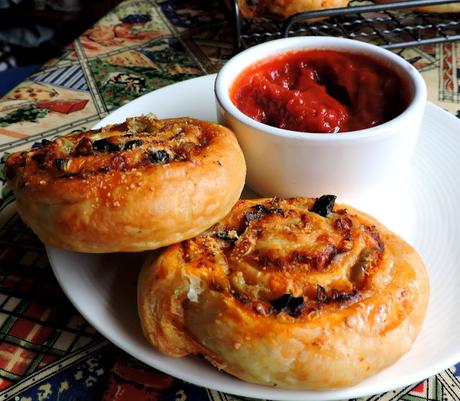 I like to use red onions for two reasons. One they are not quite as sharp flavoured as regular onions, and have a nice color and sweetness.
Again, if all you have is regular onions, you can use them instead, or even chopped spring onions. Another personal choice.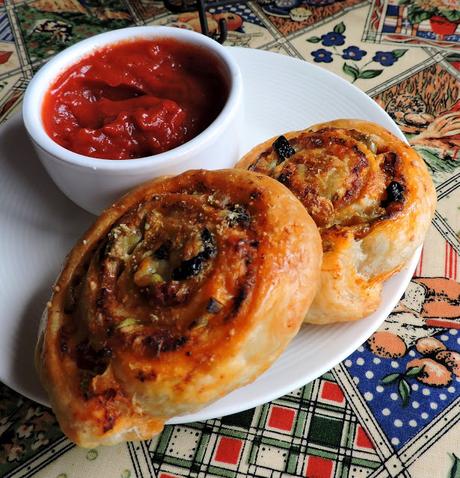 I never use mushrooms or peppers. I feel they would release too much moisture when they are cooking and make for a soggy roll. 
I really like these to be nice and crisp. Flaky crisp.  Buttery, flaky crisp. Need I say more?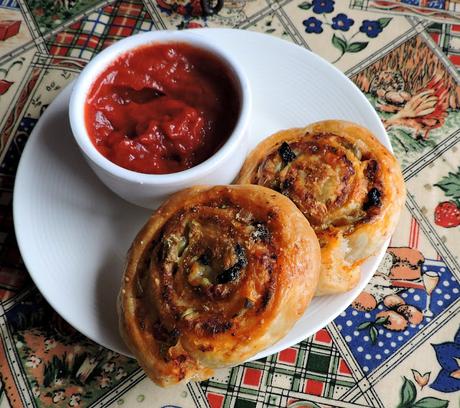 I like to add a little bit of finely chopped spicy pepperoni.  It adds some zest to the mixture. You could use hotdogs if you wanted to, or chopped ham, perhaps even crumbled cooked bacon.
Again, don't over do it. You do need to be able to roll these up!  And you want them to stay together, not fall apart when you are eating them.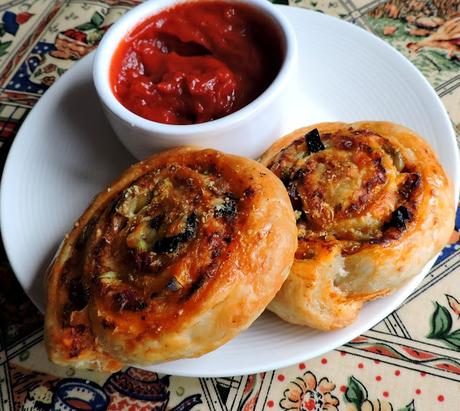 Roll them up tightly and then slice them into rounds with a nice sharp knife.  I place the about 2 inches apart on a lined baking sheet and then press them down lightly with my hand, just to flatten them a tiny bit.
I brush an egg wash over the tops and sprinkle them with a final amount of Parmesan cheese prior to baking. They bake up crisp and golden brown and  . . . I am warning you now, incredibly moreish.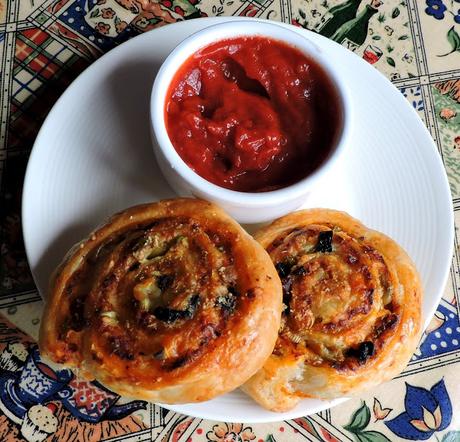 These are quite simply wonderful served hot with some warm pizza sauce for dipping.  I like to make my own pizza sauce from scratch. I don't want to brag or anything but I think my pizza sauce is the best and it is very easy to make. It also freezes very well, so don't worry about there being too much.
Buttery, flaky, nicely spiced, these are fabulously delicious.  I have never had anyone turn one down yet. In fact these are so delicious you may just want to double the recipe!  You can also freeze the baked rolls.  Just wrap them up individually and pop into the freezer ready to reheat briefly in a warm oven.
You are so going to love these! I guarantee!!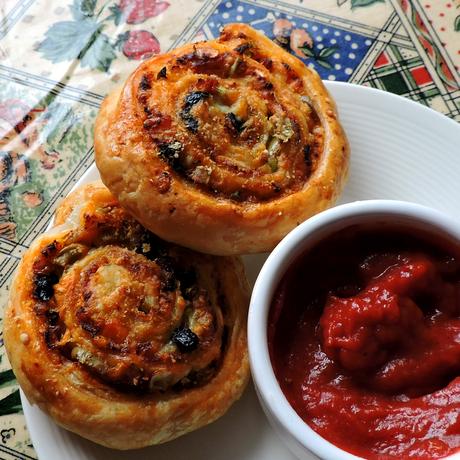 Easy Homemade Pizza Rolls
Yield:
6
Author:
Marie Rayner
prep time: 10 Min
cook time: 25 Min
total time: 35 Min
Flakey buttery puff pastry wrapped around your favorite pizza fillings and served with a delicious pizza sauce for dipping. Quick and easy to make and very tasty.
Ingredients
1 sheet all butter puff pastry
4 TBS sun dried tomato pesto
6 TBS finely grated Parmesan cheese, divided
1 all beef frankfurter or pepperoni stick, chopped
a handful each of black and green olives, chopped
1 small red onion, peeled and finely chopped
120g grated strong cheddar cheese (I use a mix of white and orange)
1 egg yolk beaten with 1 tsp water
Your favorite pizza sauce or homemade pizza sauce (see recipe below)
Instructions
Preheat the oven to 200*C/400*F/ gas mark 6. Line a baking tray with a sheet of baking paper. Set aside.
Unroll the puff pastry and lightly press out evenly with a floured rolling pin.
Spread the sun dried tomato pesto over the surface leaving 1/2 inch border along one long side. Measure out 2 TBS of Parmesan cheese and set aside.
Leaving the 1/2 in border intact, sprinkle the remaining cheese evenly over the pesto.
Scatter on the frankfurter, olives and onion. Scatter the cheddar cheese over top evenly.
Brush the empty border with some of the beaten egg yolk. Roll up tightly from the opposite long side to the egg yolk washed side, encasing all of the filling ingredients.
Press the egg washed seam tightly to adhere to the main body of the roll.
Using a really sharp knife, cut into six rolls.
Place them evenly spaced onto the prepared baking sheet, cut side down and pressing lightly down with the palm of your hand to flatten slightly.
Brush with the egg wash and sprinkle with the remaining Parmesan cheese.
Bake in the heated oven for 20 to 25 minutes, until golden brown and flakey..
Warm your pizza sauce while the rolls are baking. Serve the hot pizza scrolls with the sauce for dipping.
Did you make this recipe?
Tag @marierayner5530 on instagram and hashtag it #EnglishKitchenCreated using
The Recipes Generator
Here is the recipe for my homemade pizza sauce. It is delicious and makes enough to top two 12-inch pizzas. It also freezes very well, so any extra that you have leftover can easy be frozen for future use!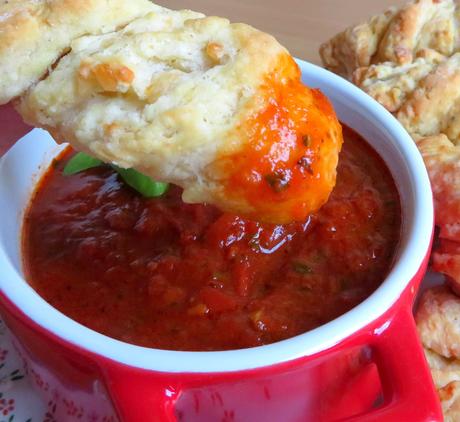 Tasty Homemade Pizza Sauce
Yield:
Makes enough for 2 (12-inch) Pizzas
Author:
Marie Rayner
prep time: 5 Min
cook time: 15 Min
total time: 20 Min
This is a really good pizza sauce recipe. After experimenting through the years with different types of tomatoes, sauces and spices I think I have come up with what is a real winner. Delicately spiced. The sauce is what makes a pizza in my opinion!
Ingredients
2 cups (415g) of tomato passata (seived tomatoes)
1/4 cup (60g) tomato paste (sundried tomato paste is nice sometimes for a change)
2 cloves of garlic, peeled and minced
1 tsp sugar
1 tsp onion powder
1 1/2 tsp dried basil leaves
1 tsp dried oregano leaves
1/4 tsp chinese five spice powder
seasalt and freshly ground black pepper to taste
Instructions
Put all the ingredients in a small saucepan and bring to a simmer. Cover with a lid, slightly ajar and simmer on low for about 15 minutes. Let cool before using.
Did you make this recipe?
Tag @marierayner5530 on instagram and hashtag it #EnglishKitchenCreated using
The Recipes Generator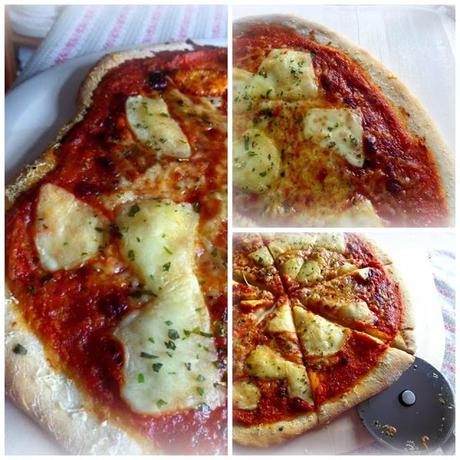 This content (written and photography) is the sole property of The English Kitchen. Any reposting or misuse is not permitted. If you are reading this elsewhere, please know that it is stolen content and you may report it to me at: mariealicejoan at aol dot com Thanks so much for visiting. Do come again! 
Follow my blog with Bloglovin