San-J was one of the companies that completely "saved my life" when I went gluten free.
As you know (or may not know), my mother is of Chinese heritage, so I grew up eating and cooking Chinese styled dishes.
This made it harder for me when I found I had to go gluten free.
Let me show you how aweful…the scenario sort of went like this.
*start scenario*
Hmm, what can I not eat?  Bread, cake, anything with wheat flour, barley flour (oh no my porridge!) or rye (there goes my favorite breakfast toast!).  No lunchmeats – what about just plain ham?  Or roast beef? that's okay, I don't eat that stuff too much anyway. No hot dogs or sausages.  Darn there goes my late night snack downtown…ah well, they're starting to sell souvlaki etc. etc. these days…wait…soy sauce?  There's gluten in SOY SAUCE?!!  OH NO MY WORLD IS ENDING!!
*end scenario*
That's because I cook with soy sauce VERY often.  It gives a nice color to the food and a lovely flavor and adds a little sodium in a more "smooth" manner than salt….if that makes any sense to you.
I was devastated until I found San-J gluten free soy sauce – and my life has gotten a lot tastier for it.  The soy sauce does not make the food as dark as the soy sauce I used to use, and it is a lot less processed (or at least it tastes less processed) and less salty than other brands.  Overall, it is yummy and has allowed me to re-expand the types and amounts of food I can eat.
You don't use soy sauce you say?  Well I use it…In stews, baked chicken, any meat that needs some flavor (other than curry and even then sometimes…)…and for sushi.
I love sushi.  The tamari that is used in restaurants is full of gluten.  And sushi is just  not the same without the tamari.
So I was overjoyed to open my box of special San-J goodies to find travel-sized pack tamari sauce!  Two immediately got thrown into my handbag – sushi here I come!
The travel pack also included some rice crackers that I had never tried before.  To be honest, I was wary at trying them, because if you're gluten free, you've had your fair share of rice cracker and rice cake stories (like this one time when I was taking a flight and they gave me a rice cake and a yogurt (hello I'm dairy free) for my "gluten free meal").
But I was intrigued, because one was a teriyaki flavor and the other was a black sesame flavor.  I opened them up and nibbled cautiously.
Flavour flooded my senses.  Rice crackers have been redeemed.
Then I wanted to figure out what I could do with these crackers – and after a few days decided, why not stay with the Asian theme and make wanna-be sushi appetizers?  And what about desserts?  I know that I've had mango rice pudding with black sesame seeds at some restaurants and also, really yummy black sesame ice cream….would I be able to play with that idea?
So this is what I came up with for the hor d'oeurves.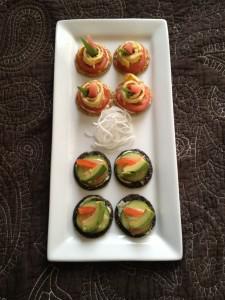 My lovely creation!
The top four are the teriyaki rice cracker with some wasabi  mayonnnaise, a slice or tomato, omlette, tuna sashimi and green onion with a dot of sriracha.  The bottom four are the black sesame tamari rice cracker with wasabi mayonnaise, cucumber, pickled ginger, avocado and a small small slice of tomato.  Both were sprinkled with a LITTLE salt (cause the crackers are already have salt) and some black pepper.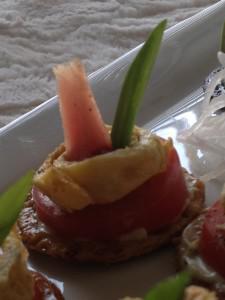 Close up
These were fantastic – I loved how neat they were and how easy they were to eat (they didn't fall apart after one bite!).  I even had my friend come over to taste test and she loved them too.  In fact, she was like "Can I order these?  Can  you make some for my party in two weeks?" and then insisted that I (somehow) cater her wedding – when she has a wedding (which I hope is soon!).
Then, I made her taste dessert – and her eyes opened up bigger than the crackers themselves!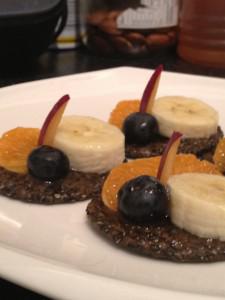 Yummy fancy dessert

The desserts consisted of the black sesame tamari rice crackers, smeared with the Star of Passion jam that I made the other day and covered with a slice of banana, a mandarin segment, a blueberry and a small thin piece of nectarine.  Then I sprinkled with a little sugar.
I think this worked because the fruit went spectacularly with the cracker and the salt in the cracker balanced the sweetness of the jam, fruit and sugar to give a really well-rounded flavor.  If only I could figure out how to make this into some sort of cake, I'll be a millionaire!
The best thing of all with these creations, though, were that they're all gluten, dairy and (bumpy, hairy) berry free so I can eat any and all of them without worrying about allergic reactions and food intolerances!  And that means a lot to anyone with food allergies.
So thank you San-J for introducing me to these amazing crackers – I'm going to go scour all the groceries around here to see where I can get it…and maybe call my friend back to let her know that I'll make the hor d'oeurves for her party….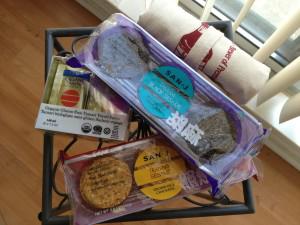 San-J prize pack
Also, thank you San-J for being generous enough to offer my readers a San-J prize pack consisting of the travel packs of tamari, a reusable San-J tote, one packet of the teriyaki rice crackers and one packet of the black sesame tamari rice crackers.
All you have to do is wait for the rafflecopter form below to load (if it hasn't already) and do the tasks listed.  There are two mandatory tasks, but the rest are optional.
Good luck and happy experimenting in the kitchen!