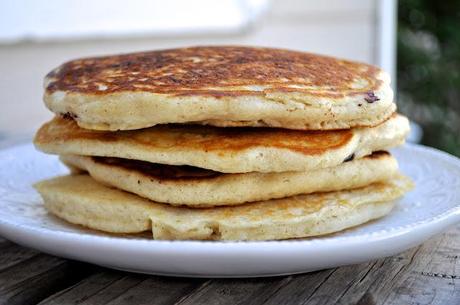 I woke up a few weekends ago and all I could say was, "I want some really fluffy pancakes".
Ryan responded by telling me we probably had to go to IHOP then, because boxed pancake batter just doesn't give you those type of pancakes. Stubborn and also NOT wanting to get prettied up to go grab breakfast, I decided I would try and make my own.
These pancakes are so simple. Best of all, I didn't have buttermilk on hand, so I teach you how to make these with milk. They turned out SO fluffy! The first 2-3 I made were out of control fluffy, so the rest I made sure to "smooth out" a little in the pan.
If you are like me, adding chocolate chips are a must. Some people think it's nauseating, but I love it. I always make sure to make plain and chocolate chip, even though lately Ryan has been eating way more chocolate chip than plain...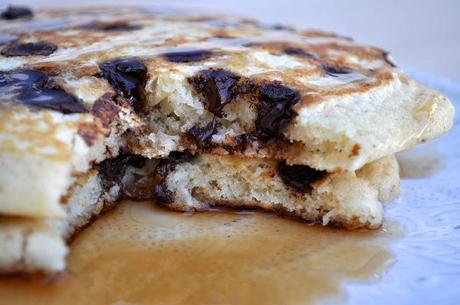 I promise this is the best pancake recipe I have ever made. I know you will love them just as much as we did!
Fluffy Pancakes
8-10 pancakes
1 1/2 cups milk
1/4 cup white vinegar
2 cups flour
1/4 cup sugar
2 teaspoons baking powder
1 teaspoon baking soda
1 teaspoon salt
1/2 teaspoon nutmeg
1/4 cup melted butter
2 eggs
1 teaspoon vanilla extract
1. In a large bowl, mix milk and vinegar together. Let sit for 10 minutes to allow milk to "sour". In a smaller bowl, mix flour, sugar, baking powder, baking soda, salt and nutmeg together.
2. After 10 minutes have passed, whisk butter, eggs and vanilla into the milk and vinegar. Slowly add in the dry ingredients. Stir until just mixed. It should be lumpy! Don't over mix.
3. Heat a griddle or nonstick pan over medium heat on your stove. Once heated, batter will be thick. Do not re-stir! Spray pan with cooking spray and scoop batter into the pan. "Smooth down" the batter a little to have uniform, round pancakes. Cook for 2-3 minutes per side.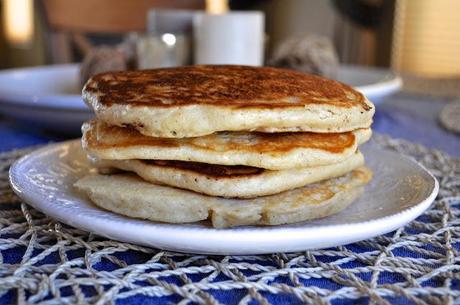 Check out one of the sweetest ladies I know: