I used to be a good cook. Before I started working in DC with a longer commute, before I had a child, I was a creative cook. I loved making things from scratch, trying new recipes and tweaking them to better fit Karl and my personal tastes. Then life changed and now my cooking usually is a doctored ragu with pasta while my husband has become quite the talent in the kitchen. However, Karl teaches four evenings a week and I like to have a meal waiting for him as soon as he gets home, and spaghetti gets pretty old. When
scratchDC
contacted me asking if I wished to try out their program, I was stoked!
scratchDC
is a unique company where they use primarily local and organic ingredients to prep gourmet meals for you to make in your own home. A different meal for two each day
(Monday through Thursday),
scratchDC measures, chops, and prints out uber-easy instructions and delivers it to your Washington DC home or kitchen for you to cook and serve.  Perfect for date nights, special events, or when you want a fab meal but don't want to make reservations.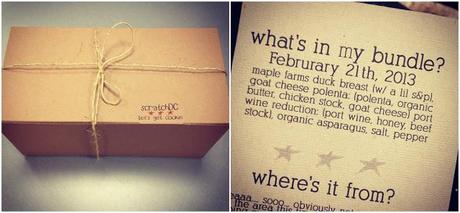 This past Thursday, I tried out
scratch DC
with duck breasts, asparagus, and goat cheese polenta with a port reduction. I have never cooked duck so I was curious to see how it would turn out. I scheduled a delivery between 2-3pm and at 2:03 scratch DC arrived at my office with a small brown box tied with a twine bow. I tucked it in the office fridge until the end of the day. When I got home, I opened the box to see everything carefully measured, chopped, and marinated and all packaged in compostable or recyclable packaging. Inside was a card that explained what was in the package, from where the ingredients were sourced, and extremely clear instructions on how to cook the dish. They even included the aluminum foil needed for the recipe – all I had to provide were two pants and a medium sized pot with lid!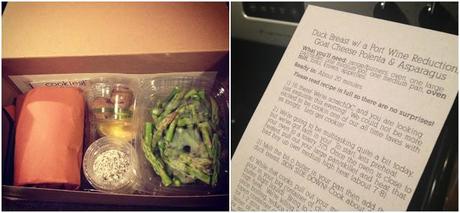 In 30 minutes, I had created a gourmet dinner for two. The instructions were so clear, even explaining that medium-high on a stove is between 7 and 8. I loved that I not only cooked a meal but learned so much – I now know how to cook duck breast
(five minutes skin side down, one minute other side, flip again and put in the oven, then let it rest in a loose tent of foil),
know a delicious way to incorporate goat cheese and fresh oregano into polenta, and to use the drippings from the duck breast to sauté asparagus
(and that two minutes is perfection for us!).
I feel as though I am a better cook from the
scratch DC
experience.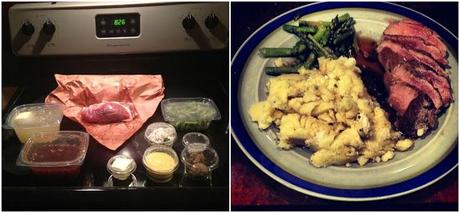 As for the food? It was INSANE! The box produced two generous portions, enough that if it wasn't so insanely delicious, we could have at least had polenta leftovers.
scratch DC
even offered suggestions on how to plate the dish for an elegant presentation. Karl was highly impressed by my cooking skills, but I was highly impressed with how scratchDC created the perfect program to not only provide fresh and delicious meals but to empower at home cooks.
I know you're all wondering about the price – for around $22 - $28 you receive high quality fresh ingredients to make a special meal for two. This meal rivaled dishes I have eaten in highly-rated establishments around DC but with more generous portions. The price is really astounding for what you receive. The menu changes weekly, so there's always variety. You can order same day, as supplies last, or order in advance for delivery later in the week. From steaks to curry to pot pies, the selection is varied and there's always something to fit everyone's tastes. As
scratchDC
is still new, there's only one selection each day, but there's usually a vegetarian option each week and they plan to have gluten-free, allergy-sensitive and diet-friendly options in the future.
Want to know more? Check out the
scratchDC site
or
follow them on Twitter
. Want to try scratchDC? They have offered Wardrobe Oxygen readers with a code to get
15% off your first order
! Just enter the promo code
wardrobeoxygen
at checkout
(code is valid until March 22, 2013)
.
Have you tried scratchDC? What did you think of the program?
Pictures have been enabled to enlarge if you click on them.  While I did receive one free order from scratchDC, I was not compensated to write this post. I just went on and on and on because I really love this program, found the service and quality stellar, and the finished product was honestly amazing. We will be using scratch DC again!
Follow Me | Twitter | Facebook | Instagram