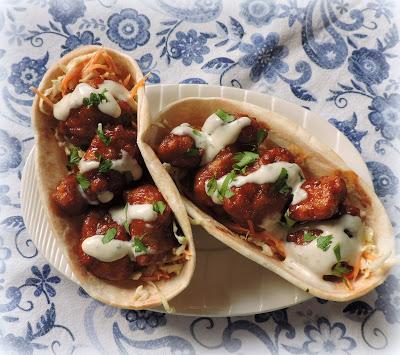 I had been eyeballing a recipe on
Delish
for a while now for Crack Chicken Tacos.  They looked fabulously tasty, but they also looked a bit faffy, with having to bread pieces of chicken breast etc.  The idea of that really kind of put me off.  I want my tacos to be quick and easy.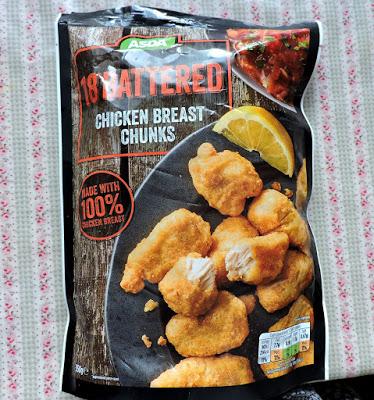 Then I discovered these in the frozen food section at our local grocery shop.  Reasonably prices and 100% chicken, and with only green and amber lights, they are fairly healthy.  And so I picked up a couple packs to see if I could do something with them.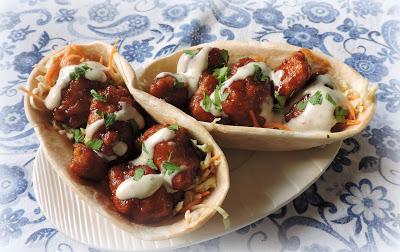 The original recipe called for breading chicken breast chunks with egg, flour, panko, seasoning, etc.  You can certainly do all that faffing about if you want to, but I can tell you right now, it's not necessary.  You can have something just as tasty on the table in a fraction of the time and with a great deal less effort.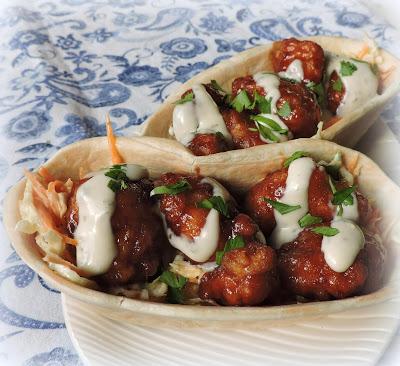 The sauce is amazingly simple.  You just warm together some of your favorite BBQ sauce, brown sugar, lime juice and some garlic powder.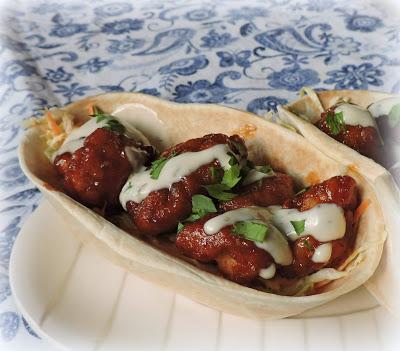 I cut all the quantities of the original recipe in half and found that it was more than plenty!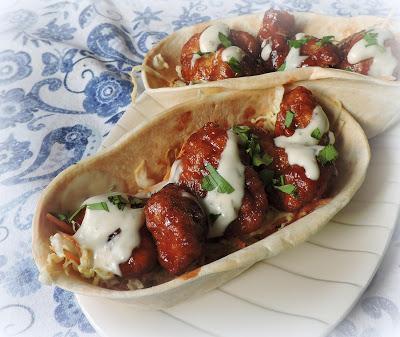 The original recipe called for simply rolling the finished chicken in the sauce before putting it into the tortillas.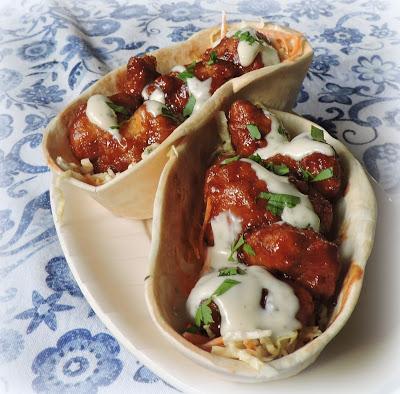 That could be why they needed more sauce.  I coated the chicken chunks in it 5 minutes prior to the finished bake time and returned them to the oven to actually cook in the sauce for a few minutes, which really enhanced the flavours of the sauce, so you needed a lot less of it for a larger flavor impact.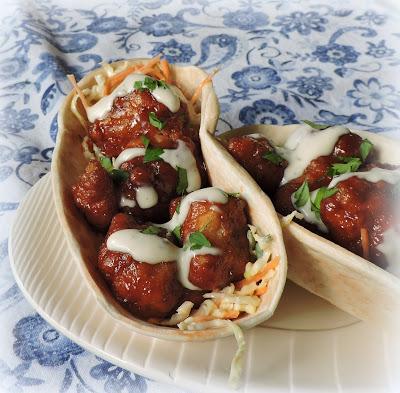 The original recipe also called for a simple bed of shredded cabbage to sit the chicken on in the tacos.  I felt I could do much better than that.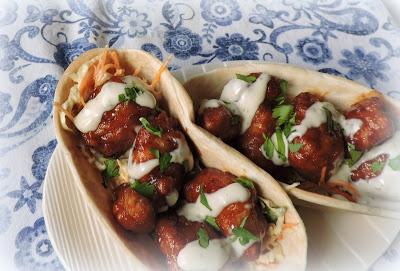 I added a shredded carrot and some sliced spring onions and a couple TBS of Ranch dressing to make it into a coleslaw.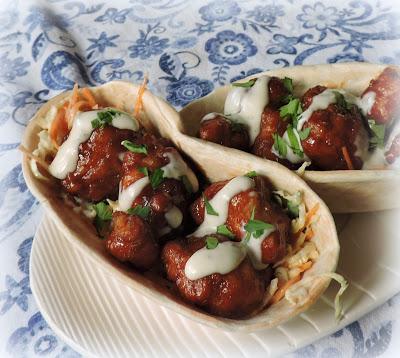 This worked beautifully as a wonderfully tasty bed for those delicious chunks of chicken.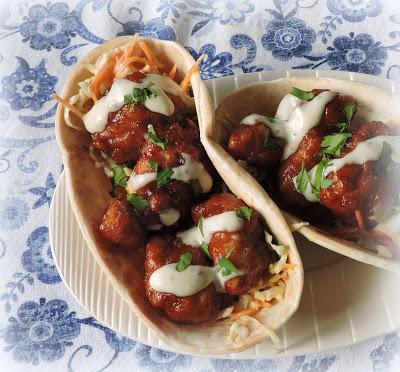 All that needed to be done after that was to drizzle them lightly with some more ranch dressing and sprinkle some chopped coriander leaf on top!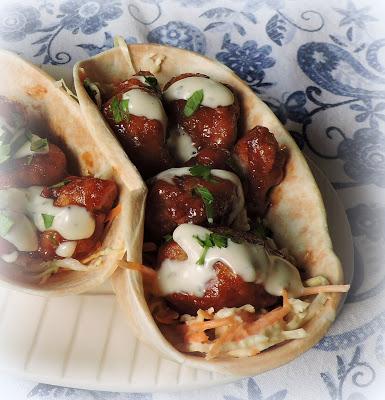 Oh boy but these were fabby do!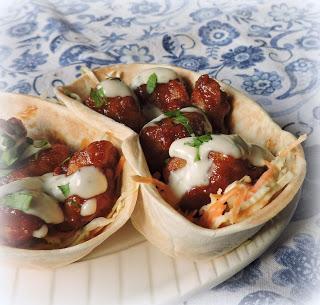 Really FABBY DO!!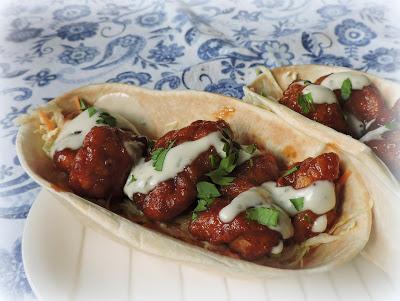 The flavours were fantastic!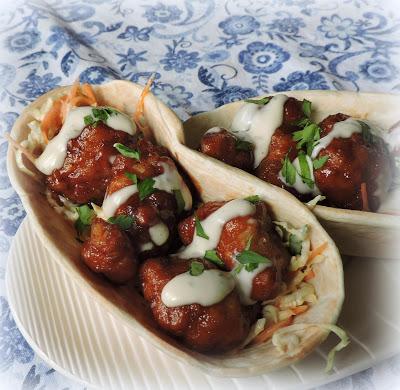 They were quick and easy to make!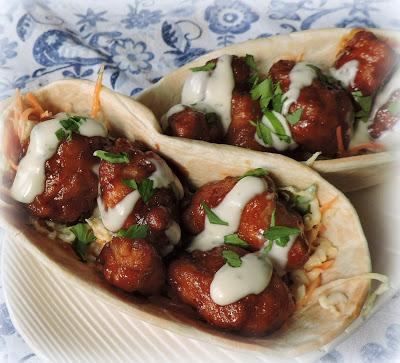 And they provided us with at least one of our five a day!  You can't go wrong!
Yield: 4
Author: Marie Rayner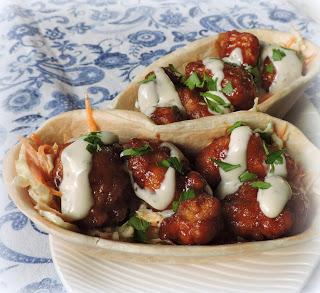 Easy Crack Chicken Tacos
prep time: 10 mins
cook time: 15 mins
total time: 25 mins
Probably some of the tastiest tacos you would ever want to eat. Quick, easy and delicious!
ingredients:
350g pack of frozen battered chicken breast chunks (12 1/2 ounces)4 soft flour tortillas, or tortilla boats
For the sauce:
125g BBQ Sauce (1/2 cup)50g soft light brown sugar (1/4 cup)2 TBS lime juice1/2 tsp garlic powder
For the salad:
1/2 small head of cabbage, finely shredded1/2 carrot, peeled and shredded2 spring onions, trimmed and finely shredded2 TBS ranch dressing
You will also need:
freshly chopped coriander leaf for sprinkling (Cilantro)ranch dressing to drizzle
instructions:
Preheat your oven to the temperature designated on the package of
chicken.  Line a baking tray with foil and pour out the chicken pieces
onto the foil.  Bake in the oven according to package directions.
To make the sauce, gently heat together the BBQ sauce, sugar, lime juice and garlic powder.  Keep warm.
To make the salad, mix the vegetables together in a bowl along with the ranch dressing.
About
 5 minutes before the chicken is done, remove it from the oven and toss
it with the sauce.  Return to the oven for the remaining cook time. 
Heat your tortillas according to package directions. To
 serve, divide the coleslaw salad between the warmed tortillas, top each
 with 1/4 of the coated chicken pieces.  Drizzle the chicken with some
ranch dressing and sprinkle with coriander leaf.  Fold over and serve
immediately.Created using
The Recipes Generator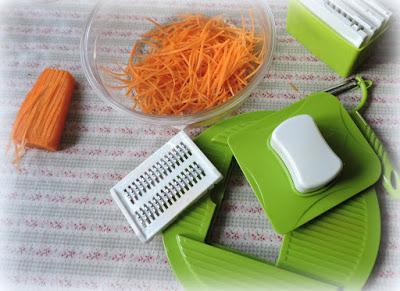 I used this
Essential 5-in-1 vegetable shredder
to do my carrots for the salad.  It is so easy to use and comes with a handy bowl that you can shredd your vegetables into.  I just mixed up my coleslaw in that same bowl.  Its a really handy kitchen tool.  Easy to use, clean, store and maintain.  I love it and use it a lot.  You can
find out more here
.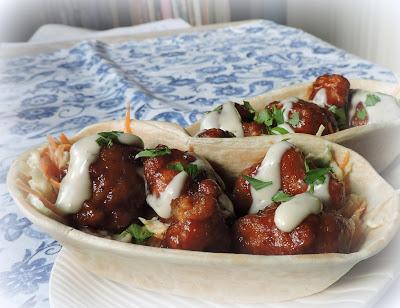 We both really enjoyed these tacos.  They fit the bill on all counts and fulfilled my kitchen motto, which is for most of what I cook to be quick, easy and delicious!  Love, Love, Love! Happy Weekend!