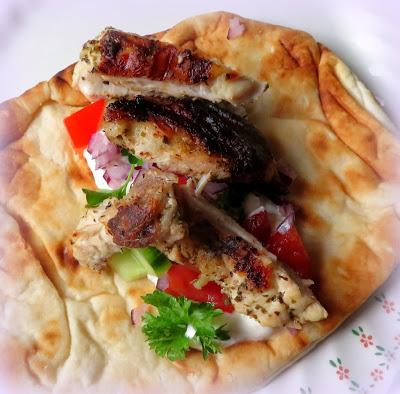 I think I am becoming more adventurous in my old age when it comes to food.  That's probably because I don't have fussy children in the house to please any more.  Todd is not a fussy eater.  He doesn't really like pasta or chocolate, but he pretty much eats whatever I put in front of him.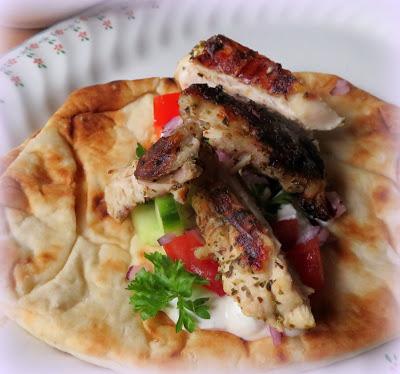 I really enjoy the freedom I have now to explore and cook whatever I desire (within reason) and a variety of flavours and ethnic dishes, etc.   I have discovered in later years that I really enjoy Mediterranean and Middle East flavours!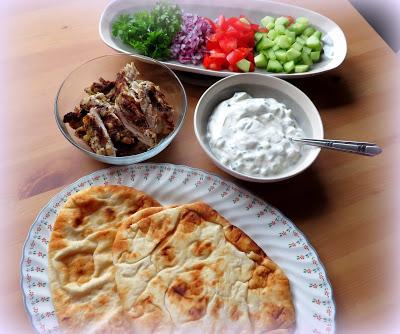 I was sent some lovely Greek Flat Breads the other day and took advantage of them to make these fabulous Easy Chicken Gyros.  (Yee-ros)  The Greek Flat Breads are from
Deli Kitchen
and they are just beautiful.  Soft and flexible they are perfect for recipes such as this!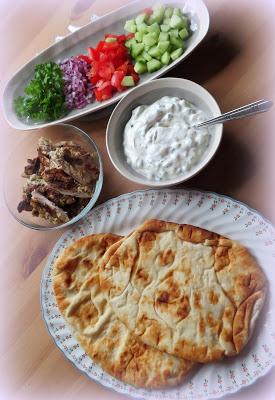 Gyros are a Greek sandwich which consists of grilled meat (chicken, lamb, beef or pork) which has been marinated in a delicious marinade prior to grilling, sliced and layered onto a flat bread along with some salad and some creamy Tzatzki sauce.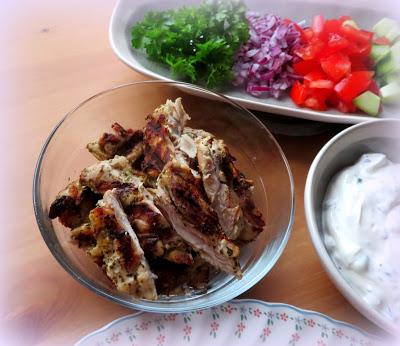 I prefer to make them at home so that I know exactly what goes into them.  (I have seen too many horror stories on the television about the cleanliness in these types of establishments!!)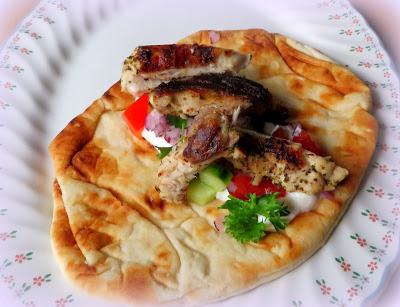 They are really a very easy sandwich to make and quite quick if you do a bit of planning ahead of time.  Today I used chicken thighs which I had marinated in a fabulously tasty, garlicky, yogurty, oregano rich marinade.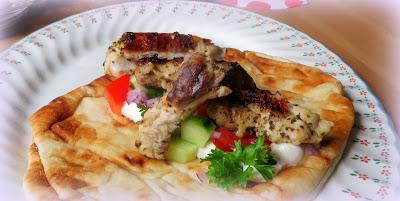 You want to plan ahead a bit as you will want to marinate the chicken for a while before grilling it. Ideally about 12 hours, but certainly no less than 2 hours.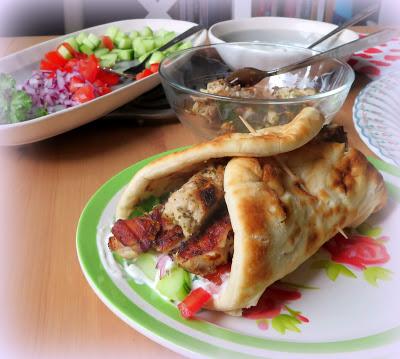 This makes it the perfect quick supper for a week night. Just pop the chicken into marinate while you are out all day at work or school or whatever and then pop it onto the grill when you get home!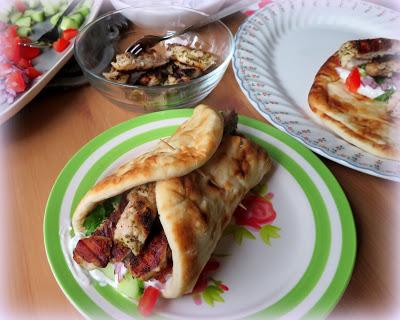 Along with the grilled chicken you will need Tzatziki sauce.  This is a cool cucumber/yogurt sauce. You can use a good read made one, but it is really quite simple to make your own, and infinitely tastier!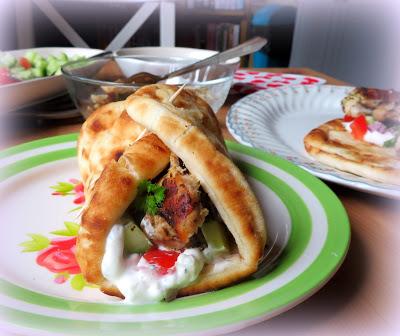 You also will want a simple salad garnish. Tomatoes, cucumber, red onions, parsley.  You can mix all of this together with some seasoning and just spoon it on, or you can leave things individually so that people can help themselves.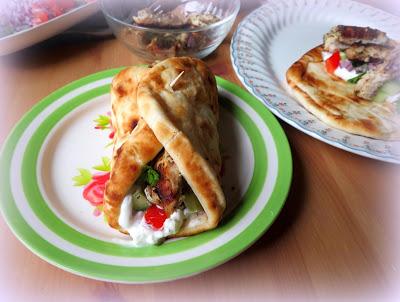 That is the way we do it in this house as Todd doesn't like much cucumber, but he does like the tomatoes and onions.  That way he can please himself.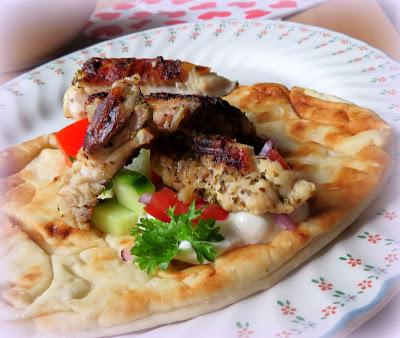 The chicken is simply grilled.  For the  most flavor you can do it on the outdoor grill (especially nice in the summer months) or you can pop it under the oven grill, or even in an electric grill. Whatever is easiest for you and brings you joy! Let it sit for a few minutes after to settle the juices and then slice into bits, ready for layering on the flat breads.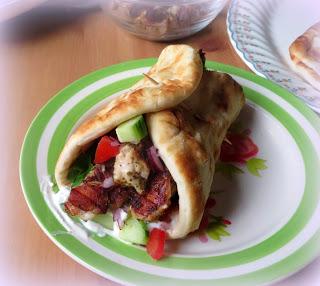 You warm your flat breads while the chicken is resting,  then dollop on some of that Tzatziki sauce, some salad fixings and the grilled chicken . . . ready to roll up, secure and enjoy!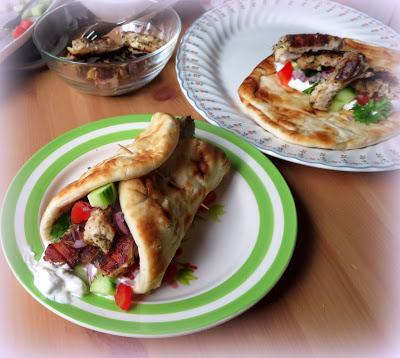 Now that's what I call proper tasty!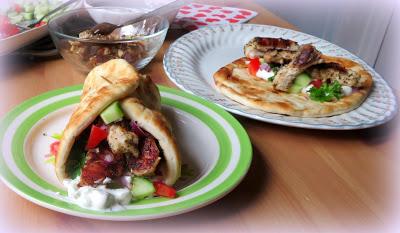 Quick, easy and DELICIOUS!  What more could you want???  
Easy Chicken Gyros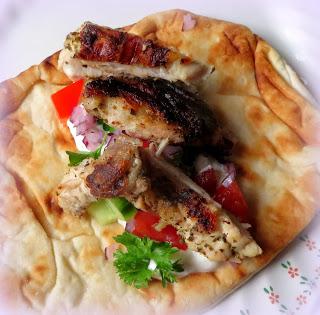 Yield: 2 - 3
Author:
Marie RaynerA small proportioned recipe for the smaller family. Delicious marinated chicken thighs, grilled and served wrapped in a lovely flat bread along with Tzatziki Sauce, tomatoes, cucumbers and chopped red onion. Easily doubled to feed more.
ingredients:
For the chicken:
4 boneless skinless chicken thighs
1 1/2 tsp minced garlic
1 1/2 TBS fresh lemon juice
1/2 TBS olive oil
1 1/2 TBS Greek yogurt
3 tsp dried oregano
1/2 tsp fine sea salt
freshly ground black pepper to taste
For the Tzatziki:
3/4 of an English cucumber, deseeded, grated and squeezed to remove as much juice as possible
1/2 cup Greek Yogurt
1/2 fresh TBS lemon juice
1/2 TBS olive oil
1/4 tsp minced garlic
1/4 tsp salt
black pepper to taste
You will also need:
2 to 3 soft Greek Flat Breads
1 cucumber, peeled, seeded and diced
1 ripe tomato, deseeded and diced
2 - 3 TBS finely chopped red onions
a small handful of fresh flat leaf parsley leaves
salt and pepper as needed
instructions:
How to cook Easy Chicken Gyros
First put the chicken in to marinate. (You should do this at least two hours ahead of time, and up to 12 hours ahead of time.  Mix together all of the marinade ingredients in a plastic refrigerator container.  Add the chicken and turn it to coat on all sides.  Put the lid on and then place in the refrigerator to marinate.
To make the Tzatziki, make sure your cucumber has been squeezed quite dry, then put it into a bowl and stir together with the remaining ingredients.  Set aside for about 20 minutes in order for the flavours to meld well together.
To make the salad for the Gyros, mix together the cucumbers, onion, tomato and parsley. Season to taste with some salt and black pepper.  Alternately you can just lay the ingredients out on a plate and let people help themselves.
When you are ready to serve, heat the grill to high.  Remove the chicken from the marinade, discarding any marinade.  Grill the chicken on the grill for about 2 to 3 minutes per side., until golden brown and cooked through.
Cut the chicken into pieces.  Keep warm while you warm your flat breads as per package instructions.
To serve top each flat bread with some of the Tzatziki sauce, a portion of the chicken and some of the salad.  Roll up, secure and  enjoy!
Created using
The Recipes Generator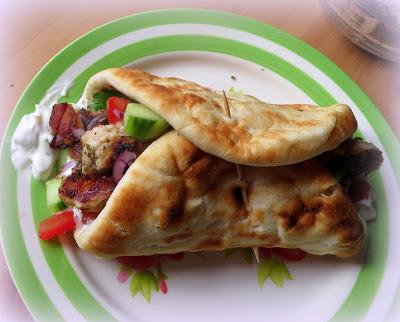 Oh so yummy.  You can get these new
Deli Kitchen
Greek Flat breads at Sainsburys!  They're excellent!  The Canadian in me just loves messy eat with your hands food.  Todd  . . .  he prefers a knife and fork.  He is just so proper British!