By far the best Thai Place in San Diego is Amarin Thai in Hillcrest, and since I can't eat there every night, I needed a recipe to get in my Thai fix. My favorite thing on their menu is the Papaya Salad. And since I didn't have any green Papaya lying around my kitchen, I rummaged through my fridge and came up with this mix. I bet it would go amazing with Tom Yum soup!
Oh man…. I feel a craving coming on….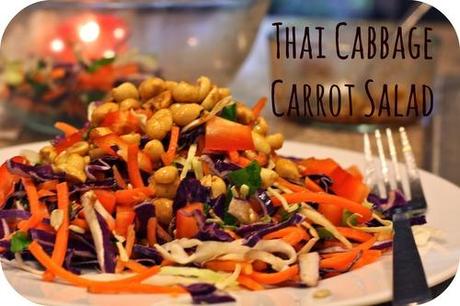 Easy Thai Cabbage Carrot Salad
Ingredients
1 Small Bag Red Cabbage Mix from Trader Joes
1 Small Bag Green Cabbage Mix from Trader Joes
1 Package of Shredded Carrots from Trader Joes
1/2 C. Chopped Parsley
1 Red Pepper Sliced lengthwise
Salt and Pepper to taste
Get Mixin.
 Mix all ingredients into large bowl. Season with salt and pepper.
For Dressing: 
(dressing loosely based on this recipe}
5 T. Lime Juice
3 T. Raw Sugar
2 T. Fish Sauce
1 T. Siracha
1 T. Chopped Garlic
Splash of Soy Sauce
1/4 C. Chopped Peanuts Mix all ingredients for dressing in small bowl. Spoon dressing on to individual salads.