In my family, brownies is a hot favorite but I can't say for mousse cake.  My health conscious son also avoid dessert that has cream in it.  As his mom, I find him way too skinny.  I prefer him to have a little fats but I am sure he won't agree to it.  So today, I am going to camouflage the fats into this dessert.  
Let's see whether this Easy Brownie Raspberry Mousse Cake can trick him to have a second helping.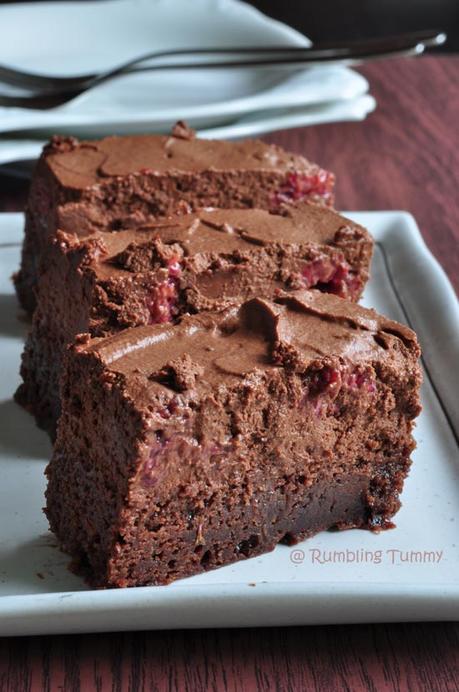 Findings: This is really nice.  My boy didn't question the content of this dessert.  He was lapping it up quickly.
Only set back, don't think this dessert can be brought to a party as the mousse melts easily.
What you need:
260g nutella65g cake flour2 eggs
Method:
Preheat oven to 180°C.  Lined and greased 7X7" square pan.
Whisk all ingredients together.
Pour into pan and bake for 15 mins.
  What you need (mousse)
100g dark chocolate50ml milk200ml whipping cream
1 punnet of raspberry
Method:
Chop chocolate into small pieces.
Heat the milk until boiling and then pour into the chocolate.  Let it sit for a few mins.
Whisk until smooth,
Whisk whipping cream until soft peak.  Then fold 150ml into the melted chocolate.
Place fruits onto the brownie.
Pour the mousse over it, using a spatula, spread it out evenly.
Chilled at least 4 hours before serving it cold.
Happy week ahead.If you have enjoyed this post by Rumbling Tummy, be sure to follow this Rumbling Tummy on Facebook, Instagram, Pinterest, Twitter and Google+.