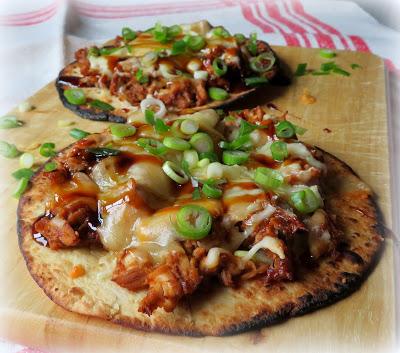 I always seem to have leftover cooked chicken in the refrigerator.  Not a problem, because I have about a bazillion and a half ways to use it up.  I see myself as somewhat of an expert as using up leftovers.  I hate waste.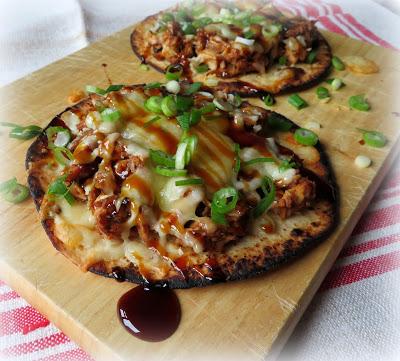 I read recently that about 1.9 million tonnes of food is wasted every year in the UK.  That's pretty disgraceful when you consider that there are roughly 785 million people in the world suffering from malnourishment at any given time.  If you have three squares a day count yourself lucky!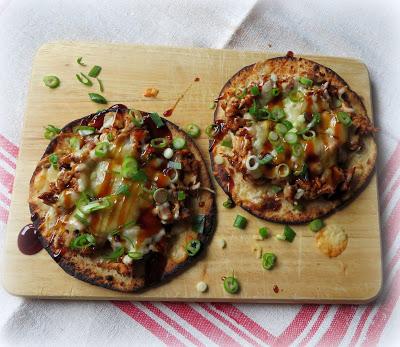 This is a recipe I adapted  to use up some leftover cooked chicken and some tortillas that I had leftover from the crispy tortilla eggs I cooked the other day.  The original recipe was for BBQ Chicken & Cheese Nachos which I found
here
.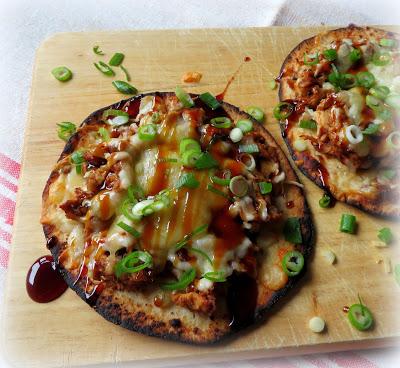 Its basically pretty similar except that I used a bit of chipotle chili paste in the chicken mixture and I didn't use tortilla chips.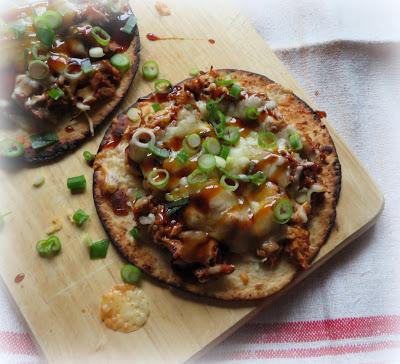 Instead I toasted the leftover tortillas (brush with a tiny bit of oil) over the open gas flame of my stove.  If you have never done this, you really need to try it.  Its a real game changer!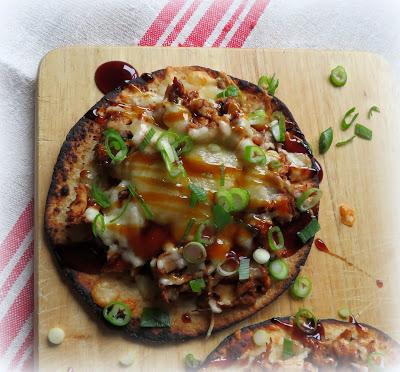 They turn out lovely  . . . . crisp almost charred edges . . .  crisp bubbled bits covering the top.  They just taste magnificent!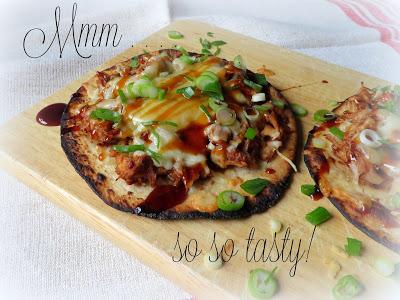 So anyways, I gas charred my tortillas and then I topped them with the chicken mixture  . . .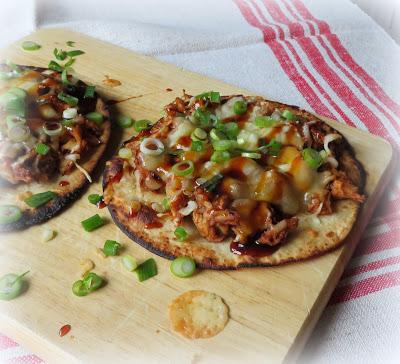 Which is basically a mixture of leftover  shredded cooked/rotisserie chicken, BBQ sauce and the chipotle chili paste.  Could not seriously be any easier.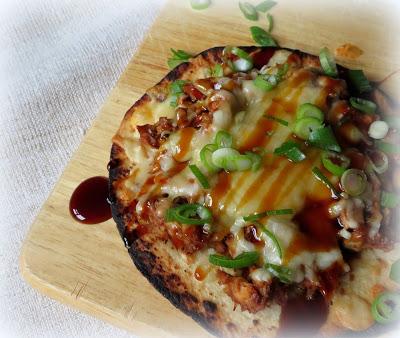 Just pile that mixture on top of your toasted tortillas and then scatter some grated cheese over the top.  You can use any kind of cheese you want.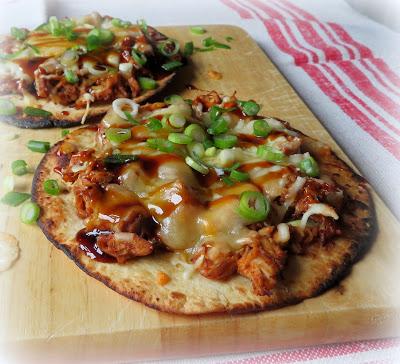 I used  a medium cheddar, but Jack would be good as well, or even a spicy Mexican cheese blend.  YUM!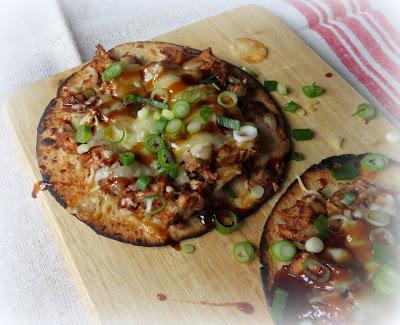 I just used what I had, which was cheddar.  We always have that in the house.  When I first moved over here I used to go to the Market in town and buy cheese ends/crumbles.  The guy at the cheese stall used to sell them by the bag full.  They were really cheap and great for things like this, or mac and cheese.  You never really knew what kind of cheese they were, but they always tasted fab.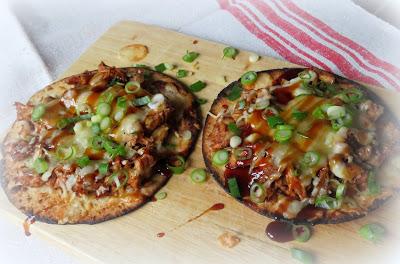 So anyways, you just bang these into a moderate oven and bake them until the cheese is all melted and they are heated through . . .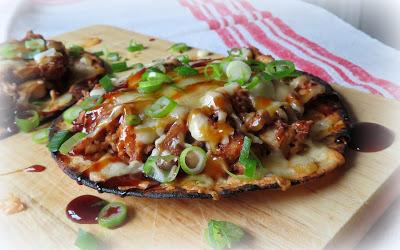 Take them out of the oven and drizzle them with a bit more BBQ sauce.  (I used Jack Daniels because that is what I had, just use your favorite kind.)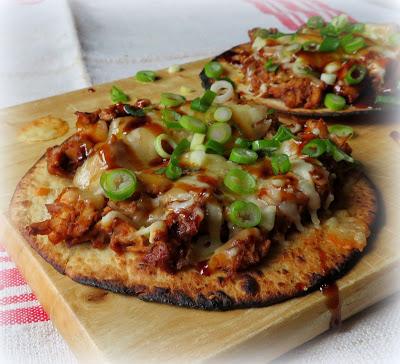 Scatter on some spring onions and serve . . .  oh boy, these are really yummy nummy!  You could serve a salad, or coleslaw on the side.  Coleslaw is actually excellent with these.  You can find my recipe for Creamy Coleslaw
here
.
Yield: 4
Author: Marie Rayner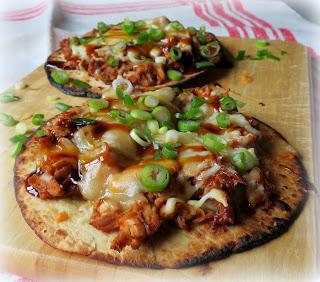 BBQ Chicken Tostadas
prep time:
cook time:
total time:
I hate to say it again, but these are quick, easy and yes, delicious.  A great way to use up some leftover cooked chicken or part of a Rotisserie bird!
ingredients:
8 (6-inch) corn tortillas
a bit of oil
375g cooked chicken shredded (3 cups)
370g your favorite BBQ sauce (1 1/2 cups)
2 tsp chipotle Chili paste
245g  grated medium cheddar or Jack cheese (2 cups)
3 spring onions, trimmed and finely sliced
instructions:
First you want to crisp up your tortillas.  Brush each tortilla lightly with some olive oil and then toast them over an open flame for about 30 seconds per side until crisp and lightly charred.  Alternatively you can pop them into a hot oven (220*C/425*F/ gas mark 7) for 5 minutes, flip and bake for 5 more minutes until crisp.
Preheat the oven to 180*C/350*F/ gas mark 4.  Have ready several baking sheets.  Lay your tortillas out in a single layer on the baking sheets.
Shred the chicken into a bowl.  Stir in 245g (1 cup) of the BBQ sauce and the Chipotle chili paste.  Mix well together and then divide it between the toasted tortillas evenly.  I like to keep it a bit rough so you get lots of crags and crannies.
Divide the cheese evenly amongst the chicken topped tortillas. scattering it over the top of each.  (A small handful or about 30g/ 1/4 cup)
Bake in the heated oven for 8 to 10 minutes, just until the cheese has melted.  Remove from the oven. Drizzle the remaining BBQ sauce over top and sprinkle with the spring onions to serve.
Created using
The Recipes Generator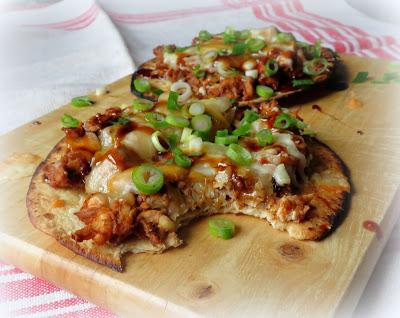 Oh boy, but these went down a real treat!  I think we have found a whole new favorite thing around here!  Nom Nom Nom!