After two long days at sea, we finally arrived at beautiful St. Thomas.  And quickly took about a thousand pictures out on our balcony.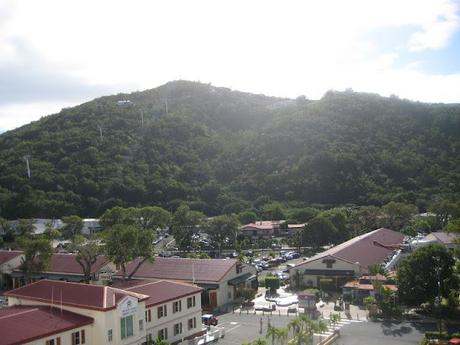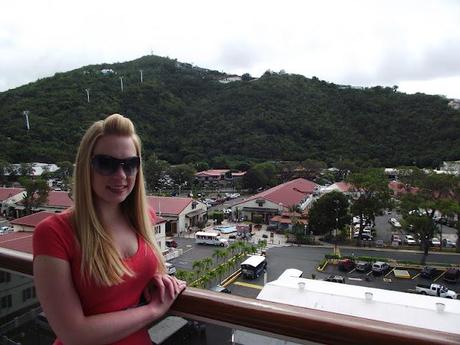 Once we satisfied our picture craving, we walked down to the port to meet our tour guide for the day.  We decided to use Sunny Liston Tours to take us around St. Thomas for the day.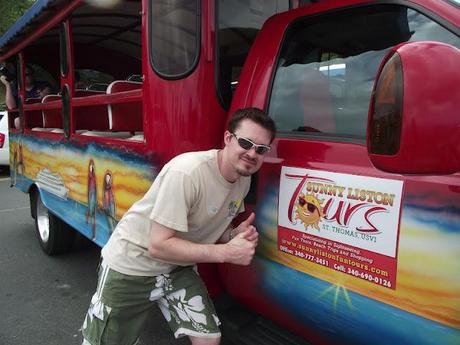 This was an independent tour that we booked outside of Carnival's excursion options.  We try to avoid Carnival's excursions like the plague because they will charge you two or even three times as much as an independent operator.  Take for example our tour of St. Thomas cost $35/person with Sunny.  To have a similar experience with Carnival, we would have had to do 2 different excursions at $50 and $34 per person.  Carnival tries to scare you into using their excursions by saying that they will hold the ship if you are late and on a Carnival sponsored excursion.  This has never, ever been a problem for us.  As long as you deal with reputable companies (make sure they have good reviews on Trip Advisor and Cruise Critic) and give yourself enough cushion time, you won't miss the ship and you'll save yourself tons of money.  Anyway, rant over.  
Sunny picked us up from the port in his open air taxi (the preferred mode of transportation on the island) at 9 AM ship time (note, that the some of the more eastern Caribbean islands are 1 hour ahead of EST aka ship time.  If you do arrange a tour, make sure to ask the company if they run on ship time or island time).  He then drove about 5 minutes to downtown Charlotte Amalie, the heart of St. Thomas' shopping district.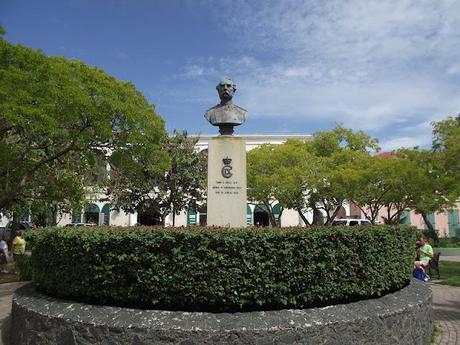 We wandered first to the historic sites.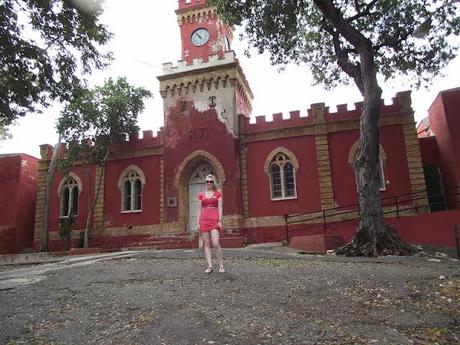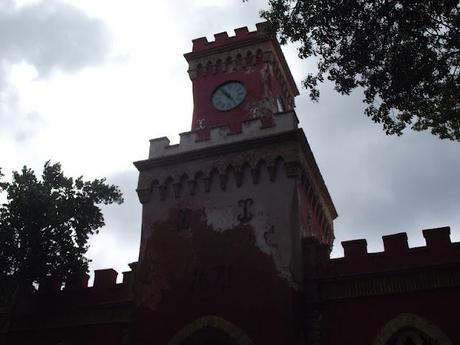 Fort Christian, the longest standing structure in St. Thomas, which has survived since the 17th century.  It has served many roles over this time from town center to government building to jail.  Now it holds the St. Thomas Museum.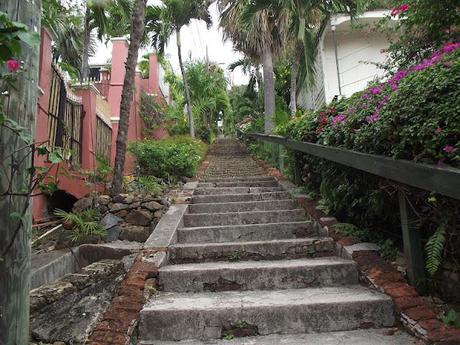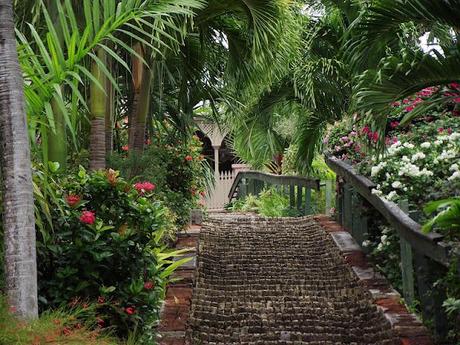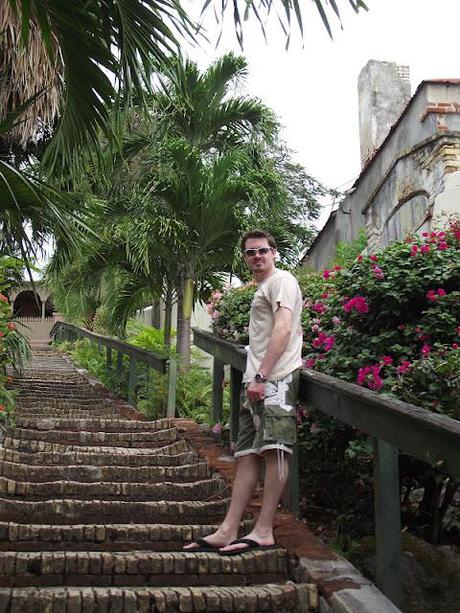 The 99 steps (which is actually 103).  A man from the hotel next door will repeatedly harass you and tell you that you have to buy tickets to Blackbeard's Castle or you won't be allowed to see anything once you get to the top of the steps (it's a lying).  You can walk around you just can't go into Blackbeard's Castle.  The 99 steps were built in the 1770s from stones stored in the hulls of Danish ships.  They are definitely a challenge to walk, considering all the use they've gotten over these last 300 years, but the view is amazing.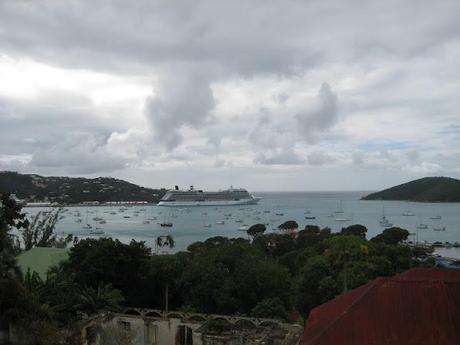 View from Top of 99 Steps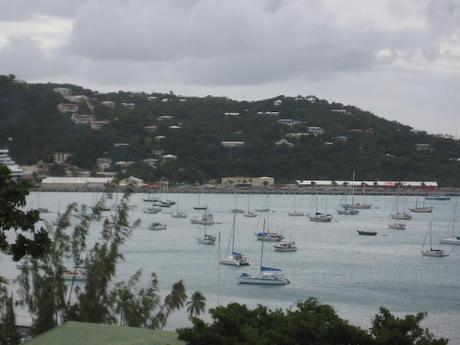 View from Top of 99 Steps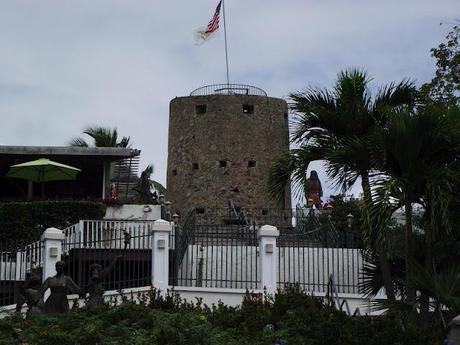 Blackbeard's Castle.  Once you reach the top of the stairs, you are greeted by Blackbeard's Castle.  This tower was said to have been used by Blackbeard to overlook the US Virgin Islands for enemies.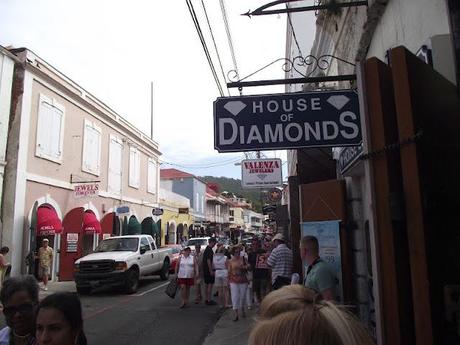 With the historic sites out of the way, we walked over to the Main Street strip which holds a lot of jewelry shops, liquor stores and knick knacky shops.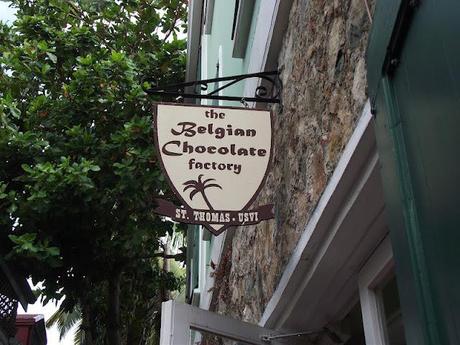 Most of the tourists come here to buy cheap watches and diamonds.  Since my hubby just finished paying off my rock, I knew a new diamond wasn't in my future.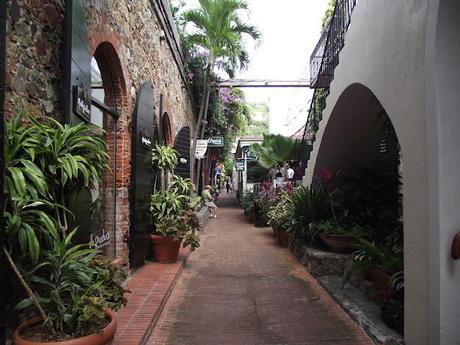 We strolled up and down Main Street just to say we did but we didn't really head into the stores.  A little too commercial/touristy for us.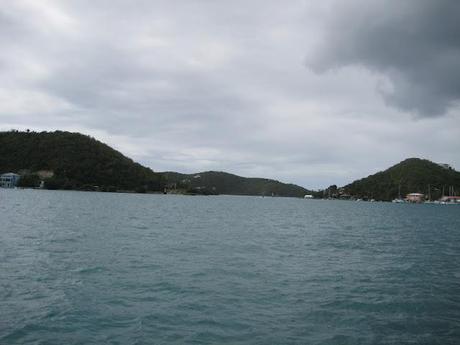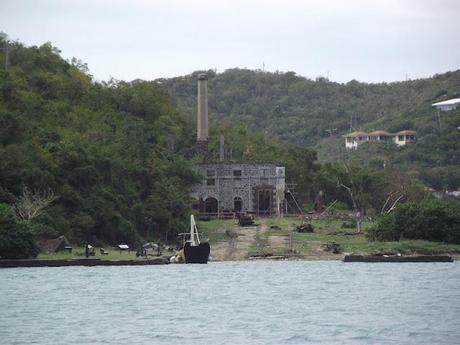 Luckily, the main street was right next to the waterfront so we took a little waterfront stroll.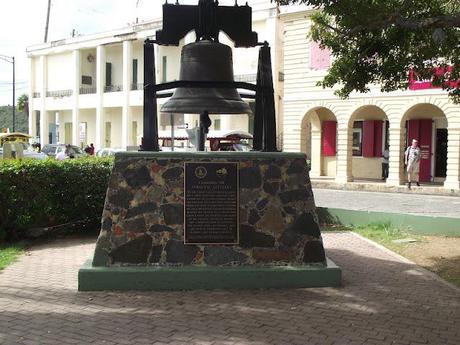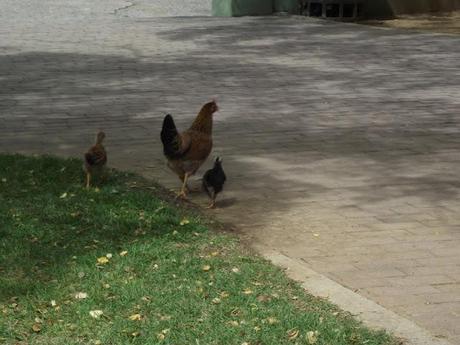 We spent the rest of our time in Emancipation Park hanging out with the local chickens.  This park was built to commemorate the emancipation of the slaves in the Danish West Indies in 1848.
After a few hours of shopping and site seeing, we hopped back on Sunny's van to head up to Mountain Top, the highest point on the island.  Before we could make it up there, Sunny stopped at a scenic overview so we could take some pictures.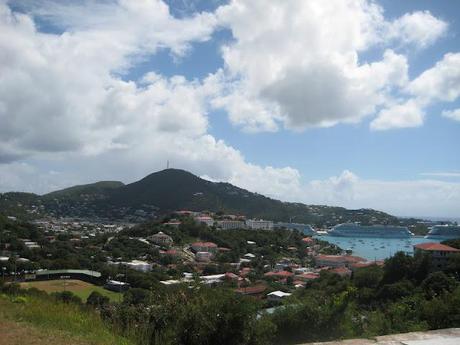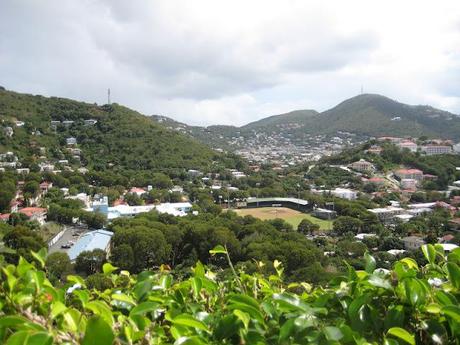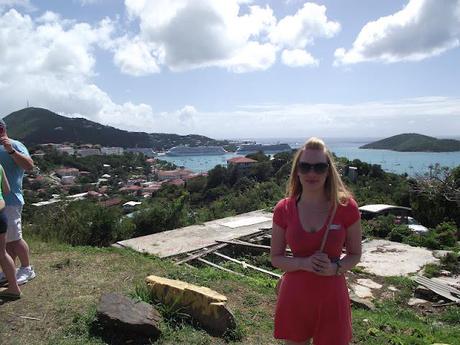 We then hopped back on the van for a 15 minute ride straight up the mountain side.  It involved a lot of curvy, narrow roads (it reminded me a lot of the Amalfi Coast).  The only reassuring part about going up is that drivers drive on the left hand side in St. Thomas (but the driving column is on the right).  So if you are afraid of heights or confined roads, you might want to take some Xanax before heading up to the Mountain Top.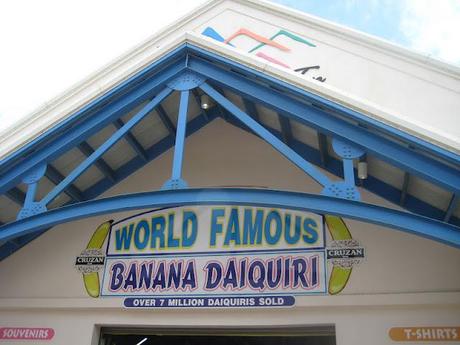 The Mountain Top is a huge store atop St. Peter's Mountain that holds an amazing mountain view of Drake's Seat, including Magen's Bay.  The store itself is the run of the mill tourist trap.  But the view.  OMG the view.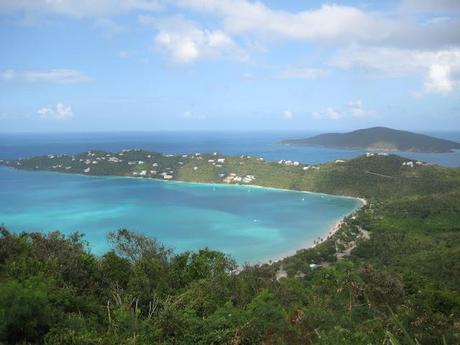 Once we picked our jaws up off the ground, Mr. A headed over to their bar to pick up one of their famous banana daiquiris.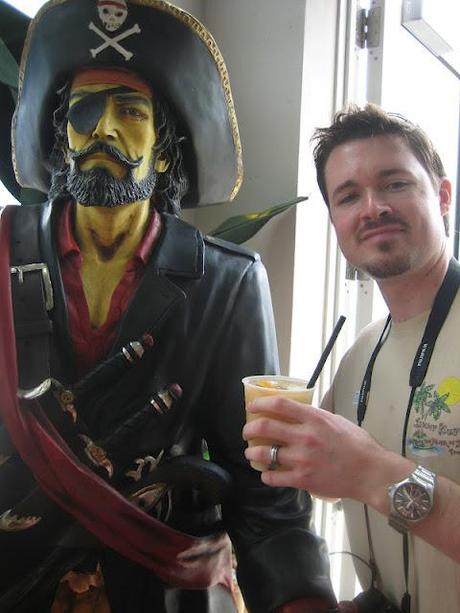 And then of course to hang out with their pirates.  
Mr. A said it was argg-uable the best banana daiquiri his ever had (seeing as he's never had one before).
We then hopped back onto Sunny's van to head down the mountain to another scenic overlook.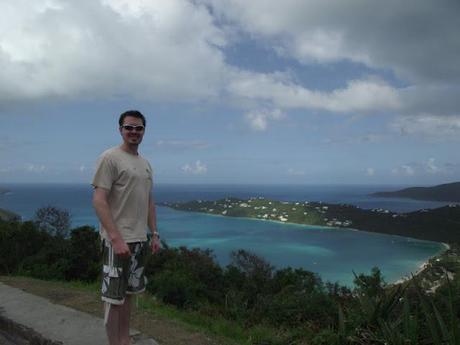 This one had more amazing views of the island.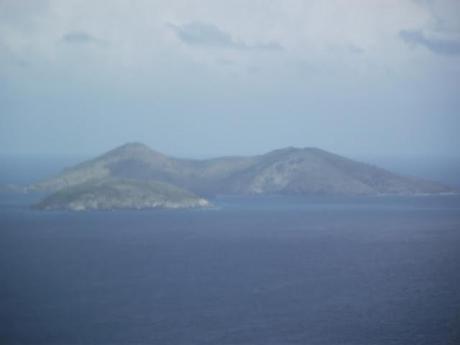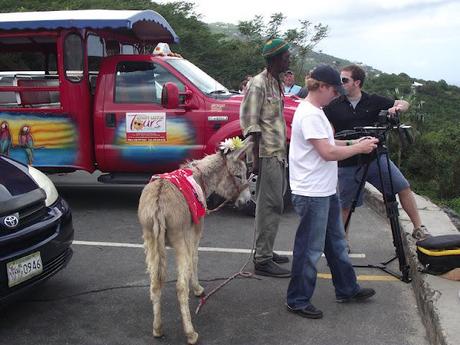 And this crazy local man with a donkey.  He was very insistent that people take pictures with the donkey.  We avoided eye contact and walked in the other direction.
Once Sunny had everyone back in the van, he asked which beach everyone wanted to go to.  We had the option of Sapphire Beach, Coki Beach or Magen's Bay Beach.  Sapphire Beach is best if you are looking for water sports since you can rent kayaks and jet skis.  Coki Beach is great if you love snorkeling.  The fish supposedly come right up to you as you stand in the water (be warned that while the beach is beautiful the surrounding area is very sketchy).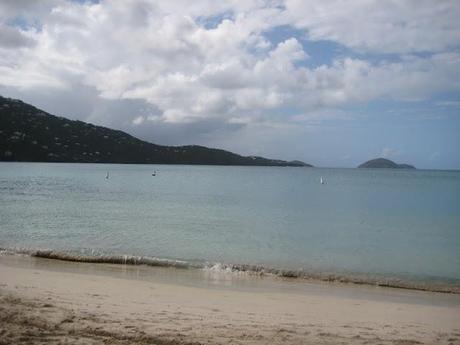 And then there's Magen's Bay, our choice. 
Magen's Bay is a 1 mile white sand, clear blue water beach surrounded on three sides by gorgeous greenery.  Both National Geographic and Conde Nast Traveler have rated it as one of the top 10 beaches in the world.  Since visitors cannot snorkel, jet ski or parasail, Magen's Bay is very quiet and peaceful.  We picked Magen's Bay because seriously if you are going to go to a place with one of the most beautiful beaches in the world why wouldn't you go to that beach?  I'm so glad we did.
When we got to Magen's Bay (about a 20 minute ride), we had to pay a $4 per person entry fee (very worth it).  Since we both hadn't eaten anything since breakfast, we walked over to their snack bar and promptly found a seat overlooking the beach.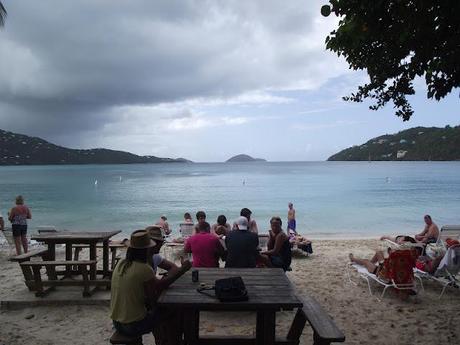 I was really excited that the snack bar had a veggie burger and it was actually really good.  Once we stuffed our faces, we headed down to the white sand to soak up the rays.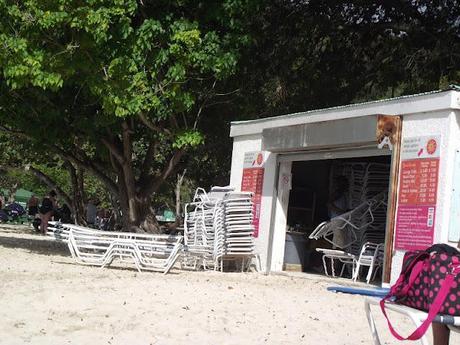 Magen's Bay also has a rental facility that has chairs and umbrellas.  We got both of our chairs for $10, a discount since it was later in the day. 
I spent the rest of our time soaking up the beautiful scenery.  I cannot express how amazingly breathtaking this beach was.  It's literally the prettiest beach I've ever seen.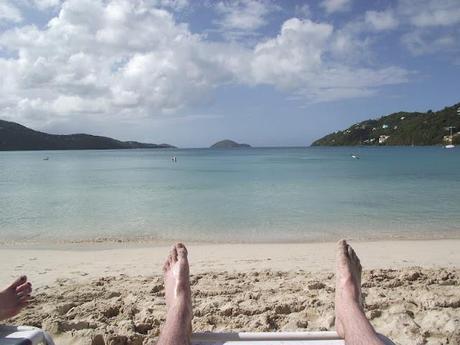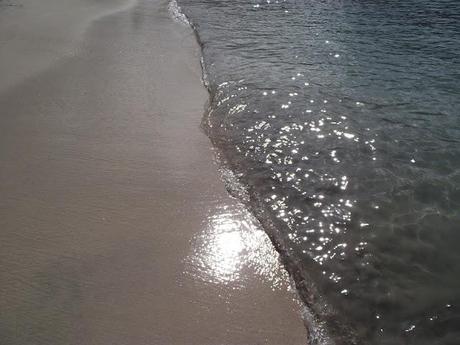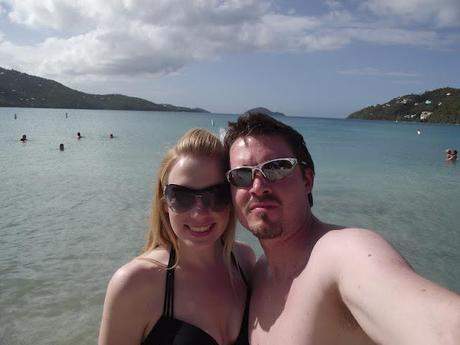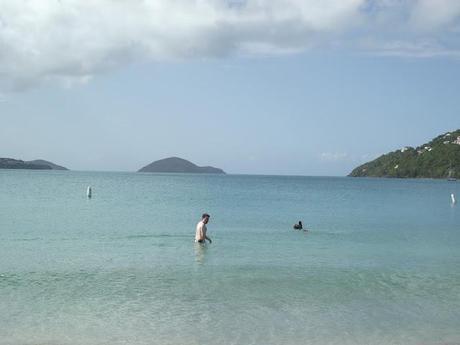 I think what amazes me most about these Caribbean islands is how protected their beaches are from rough waves.  As an Outer Banks girl, I'm totally used to fighting the ocean waves.  In the Caribbean, you can just stand or float without a problem. Just check out the video.


The water is not only the brightest blue I've ever seen but it's also the most relaxing.  You can literally feel the salt between your fingers.  It gives the water a silky smoothness. 
Looking at these pictures makes me want to go back so badly. 
After soaking up the beautiful views for a few hours, it was time to meet Sunny in the parking lot for our ride back to the ship.  We then picked up the other people from our tour that decided to go to Sapphire Beach and Coki Beach.  This ended up being a nice scenic drive through St. Thomas since Sapphire and Coki Beach are on the very Eastern side of the island (Magen's is on the very northern side).  
With all of the passengers back on the van, we headed back to ship and spent our 15 minute ride singing songs with Sunny.  The hugely entertaining part of the day was Sunny blasting Caribbean music and singing at the top of his lungs.  His choice song for the ride back to the ship was "Every Day of the Week."  If you've never heard of it, it's the most repetitive, mindless song ever :)
When we got to the port, Sunny made sure to blast the music as loud as possible.  Literally, everyone turned around to look at the crazy people in his van.  He's definitely a very hilarious character.  And I will never, ever be able to get that song out of my head.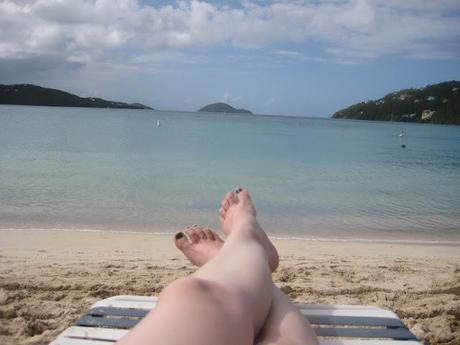 St. Thomas
is by far one of the most beautiful beach towns I've ever been too.  Magen's Bay certainly deserves its spot in the top ten.  If you are going to St. Thomas, I highly recommend Sunny.  He provides a cost effective way to see the island and he's sure to make you smile.  I can't wait to go back soon! 
Up Next:
Our Day in Antigua