I am so excited to be in the forth month of the Hormel Foods Extended Blogger Program.
(See previous posts here, 
here
, 
here
,

 & 
here
). 
 This is what Hormel sent me for the month of April: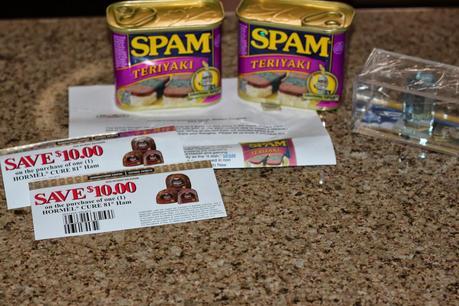 I've actually never eaten SPAM before, so I had no doubt in my mind I would be heading out to buy a ham (or two)! After all, it IS what my family has eaten on Easter ever  since I was a littler girl.
A baked ham on Easter Sunday is as much of a tradition for many households as are Easter baskets and colorfully dyed eggs. Cured to perfection, Hormel Cure 81 Hams come in countless varieties-Bone-in, boneless, ham steaks, diced, cubed- and flavors, including classic, brown sugar, honey cured, and peppered, so however you want to enjoy your Easter ham, Hormel Foods has you covered!
I was looking for recipe ideas and I stumbled upon
Ale & Apple Glazed Ham
. Ummm, yes please!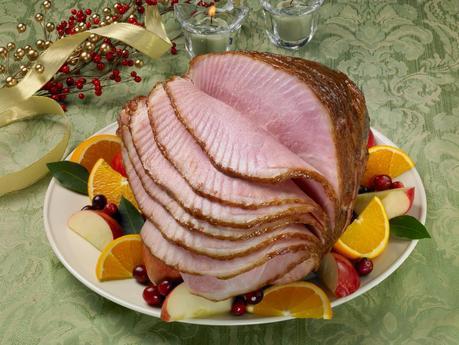 When I went grocery shopping, the two stores I went to were sold out of Hormel bone-in hams. I guess everyone DOES eat ham on Easter Sunday!  I was able to find a Hormel Cure 81 boneless ham. I decided to keep the recipe super simple:Place ham in baking dish and pour some pineapple juice over it. Next, rub it down in brown sugar. Bake until fully warm or at 165 degrees.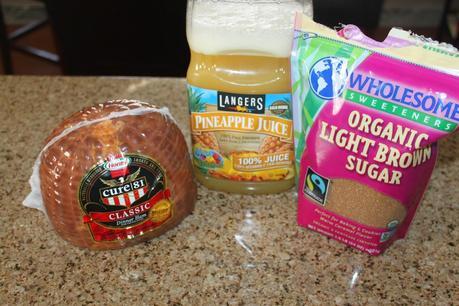 Super easy, super yummy and great for a non-Easter night as well! (We ate ours mid week with potatoes and veggies.) What are your favorite Easter Traditions?
Make sure you check back next week for recipe ideas on what to do with your leftover ham!  

*I am currently a member of the Hormel Foods Extended Blogger Program and this post is part of my involvement in the Group. While Hormel Foods provides me material and necessary resources to complete various activities, all statements and sentiment in Stilettos and Diaper Bags are my own.