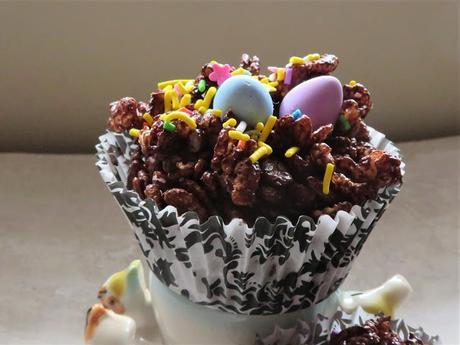 Easter Chocolate Krispie Cakes are the perfect treat for the Easter Holidays.  Quick and easy to make and using only a few ingredients. These chocolate krispie buns/cakes are a staple at pretty much every children's party over in the UK.
Chocolate rice krispie cakes without butter, no marshmallows and no added corn syrup.  These are simple to make and to decorate, not to mention chocolate crunchy delicious!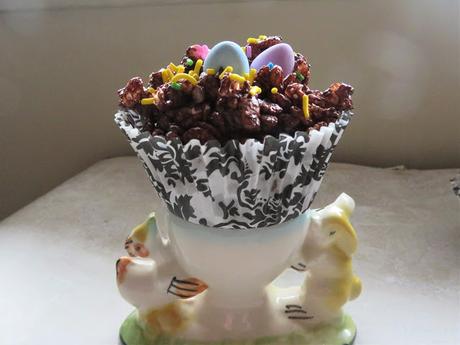 Chocolate Krispie Cakes are something I had never heard of before moving over to the UK.  I first saw them in the local bake shop.  They were really posh krispie cakes, well decorated with sprinkles and edible baubles etc. 
So pretty and they used to do them for every holiday according to whatever season it was. At Christmas they would have Christmas edibles decorating them and at Easter it would be Easter edibles.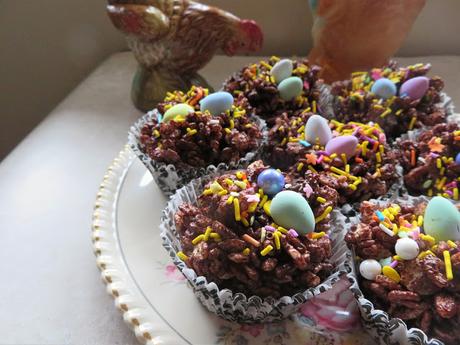 Cute to look at and after  a bit of investigating I discovered they were also very easy to make at home.  Using only three ingredients not counting the decorations you use.
I have actually shown you these before, but I thought a bit of an update was due, so here we go. Better photos than my original ones and hopefully much more enticing words.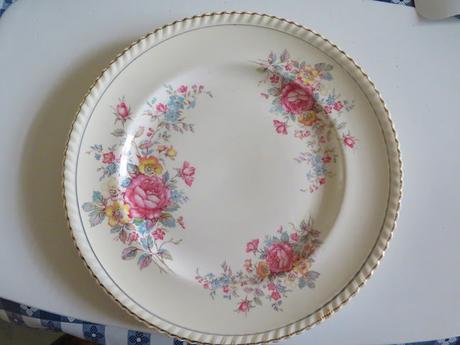 First I wanted to talk to you about this plate I have used to serve them on.  I just love these plates.  They are a part of an original dinner set that my mother bought for her mother (my grandmother) after she got her first job and was working in Truro in 1952.
Mom would have been just 20 years old. My grandmother never had many nice things.  I just know the love that was behind this gift. My mother wanted her mother to have something pretty and not practical.  Something just for her.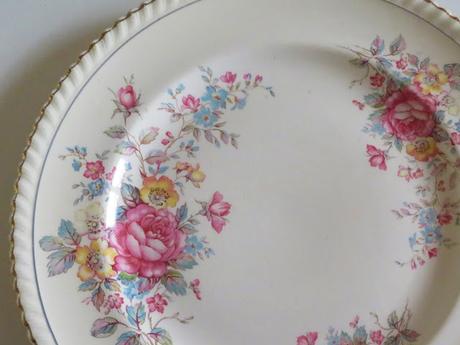 I just love this beautiful pattern, although I could not really tell you what it is called.  It is marked on the bottom Sovereign Potteries Earthenware, along with the stamp Minto   877-47  It has gold around the edges.
I just love the colors of the pattern on it.  I love Forget Me Nots and Roses anyways, so this is really very pretty to me. Only four plates remain of the original set, and my sister is taking very good care of them.  
I was a bit afraid to use the plate in case I should scratch it or something, but whew!  Thankfully I didn't! I don't remember my mother ever using these the whole time I was growing up, and I cannot remember how she came to be in possession of them.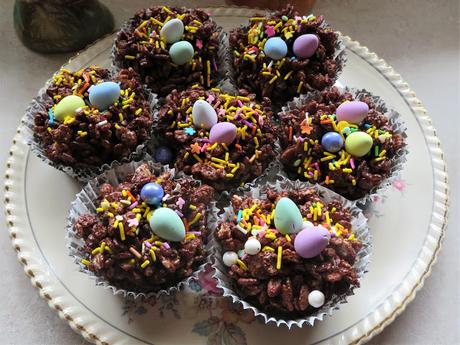 I strongly suspect that after my grandmother passed away in 1960,  and my Grandfather was set to remarry, my Aunt Freda squirreled them away lest the stepmom get her hands on them.  That is probably also how the other pieces were broken.
Its a miracle that these four plates remain. My Grandmother had left for me a juice set with a jug and drinking glasses in an opalescent peach coloured carnival glass, which my Aunt also took into safe-keeping for me, but they all got broken through use.
C'est la vie.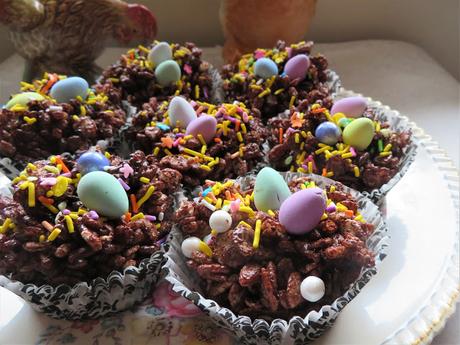 I am really enjoying re-discovering these old pieces and learning more about them.  I can only be grateful that they were never given to me for safekeeping or they would have long since been lost.  
With the number of times I have been made homeless and lost everything in my lifetime, they surely would have been lost also.  No, I have not had the best of luck in life I guess when it comes to choosing men, but that's a whole different story.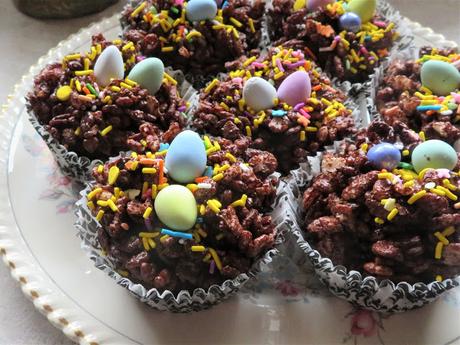 Back to the Krispie Cakes.  These are so simple to make and as I said use only a very few ingredients.  Two kinds of chocolate chips and Krispie Rice Cereal.  That's it!
Other than what you choose to decorate them with.  You simply melt the chocolates together and stir in the rice cereal.  Easy easy.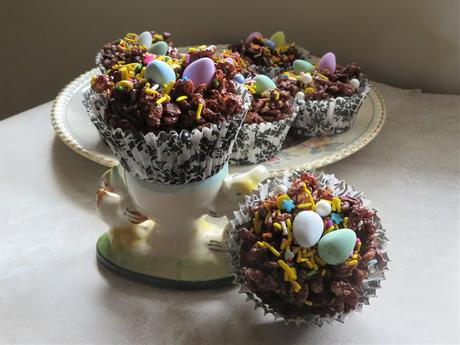 This mixture then gets spooned into paper muffin cases in a bun/muffin tin. Once you have them in your tin then you can decorate them to your hearts content.  
Today I used some candy covered chocolate eggs and cupcake sprinkles I bought from
Sweetapolita
, a Canadian cake decorating/baking supply company.  They sell all sorts of things. I saw an advert on IG I believe for them, followed it and then fell in love with their sprinkles.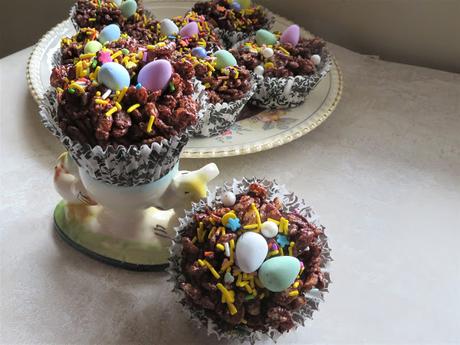 I purchased a few different kinds as well as a surprise bag of who knows what. And it really was a pleasant surprise.  I was thrilled with their choices!
Everything came very nicely wrapped and they even threw in a emergency tube of sprinkles as a gift.  
I had to leave all of my sprinkles and baking things behind in the UK, so I am gradually building them up again.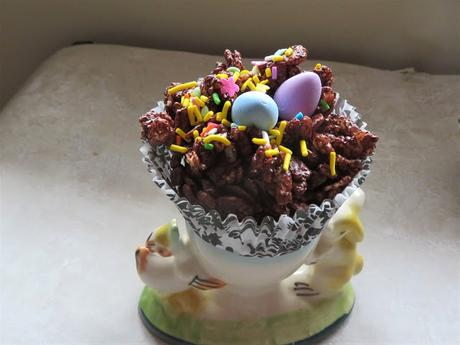 Its fun exploring Canadian options and building things up again. Fun to me  anyways, because I am a foodie through and through and I love discovering new things.
I  also wanted to tell you about this sweet egg cup I have used as a part of my display as well. It is from my sister's shop
Lost Lovelies Found
on Instagram.   This piece is a sweet mid-century ceramic egg cup made in Japan in the 1950's.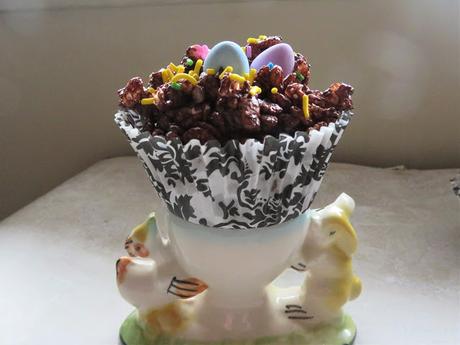 My sister has the sweetest shop where she sells vintage collectables. She has an expert eye for these things and is a really talented curator of them, not to mention caretaker.  
I sure love my sister.  She is such a talented woman and so humble. I don't think she realizes just how very talented she is.  She is an incredible artist as well and I am not just saying that. Its true. I am always telling her she needs to start an art page.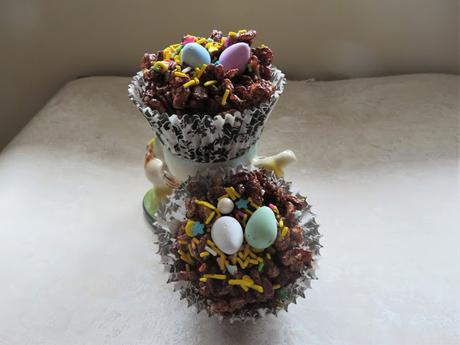 Don't these sprinkles look just darling on these cakes?  Along with the little mini eggs of course. I love the bright Easter-like colours.  The yellows, greens, pinks, etc.
Easter is all about brightness and hope and the awakening earth. I think these Easter Chocolate Krispie Cakes exemplify that perfectly.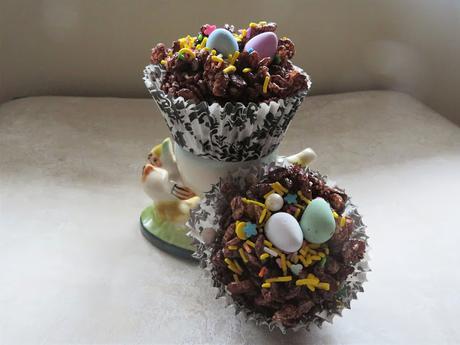 These are so easy to make, you may even want the children to help you put them together.  Certainly there is nothing that would harm them here, once the chocolate and the cereal are stirred together.
They could easily help you spoon the mixture into the bun cases and then decorate them with the eggs and sprinkles afterwards.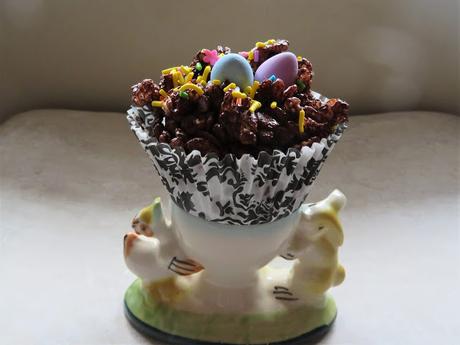 I absolutely love these cakes.  They remind me of one of my favorite chocolate bars, the Nestle's Crunch Bar.
Chocolates and crisp rice cereal.  Oh my, but that is an incredibly edibly delicious combination in my modest opinion.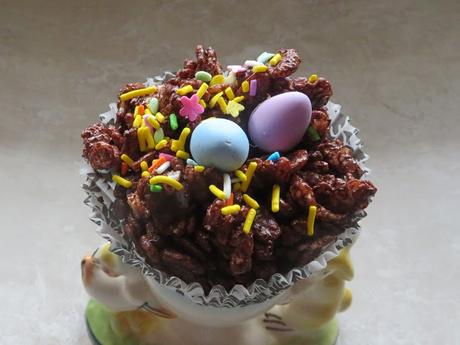 I bet you can't eat just one of these.  Yes, seriously, they are THAT good!  
Happy Easter Weekend!!!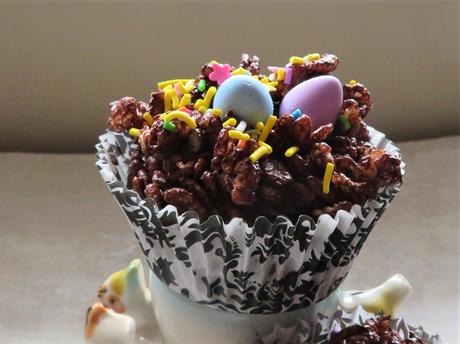 Easter Chocolate Krispie Cakes
Yield:
Makes about 15
Author:
Marie Rayner
Cook time: 15 Min
inactive time: 1 Hour
Total time: 1 H & 15 M
These are so easy to do and look so pretty when they are finished. I had long heard of Marshmallow Crispy Squares, but never these chocolate delights! What a sheltered life I have lived! I wish I had known about these when my children were growing up. They would have loved them!
Ingredients
1/3 cup (50g) milk chocolate chips
1/3 cup (50g) dark milk chocolate chips
3 cups (240g) crisp rice cereal
Chocolate eggs and sprinkles to decorate
Instructions
Put a pot with some water in the bottom of it on the stove and bring it to a simmer. Break the chocolate up into bits and place it into a glass bowl, large enough to sit over the simmering water. Cook and stir until melted. Take care not to let the water boil. Once the chocolate is all melted and smooth, carefully remove it from the heat and stir in the rice cereal.
Line a bun tin with paper liners and spoon the chocolate cereal mixture in, dividing it equally amongst each cup. Place a few easter eggs on the top of each and set them aside to cool and set up. You can put them into the fridge to do this if you are in a hurry, but it may cause your chocolate to bloom. If you are a patient sort it really doesn't take that long for them to set up out of the fridge, perhaps not much more than an hour or so.
Did you make this recipe?
Tag @marierayner5530 on instagram and hashtag it #marierayner5530Created using
The Recipes Generator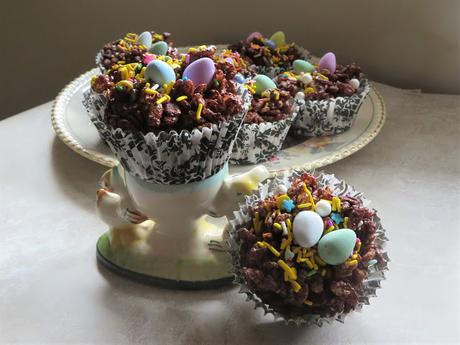 This content (written and photography) is the sole property of The English Kitchen. Any reposting or misuse is not permitted. If you are reading this elsewhere, please know that it is stolen content and you may report it to me at mariealicejoan at aol dot com.