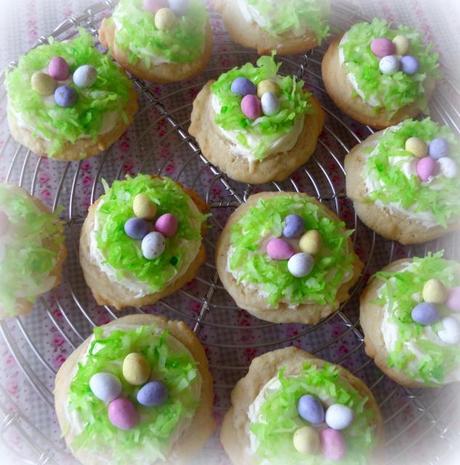 I think it is around the holidays that I miss having family around the most.  I was always one to make special treats and such for those special occasions like Christmas, Easter, Birthdays, Father's Day, etc.  I always got a great deal of joy out of doing it and I hope that my children have some special memories of the things I did.   Gingerbread houses, special cookies, cakes, etc.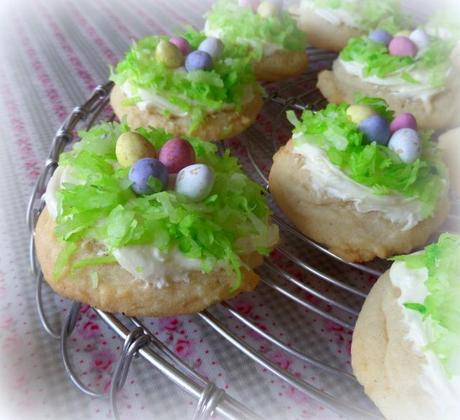 My mother's oldest sister Thelma was much the same.  There was not a holiday that passed without her baking some type of special treat and she would bake extras to send up to us.  I especially loved my Aunt Thelma's Easter and Christmas Breads.   She would decorate them with icings and candied cherries.  It was such a treat!  She didn't have much and it was a gift that was surely appreciated by each of us.   God bless her kind heart.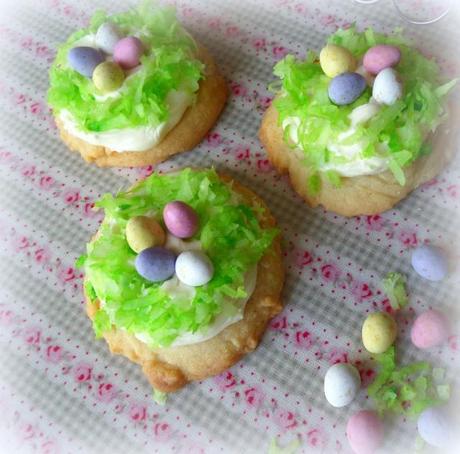 I don't have any grandchildren here to bake for, but a lot of my friends do and so I recently made some of these delicious Easter Basket Sugar Cookies to share with them.   They are just so darned cute and so easy to make.  I wanted to share them with you too.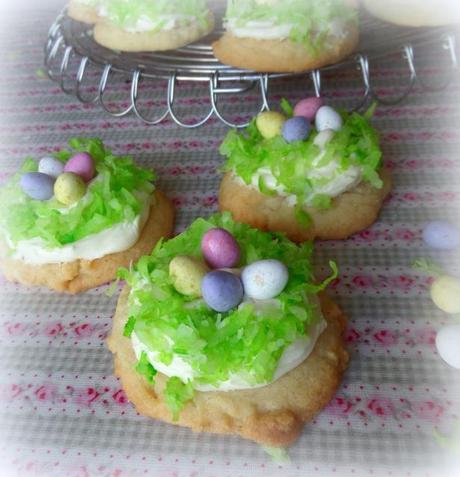 Big soft sugar cookies . . . a drop cookie.  I used my small PC icecream/cookie scoop to scoop out the dough so that I had uniform sized dollops.I know how kids are if everything isn't the SAME size!)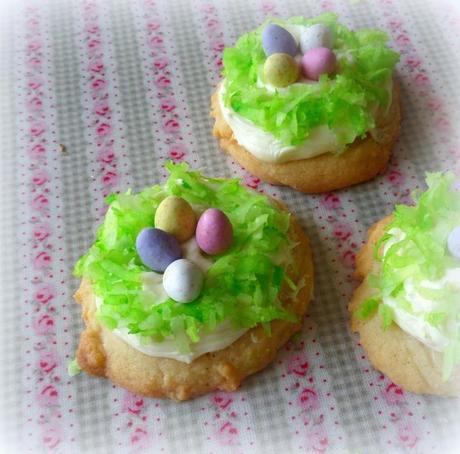 Topped with a simple fluffy icing and decorated with green tinted coconut and some mini chocolate eggs.  You could also use jelly beans if you want.  I had the eggs, extra tiny ones and they are really cute.  These are real kiddo pleasers.  I do admit I am a bit partial to them too.  I do like pretty things.  I hope that you do too.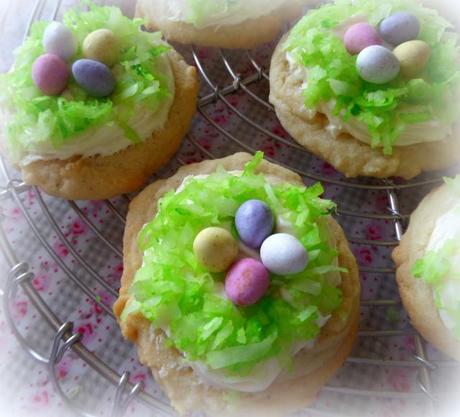 *Easter Basket Sugar Cookies*
Makes two dozenPrintable Recipe  
Soft sugar cookies, decorated beautifully for the kiddos, just in time for Easter.   They'll love these! 
For the cookies:10 TBS butter, at room temperature160g of white vegetable fat (White flora or Crisco, 2/3 cup)290g of granulated sugar (1 1/2 cups)2 large free range eggs1 TBS vanilla extract2 tsp baking powder1 tsp fine sea salt465g of plain flour (3 1/3 cups)  
For the frosting:120g of white vegetable shortening (1/2 cup)585g of sifted icing sugar ( 4 1/2 cups)1 tsp vanilla extract60ml plus 1 TBS milk (1/4 cup plus 1 TBS)  
To Decorate:75g of flaked sweetened coconut (1 cup)few drops green food colouring (don't use too much)small candy covered chocolate eggs, or jelly beans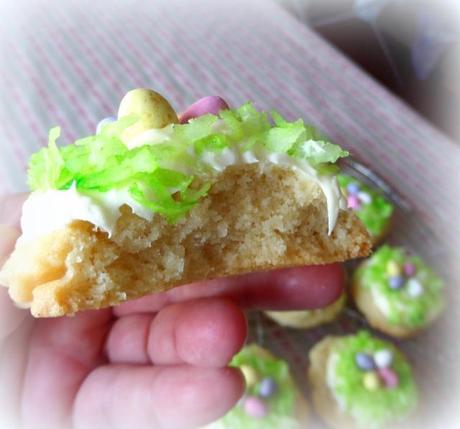 Preheat the oven to 180*C/350*F.  mark 4.   Line several baking sheets with baking paper.  Set aside.  
Cream the butter and shortening together until fluffy.  Beat in the sugar.   Beat in the eggs and vanilla until smooth.  Whisk together the flour, baking powder and ssalt.   Beat this into the wet mixture just to combine. Drop by heaped TBS onto the prepared baking sheet, or use a small cookie scoop.   Leave about 2 inches between dollops.   Bake for about 10 minutes, or just until the cookies begin to get golden brown.  Cool on the baking sheets for 3 minutes, then transfer to a wire rack to finish cooling completely before proceeding.  
Beat the shortening and icing sugar together.  It will look like coarse sand.   Slowly add the milk and vanilla, beating for about two minutes until smooth and fluffy.  
Put the coconut into a large jar along with the food colouring.  Don't be tempted to use too much colouring.  A little goes a long way.  Shake, shake, shake until the coconut is evenly coloured with green.  
Top each cookie with a quantity of the icing, swirling it a bit.   Top with a ring of green coconut and place several of the chocolate eggs or jelly beans in the center.   Allow to set before storing in an airtight container.