A few years ago we were all raving about Germany being THE place to get your European footballing kicks.  Decent beer, cheap tickets, as many sausages as you possibly imagine and a bevy of beauties that will, well let's leave it there had us flocking over to Deutschland at the drop of a hat.  And then Poland came along, with their Euro2012 euphoria filling our senses with even cheaper beer (even if it was called Plop), even meatier sausages and a bevy of beauties who for 50% less would, well we definitely need to leave it there!  But recently an old favorite has been turning our head.
"Hey boys" (adopt the voice of the Cadbury's Caramel rabbit), "I have beer too…and not just beer-flavoured beer.  I have fruit flavoured, chocolate favoured, even chip-flavoured silky smooth alcohol.  And Sausages?  Well I have waffles, smothered in chocolate with a dollop on top.  And football….good old fashion football….with flares and fences."  How could we resist that sweet Belgian voice?
But how could we get there I asked my imaginary furry friend?
"Well," she whispered in my ear, "All of those trips to Paris for work have not been in vain.  You have Eurostar miles.  Hundreds, even thousands of them.  That is your currency.  They will take you to the party."  So you see it wasn't me, or in this instance, Danny Last's fault.  It was that bloody rabbit who made us get up at 7am on a Saturday morning, travel to St Pancreas International, dragging Big Deaksy along for company, and boarding the first train to Brussels.  Damn you rabbit!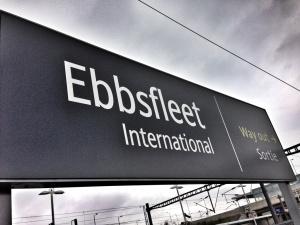 Of course it wasn't only going to be about football, beer, chocolate and twice-cooked chips.  Oh no.  We had a cultural agenda as long as your arm. Well, that was what Kenny Legg told us who was arriving from his secret location somewhere in NordRhein Westfalia where he was still "doing stuff for Her Majesty".  He had prepared the itinerary for our weekend.  Museums, art galleries and a classical concert I believe he said.  Only he left the plan in the Legg Arms on Friday night whilst he sang Trio's Da Da Da on the Karaoke.  Bad form Kenny, bad form.  What to do, we mused on the train as it swooshed under the Channel.  Deaksy bravely suggested we revert to plan A of football, beer, chocolate and twice-cooked chips and the motion was carried 3-0.
Mid-day.  Brussels Midi
Like Marmite, you ever love Brussels or hate it.  I am a lover, whilst The Current Mrs Fuller is a hater.  "A dull, gray concrete jungle filled with Eurocrates goading themselves on tax payers money" was her summary a few years ago.  She had been to the city once, back in the day and was still bitter that Anderlecht had changed their game at the last-minute for TV and thus denied her an opportunity to take in a game.  I'd had some good times in the city and I had every confidence that this weekend would deliver more of the same.
5pm.  Brussels (I think)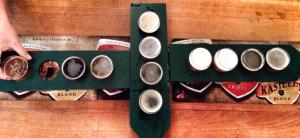 Plan A was going down very well indeed.  Danny had researched a few decent pubs and after we had a rocky start, drinking a cherry-flavoured beer out of a giant test-tube at €6 a pop we had progressively seen the "real" Brussels.  And by "real" I meant the pubs that didn't show English football, have English newspapers in or offered a full English breakfast (plus the Irish bars).  I mean, why would you want a pint of Guinness and a Bacon roll when you could have a taster tray of 12 Belgium beers (minimum strength of 6%) and a plate full of cheese squares with mustard?
Eventually it was time for us to do some work.  We'd exhausted trying to find things in Brussels that were "Bigger than Deaksy" and hopped on the train to the metropolis of Denderleeuw, just twenty minutes from Brussels and as Danny had promised us, "THE place to be on a Saturday night in Belgium".  Did we believe him?  Of course we did.  The fact we had a bellyful of Orval and Chimay had nothing to do with our senses being slightly clouded.
7pm. Denderleeuw
"Denderleeuw is a municipality located in the Belgian province of East Flanders in the Denderstreek. The municipality comprises the towns of Denderleeuw proper, Iddergem and Welle. On January 1, 2012 Denderleeuw had a total population of 19,069. The total area is 13.77 km² which gives a population density of 1384 inhabitants per km². The current mayor of Denderleeuw is Jan De Dier, from the N-VA." It takes a lot for Wikipedia to go into so much detail about a place so our hopes were high of a rocking night out.  As the train pulled away from the platform we stood alone.  The wind blew the tumbleweeds across the track and we slowly made our way out into the heart of the town.  A single light, coming from a restaurant drew us in.  "Table for 4 please?"  "Have you booked?" asked the waiter, turning around to reveal an empty restaurant.  "Erm, no.  Is that ok?"  "Of course.  Come in my friends".  Cue best ever meal known to man, complete with an aperitif at the end that was "in the home" (On the house we realised afterwards) before we headed for the bright lights of FCV Dender.
FCV Dender 1 Racing Mechelen 1 – Florent Beeckmanstadion – Saturday 19th October 2013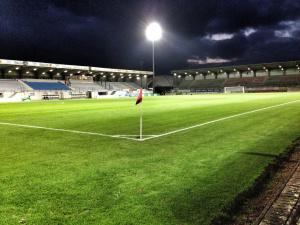 The club had promised us beer, belly-laughs and a bloody good night out and they delivered on all three.  Even though this was "just" a Belgian Third Division A game, the locals had come out in force for the game against the mighty green and whites. We had to fight our way to the bar where we rejected the ubiquitous Jupiler for something from "under the counter".  Well, technically from in the cupboard.  Four bottles of Old Ale were soon being consumed, the right sort of pre-match warm up for the ninety minutes ahead.
The Florent Beeckmanstadion is a great little stadium for football at this level.  We could have bought tickets in the "Old Trafford Business Seats", or even a place in the "Stamford Bridge Business Lounge" but the €10 place in the stand behind the goal was more than enough for our viewing pleasure.  Three covered stands, with good facilities are the order of the day here.
I'm sure you have all read the match reports in the papers by now so don't want me to go into great detail.  The highlight of the first half was the appearance of Fergie-lad, all the way from Birkenhead who had popped over just for this match, and one tomorrow in Charleroi.  He'd also heard about the temptations of a night out in Denderleeuw and wanted a slice of the action.
Mechelen had brought a noisy bunch of a couple of hundred fans who knew more English than any of us five put together.  Every song was sung with gusto and dare I say it, with a slight Norfolk accent, whilst the hardcore home fans responded in their natural tongue.  Arne Naudts put the away side one up after twenty minutes and they will be aggrieved that they only managed that one goal before the break.
The second half saw Dender fight back with Brian Moding leveling the scores with just ten minutes to go.  The goal was greeted with pure joy in our stand, with one chap so excited he ran to the front and tore his jacket, jumper and woolly vest off before leading a chant of "There's only one Brian Moding" before his Mum came along and gave him a clip behind the ear for being so silly.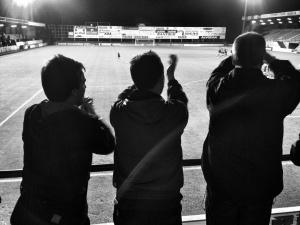 Full time and honours were even.  Football, beer and a decent little atmosphere had been the winners.  We headed back to the station, and indulged in a carrier bag full of chips for the journey back to Brussels where the night was young even if we weren't.  At 2am the cry went up from Big Deaksy, now bored with the game "replace words in song titles with Big Deaksy".  "Gentlemen.  To bed.  For tomorrow we rise at 9am for Liege".