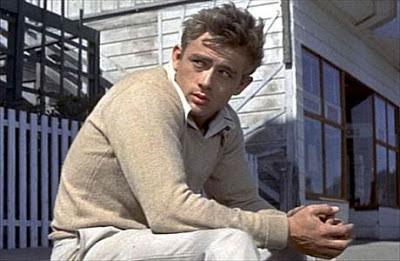 8/2/2010 Of the three roles James Dean starred in, East of Eden was the only one that was released during his lifetime, was one of the two he was posthumously nominated for (the other was Giant), and the film that began the questions "do we have a Brando clone or the next great actor on our hands?" East of Eden is an adaptation of the second half of the book by John Steinbeck, and plays out like a retelling of the story of Cain and Abel in the Salinas River Valley on the dawn of World War I. Cal (Dean) is always vying for the affection of his stern and upright father with his brother Aron. The depressed and seemingly wayward Cal has discovered a secret about his mother, devised an investment plan, and started to feel affections for Aron's girlfriend, events which will lead to the recreation of the aforementioned Bible story. The film is directed, in Technicolor, by the great and controversial Elia Kazan and he mixes harsh tones with the lush colors of the area. Back to Dean, it does at first seem like he is doing a Brando impression, but he soon makes the role his own and after the film I was left wondering what the last 50 years of film would have been like had fate not taken its toll.
*** 1/2 out of ****
--------------------------------------------------------------------------------------------------------------------------
1/1/16
Having finished Steinbeck's epic novel since my first viewing of Kazan's adaptation, I foolishly returned to the picture and wasn't quite as taken by it where, when comparing it to the book, its faults become more evident. A disappointing fact are the film's omissions 
which drops approximately the first three quarters of the book and sacrificing character complexity and many exquisite and probably translatable passages. Further, the film and its dialog are dumbed down and explanations are offered for every point. Also, in reconsidering the Dean performance, it now comes off as brooding and overly whiny. That being said, the direction and production values still stand and there is an excellent handling of Jo Van Fleet's complicated character.