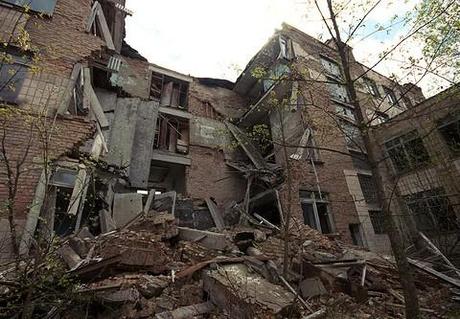 Have weak buildings cost lives? Photo credit: abandonia http://flic.kr/p/4JfbCE
In the aftermath of Sunday's earthquake in eastern Turkey, the death count is rising. The Daily Telegraph reported that 239 people have been confirmed dead, while that number is expected to rise as rescue efforts continue. The quake, measured at a magnitude of 7.2 on the Richter Scale, struck 16km north-east of the city of Van, while Ercis was also badly hit. Turkey is now experiencing widespread devastation, panic, and mourning following the country's worst earthquake since 18,000 were killed in 1999. The response is ongoing, but already questions have been raised about the building standards in Turkey, an earthquake-prone region, and about how severe the situation might become.
Up to 1000 dead. Mustafa Erdik, the head of Turkey's seismology institute, was quoted by BBC News warning that the death toll will rise. "We estimate around 1,000 buildings are damaged and our estimate is for hundreds of lives lost – it could be 500 or 1,000."
Is help needed? The Mayor of Ercis called for aid on local television, reported The Daily Telegraph. Overwhelmed by "too much destruction" and "so many dead", he pleaded, "We need urgent aid. We need medics." At the national scale, however, Turkey is reportedly declining offers of aid. Reuters reported that Israel had their offers of help rejected, while the BBC said that the Turkish prime minister "thanked other countries for their offers of help, but said Turkey could cope with the disaster on its own."
 "The latest earthquake in Turkey provides a fresh reminder of the deep vulnerability created by weak building designs in the world's crowded seismic danger zone", warned Andrew Revkin on a New York Times blog.
Poor building design costs lives. The BBC also quoted Turkish seismologist Polat Gulkan, who warned that lax building regulations could be costing lives: "The enforcement of the code provisions is not at the standard that we would like to see it", he said. Andrew Revkin wrote that lives could be saved by smart design, and refused to accept that it was a lack of funds or resources that caused weak building construction. "Don't be tempted to write off high death counts from building collapses in shaky developing countries as simply another unavoidable consequence of poverty", he declared. "All that's needed is awareness and motivation."