// EAR BUDS // 10 FAVORITE SONGS WEEK OF 3.24.17 //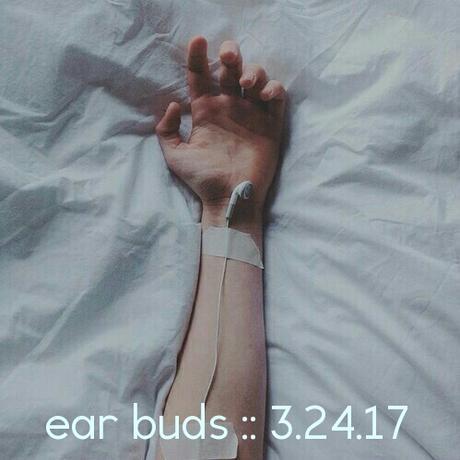 ---
THE 10 WORN OUT RECORDS THIS WEEK
Featuring :: Imaginary Tricks, Sjowgren, Closeness, Jealous of the Birds, Chuck Berry, The Wild Reeds, Donovan Woods, Dead Man Winter, Whitney Rose & British Sea Power
---
1
Imaginary Tricks :: "Bird" :: New Album Skommel out now
Enticing quip to get you to listen: "'Bird' is a head-nodding, slow-building rock song that feels soft and pretty despite Visser's impassioned vocal and the steady rhythmic pounding that carries it along. There's also a rad guitar solo." (Stereogum)
---
2
Enticing quip to get you to listen: "Their new single is a wistful and slow-moving jam, already on its way to becoming another anthem for the young and in love. In the verses, heavenly vocals descend over a sparse mix, bursting to life at the chorus with radiant guitars and drums that march on resiliently." (Indie Underground)
---
3
Closeness :: "End of the Maze" :: @ToddtheFink & @orendafink :: New EP Personality Therapy out now
Enticing quip to get you to listen: "Todd Fink (born Todd Baechle) and wife Orenda Fink converged first on tour, then in love and now in music. CLOSENESS, the couple's first group together, is the result of two incredibly talented musicians melding in life and in art." (The Portable Infinite)
---
4
Jealous of the Birds :: "Goji Berry Sunset" :: @jeliofthebirds :: New Album Parma Violets out now
Enticing quip to get you to listen: "In two deceptively simple minutes, Irish singer Naomi Hamilton constructs an intimate space that's instantly, indelibly compelling." (NPR)
---
5
Chuck Berry :: "Big Boys" :: @ChuckBerry :: New Album CHUCK out 6.16
Enticing quip to get you to listen: "Less than a week after Chuck Berry's death at the age of 90, his family announced details Wednesday about the rock and roll pioneer's first album in 38 years — and gave us a taste of what it will sound like." (NPR)
---
Support Indie Music
Email Address
*
Thanks for being there for us in our time of need.
---
6
The Wild Reeds :: "Capable" :: @TheWildReeds :: New Album The World We Built out 4.7.17
Enticing quip to get you to listen: "Each with their own style, The Wild Reeds' three songwriters make music that is dynamic and unpredictable. They write lyrics and melodies with the thoughtfulness of seasoned folk artists, and perform with the reckless enthusiasm of a young punk band in a garage." (Pledge Music)
---
7
Donovan Woods :: "What They Mean" :: @DonovanWoods :: New EP They Are Going Away out now
Enticing quip to get you to listen: "I wrote this song with Charles Kelley (Lady Antebellum) and my buddy Abe Stoklasa. Charles had an idea that he wanted to write a song about why they say the word crazy in country songs so often. Which I thought was a great idea because they do, they say it way too often. We decided to tell the story in a narrative way, explaining to a kid why those overused words get used so much. They're place-holders for unexplainable feelings of love and loss." (Donovan Woods)
---
8
Dead Man Winter :: "Destroyer" :: @deadmanwinter :: New Album Furnace out now
Enticing quip to get you to listen: "Destroyer is about… well… destroying. I wrote it while confronting the feeling that every time I get some stability in my life, career, relationship, artistic, my tendency is to fully tear it apart. I should really stop doing that. Sometimes it honestly feels like I'm allergic to happiness. Or maybe chaos is where I am ultimately most comfortable. Though, to be honest, I'd hesitate to ever call myself comfortable. Life's a funny little devil, ain't it?" (Dave Simonett AKA Dead Man Winter)
---
9
Whitney Rose :: "Analog" :: @whitneyroseband :: New EP South Texas Suite out now
Enticing quip to get you to listen: "Whitney Rose is no foreigner to American country music, even if she grew up on Canada's Prince Edward Island. While growing up she regularly heard the greats of country—artists like Kitty Wells, Patsy Cline, Dolly Parton, and Hank Williams playing on the jukebox at her grandparent's bar, and you can imagine the mental images these songs conjured of dusty honky tonks in Texas and Tennessee, and what yearning they set in place to see and experience these places first hand." (Saving Country Music)
---
10
British Sea Power :: "Electrical Kittens" :: @BSPOfficial :: New Album Let The Dancers Inherit The Party out 3.31.17
Enticing quip to get you to listen: "It was made to a background of politicians perfecting the art of unabashed lying, of social-media echo chambers, of click-bait, and electronic Tonka Toys to keep us entertained and befuddled. All this can easily make the individual feel futile. But I think we've ended up addressing this confusion in an invigorating way, rather than imprisoning the listener in melancholy. Musically, it's our most direct album and maybe the first one where we maintain a coherent mood from start to finish. Perhaps a little clarity isn't a bad thing at this point. There wasn't a plan to create an album with any particular subject matter but we've kind of ended up with a case of 'think global, act local' – an album where individuals are dealing with their domestic and personal lives against a background of uncontrollable international lunacy." (Martin Goble, British Sea Power Guitarist commenting on content of their new record)
---
3.24.17 MUSIC RELEASES
KITE, THE DOLLYROTS, CREEPER, CRAIG FINN, IMAGINARY TRICKS, THE JESUS & MARY CHAIN & JENNIFER PAIGE
EAR BUDS :: 10 SONGS WE LOVE THIS WEEK :: 3.24.17~ FIN.
-xxx-
---
Our Favorite 45 Songs of March...So Far...