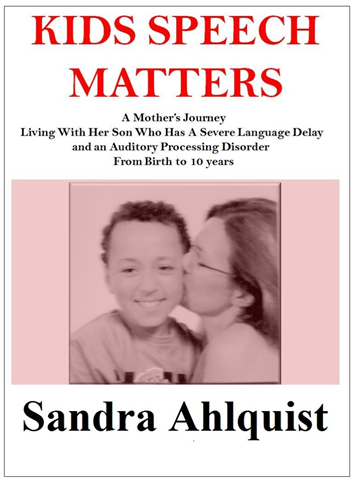 He continues 'to have a go', and will do it, even if that challenge means it may take you twice/three times/many times more than the 'norm' – he does it!
(Kids Speech Matters, Kindle Location 111)
If you wish to read a personal story about raising a child with severe language disorder and/or Auditory Processing Disorder then try Sandra Ahlquist's Kids Speech Matters – A Mother's Journey Living With Her Son Who Has A Severe Language and Auditory Processing Disorder. From Birth to 10 Years.
I am a mother who has a child with a severe language disorder, a sensory processing disorder and […]diagnosed with an auditory processing disorder […] He has three disorders and has been identified that he sits in a gray area on the Autism spectrum […]  I seek out information […] and openly discuss my son's learning difficulties, issues and communication disorder.
(Kids Speech Matters, Kindle Location 146)
Having read several books written by parents of children with autism or other related disorders, Kids Speech Matters is different because it's the one book so far in my collection that discusses severe language delay rather than just focus on the usual qualities of a child diagnosed with autism. It also goes into much more detail, more like a guide book if you will, from a lived experience rather than from a professional service or academic perspective.
Chapters list:
Questions & No Answers: More of a summary of Sandra and Luca's story, some statistics and why it's important to raise awareness. This section also provides some signs to look out for and some eye openers. Sandra also leaves you with some ideas of how to help the child learn.
My Son My First Born: This is the usual play and replay of our child's birth to see whether there were signs that could've given us some warnings about what we'll be facing in the first few years. We blame ourselves, we question everything and possibly our bodies.
Toddler Years – Ear Infections, Specialists & Diagnosis: Luca has high temperatures and started wheezing, and was rushed to hospital for specialist care. His diet was modified and Sandra took it upon herself to study homeopathy to see if natural medicine would help her son. We also get a look at Luca's assessment and review reports. We read about the sleep clinic, Luca's first speech pathology session, and the big blow: conductive hearing loss!
Early Intervention and Preschool – Aged 4 to 5: As well as trying to transition Luca to pre-school and other services, Sandra had to return to work for financial reasons. In this chapter we discover the stress and pressure that work-life balance can put on you when you also have to make time to be at therapy or early intervention sessions with your child. This chapter lets us see the types of sessions Luca was attending, plus his progress so far.
School Choices – What You Need to Consider: As with many of us, Sandra had to face the fact that the education system doesn't fully support children with special needs. No matter how many reports you seek to back your requests, you go nowhere. Rules are rules and you have to help your child by not skipping his sessions with therapists and by providing him with as much tools as you can provide at home. Finding the right school is tough and a mother has to do what a mother has to, fight and take charge of things!
When School Proves More Than A Challenge: Keeping in touch with the daily school activities can get overwhelming even for parents. Teachers sometimes say things that may sound unfair or may blame the child for any failure. Sandra talks about being outraged by an unacceptable comment someone made at one of the meetings. Sandra adds that 'this teacher was not being nasty or not caring. She just didn't have the knowledge to know what she was talking about' (Kindle Locations 1004-1005). This chapter also touches on Luca possibly fitting into the autism spectrum and the diagnosis of auditory processing disorder.
A Great Year – 2011 Was His Year! We now get to read about Luca's transition to a new school and how much better the services were at the school. I felt like Sandra and Luca finally hit jackpot and things could start progressing much better for Luca. Sandra uses words like 'I was relieved but felt relaxed', 'a breeze', 'positive', 'happy' and 'I've seen progress and not the anxiety of the previous year at all.' Sandra also talks about talks about Luca doing extracurricular activities.
The Gift of a Child is where Sandra shares with you a special prayer she has kept since her son was two years old.
Resources include books and favorite websites Sandra recommends to other parents.
Thankfully for the many of us seeking simple guide books, Sandra Ahlquist's story about living with and fighting for her son Luca tells stories of many parents of children with autism who have also been affected by severe language issues, even if no two children with autism or speech issues are alike or have identical issues. My son Curly has never had auditory processing issues nor been diagnosed with auditory issues. There are similarities, though, in Sandra's story that mirror my own as my son is still not at the same stage of language development as the other children in his class.
This book is now helping me as my child grows and will help me as I fight for my son's right to proper support when he starts Primary School next year. Kids Speech Matters is full of ideas and opens my eyes early to things that I'm yet to face.
It took me a while to read and re-read this book because although her storytelling style is simple, Sandra's book is full of information that cause you to stop and think and then compare her situations to yours. Because what she's sharing is so close to your story, you can't avoid floating off to your own little world of chaos and spend time assessing your issues to see whether you, too, as a parent, have felt the feelings Sandra talks about, have dealt with people of similar characters as she complains about or have been told the same hurtful or perhaps dumb things she's been told by experts and the other people around her.
The only two things which reduced my rating from a 5 to 4 are (1) the quality of the editing done on the book. Many typing mistakes and grammar also is a little bit too written-like-you-say-it, if you know what I mean? Knowing that Sandra is on her way to publish more books, I recommend getting a professional proof reader/editor. Thing (2)
You can find out more about the book here  or purchase through Amazon.com.
Full title: Kids Speech Matters – A Mother's Journey Living With Her Son Who Has A Severe Language and Auditory Processing Disorder. From Birth to 10 Years.
Author: Sandra Ahlquist
ASIN: B00CF5VC82
Disclaimer: All opinions are my own although I was sent the e-book to read and review.