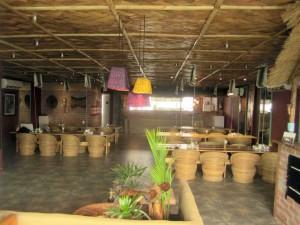 Interiors
The increasing popularity of North Eastern cuisine is now evident from the number of eateries that has come up in South Delhi, catering to the various states of the region. Dzükou Tribal Kitchen has shifted to Hauz Khas market from Hauz Khas Village since it could not get a bar license there. Equipped with one, the new location is chic and authentic with a porcoholics' delight traditional Naga menu.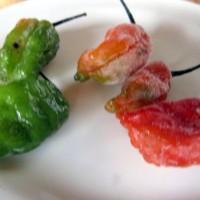 Agruably the world's hottest chilly – Raja Mircha or Bhut Jolokia
The restaurant's name derives from the Dzukou valley in Nagaland. While Dzukou at Hauz Khas Village drew crowds predominantly for its beautiful view and terrace, the newer interiors are traditional and rustic in a tasteful manner. The restaurant is airy with lots of natural lighting.  There are large tables that can be split into smaller seating arrangements. The bar has reasonably priced beer and cocktails, and there are plenty of uber hot and relatively mild snacks to keep the munching on.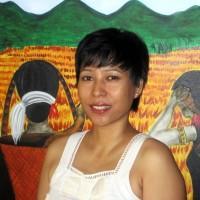 Karen Yepthomi
Karen Yepthomi is the charming and energetic owner of the restaurant belongs to the Sema Tribe from Nagaland. But she calls herself a pakkia Delhi Naga, having done her education here. She has invited me to taste her vast spread of all things porcine and wonderful, with some vegetarian dishes and fish also thrown in.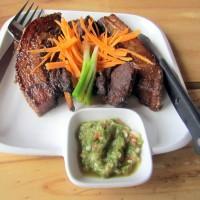 Pork Ribs
We settle into the community style restaurant where we sit cross legged with a low table in front of us. We start our session with the a dry Smoked Buff Salad (Rs 279) starter, with a delicious chilly hit. The dish is meaty, chewy, and has typical Naga flavours. Grilled Pork Ribs (Rs 349) is a dish most delightful. Here is perfectly grilled rib with oodles of fat, an entry point into porky heaven.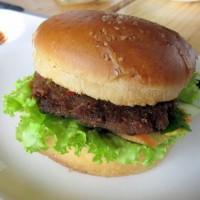 The Spiciest Burger ever
The Naga Pork Burger (Rs 349) is not for the faint hearted. It is easily the fiercest burger that I have eaten. The bun and the veggies inside the bun do make things a bit easier on the palate, but still the beads of perspiration communicate my enjoyment of the burger quite clearly.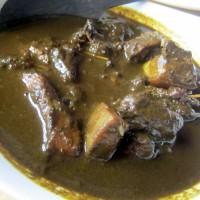 Pork with yam leaves
Main courses began with Pork Anishi (Rs 319), or Pork cooked with fermented yam leaves. The umami taste of this dish takes my breath away, especially when eaten with the Naga red rice. I can easily have this combo for every meal. Pork Axhone (Rs 319) is equally delicious, with the distinct taste of fermented soya. Fish with dry bambooshoot and yam stems (Rs 259) is a semi-dry preparation with light and delicate rohu fish. Though the fish is good, I go back to my favorite Pork Anishi to refresh my taste buds. The Alo Etsuen Gravy (Rs 149) is a good potato based stew, which complements the meal well, as do the simply steamed vegetables.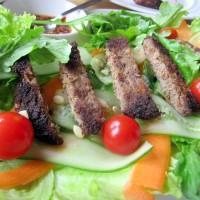 Pork Cutlets
Dzükou Tribal Kitchen is a perfect option if you are looking a fresh taste and flavor in your life, especially for a spirited evening. The place, the food and the hospitality is bound to make it worthwhile.
Ratings (Out of 5)
Food: 4.0 | Ambience: 4.0 | Service: 4.0 | Overall: 4.0
Meal for two: Rs 1000 | Alcohol: Yes | Credit Card: Yes | Wheel chair friendly: Barely | Address: E 22, 3rd Floor, Main Market, Hauz Khas, New Delhi | Tel: +91 8447703774, 011 26516958
Pork Ribs
Pork Cutlets
Agruably the world's hottest chilly – Raja Mircha or Bhut Jolokia
Pork Axioni
Pork with yam leaves
alo etsuen is a potato based vegetable stew
Interiors
Fish with dry Bambooshoot
Naga pork curry with dry bamboo shoot
Karen Yepthomi
Pork Chops
Steamed Vegetables
The Spiciest Burger ever
Tenderloin Salad
Chicken Momos