On Saturday I was honoured to receive the Amazing Art Award at the
2017 Dyslexia Awards
ceremony, which took place at the
Engenuity
science museum (part of the Ironbridge Gorge Museums group). Here I am, proudly receiving my award from Jill Bagnall, the designer/maker behind
Fusing Ideas Glass
. Not only did Jill's company sponsor the award that I won, but Jill also designed and created the wonderful glass trophies for all of this year's winners.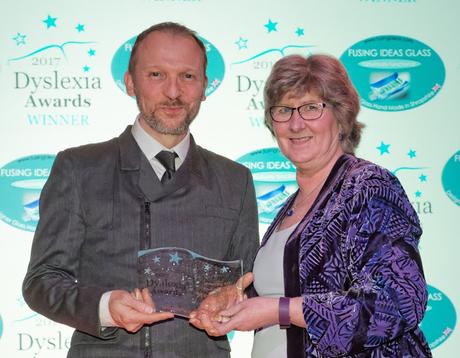 ©Infocus Photography – Michael Wilkinson 2017
As some of you may have spotted from my ten years or so of blogging, I am dyslexic - although, through the use of spell check and laborious self-proofreading, hopefully not too much of the negative side of the condition shows through in my writing. I say negative 'side' to highlight the point that dyslexia isn't just a disabling condition. The dyslexic brain can allow, what some might actually consider, an unfair advantage when it comes to creative thinking; especially when you consider how many pioneering creative minds were themselves dyslexic. People such as Leonardo da Vinci, Agatha Christie, Albert Einstein, Thomas Edison, Winston Churchill, Maggie Aderin-Pocock, Alexander Graham Bell, Walt Disney, Erin Brockovich, Richard Branson, John Lennon, and John F Kennedy, to name but a few. Not that all dyslexics can claim such talented and versatile minds - but at least it's nice to realize that you're included in the same pool of potential. And it's fantastic that we have people like
Elizabeth 'Eli' Wilkinson
, who set up the
Dyslexia Awards
organisation to help celebrate, and raise awareness of the positive aspects of Dyslexia.
I'd like to end this post by saying a massive thank you to all my friends, family and colleagues, who generously sent it such heartfelt and lovingly composed supporting nominations - and to the judges who selected me for the award, based upon what they read in those nominations. Last but definitely not least, thank you
Eli
and the rest of the Dyslexia Award team for all your dedication and hard work.