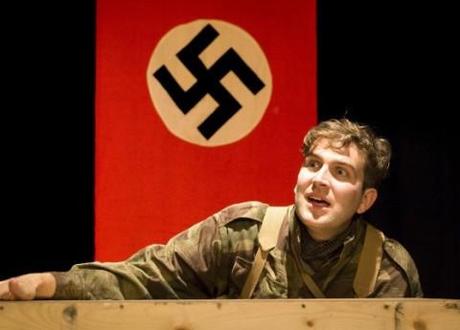 Dymock Watson: Nazi Smasher!
Six dead Romanians; a night out on the town with a beautiful floozy; a tattoo with a secret in it; a midnight kidnapping; a psychopathic Geordie; and Rex Hammer, a man so cool he once managed to sink the Lusitania and bang Rita Hayworth (I think) in the same afternoon – these are just a few of the fantastically loopy yet recognisable features of Humphrey Ker's rocket-fuelled one-man show, Dymock Watson: Nazi Smasher! at the Soho Theatre. It's basically like the Eagle but with swearing and magical swastika jokes (don't ask). And a talking dog.
The setting is the 1940s, and Ker plays the eponymous Watson, a soldier who is rather a likeable cove – both brash and vulnerable – sent by high command to tell the audience how he came to have his SS-smashing sobriquet. There are some well-observed asides, as when he's in a cab ("And I knew it would be quicker to cut up Ladbroke Grove, but I didn't say anything because he's a cabbie and I'm posh.")
There is a plot which drives the show like an amphetamine-crazed Vietnam veteran in a monster truck rally. The son of an architect, Watson's the only Romanian speaker left in England after a spate of mysterious killings. The deaths jettison Watson into a lunatic world of double crosses and derring doers.
It's a gallumphing ride, and Ker's boisterous and best strength is the ability to bring to life the galaxy of characters that Watson meets along the way. There's the aforementioned psychopathic Geordie, who trains Watson in the art of killing: "If someone comes up to you and says 'that's enough', you're doing it right." Or you can slit your victim's throat and whisper in his ear, "real creepy like." There's the marvelous Rex Hammer, who arrives after his weekend long leave still in white tie with a couple of female film stars making out in the back of his limo. "You're all right, homo," he says to Watson.
There's Joanna, the Southern ingenue who might be hiding a terrible secret (who Ker brings to life with just a little skip of his combat-trousered legs.) And there's the dog – Uncle Trevor – who would give the one in The Artist a run for his money. Best of all (to my mind) were the Nazi fans of a magician that Watson had to impersonate (it's too complicated to explain) – Ker got perfectly the mixture of awe and embarrassment, made all the more piquant by the fact that the fans were savage jackbooted soldiers who'd kill at the drop of a hat.
Inventively silly, joyously ridiculous, and yet with a plot line that wouldn't look out of place in an airport thriller, this is beautifully crafted and craftily bonkers, revealing both Ker's obvious love of the genre and his playful twisting of it. And Stephen Fry was in the audience too. You're all right, Ker!
This post first appeared on philipwomack.blogspot.com.