Representing the architectural eclecticism of L.A.'s west side, the five homes selected for day one of the Dwell Los Angeles Home Tours, to be held on Saturday, June 15, include both midcentury and contemporary examples as well as new construction and remodels—all varying embodiments of modern architecture. Slideshow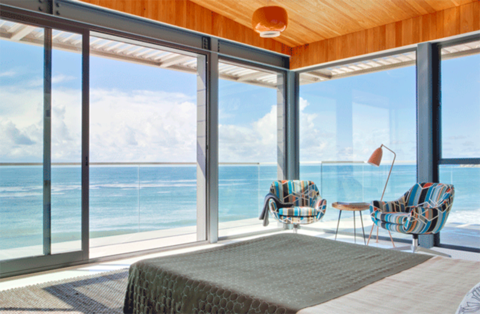 Bruce Bolander's design for the Gould residence includes floor-to-ceiling glass on the ocean side.
We visit a house on the sand at the southernmost end of Malibu defined by architect Bruce Bolander's signature approaches, including sensitivity to the site and a wildly colored kitchen. In a nod to the west side's rich arts community, two of the homes—the Wong Residence and Studio by Paul Murdoch in Santa Monica and architect Molly Reid's Garten & Reid Residence in Venice—are innovative examples of combined live-work projects, integrating art studios in two very different ways. For the Mazess house in Santa Monica, a project completed in two phases, AIA Award–winning architect Michael W. Folonis envisioned a series of concrete planes for the facade. And Sebastian Mariscal designed the almost-hidden Dwell Home Venice—with its series of outdoor rooms—around a single pine tree dominating the site.
For information on purchasing tickets for the West Side tour, visit our Dwell Los Angeles Home Tours page. Stay tuned for previews of the Dwell Los Angeles Home Tours Day #2 and Day #3, in the East Side and Downtown and Canyons and Valley areas, respectively.