In this series, Sebastian Mariscal designs a home in Venice, California, that brings the outside in. We track the project from start to finish with future resident Michael Sylvester.
Part 16, August-November 2012: Drywall, tape, mud and primer paint.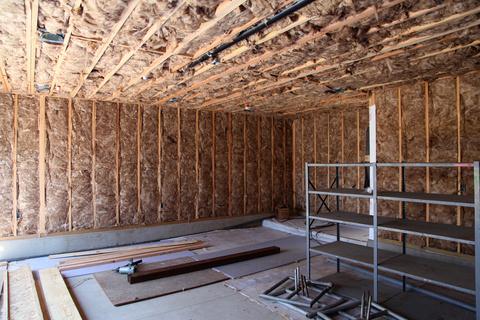 The garage with insulation installed, ready for the application of drywall.
Drywall is a standard construction material that can be found on the walls and ceilings of pretty much every contemporary home—no matter what the budget. Drywall is a hard panel made of gypsum plaster that has been pressed between two thick sheets of paper. Prior to the advent of drywall, interior walls and ceilings were made using traditional lath and plaster. This was a time consuming task that also required water—thus drywall versus wet plaster.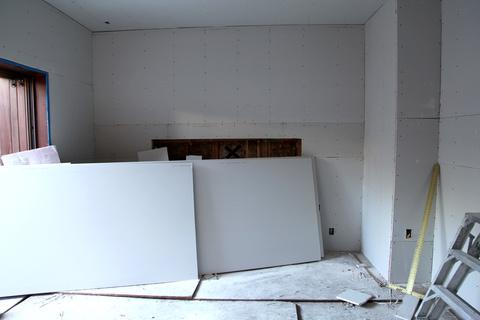 The master bedroom with drywall panels screwed into place. The drywall must be left in this condition until the Inspector from the Department of Building and Safety has inspected and signed off on the screw placement. This ensures the drywall is safely adhered to the framing.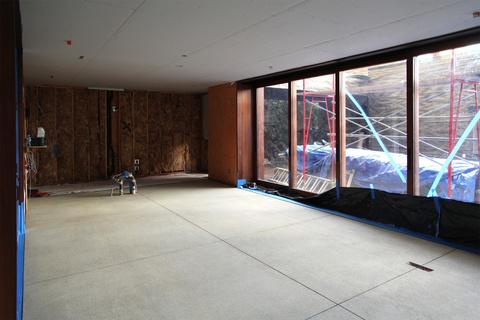 Drywall on the ceiling of the great room. Note the cutouts for fire sprinklers, lights and other ceiling elements. Once the inspector has signed off on the screws placement then tape and Joint compound will be applied to the joints between the drywall panels.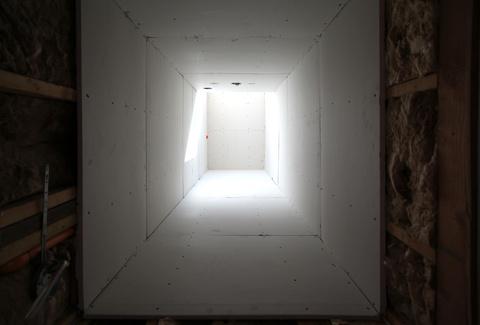 Looking up the shower tower in the master bathroom. Scaffolding was used when the drywall was installed in this narrow shaft.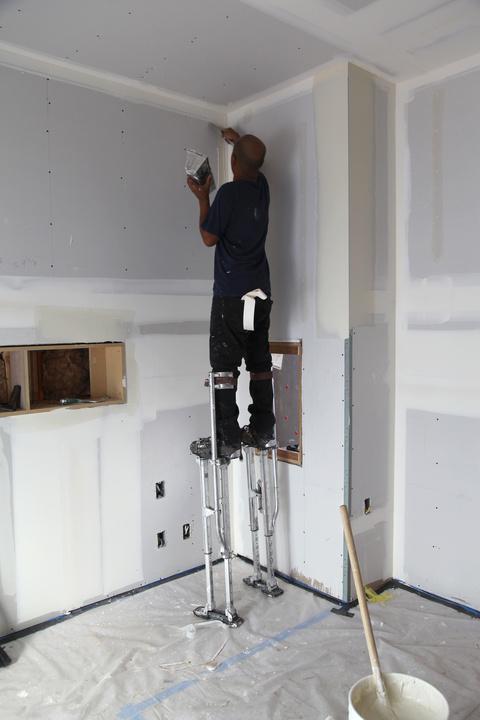 A worker uses stilts to reach high areas while applying joint compound, also commonly referred to as mud. The mud workers are quite adept at walking around quickly while on stilts.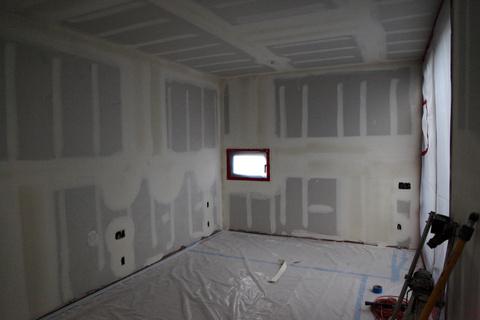 Mud covers all of the joints between panels, the screws holding the drywall onto the paneling and also the edges of electrical boxes for switches and outlets. This guest bedroom is almost ready for primer painting using Dunn-Edwards ENSO primer.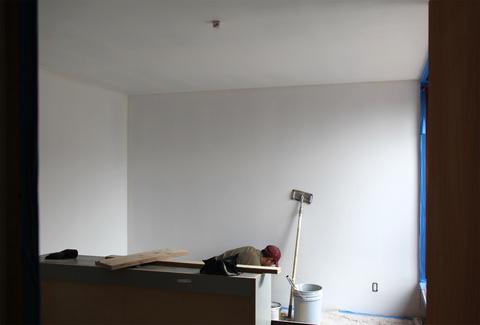 A coat of Dunn-Edwards ENSO primer paint has been applied to a guest bedroom. This is a low odor and zero VOC (volatile organic compounds) paint.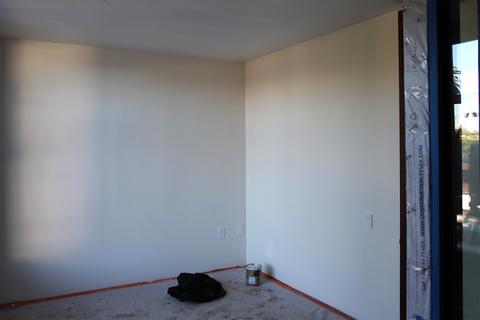 We tested various Dunn-Edwards colors in multiple rooms and observed the colors at different times of day. This is the upstairs media room.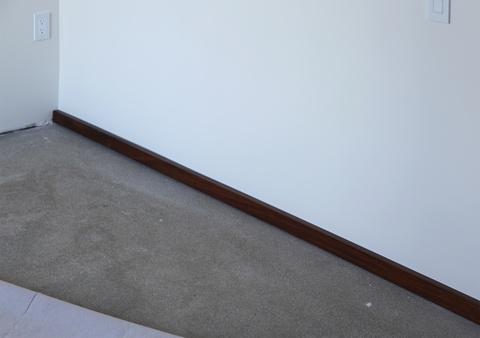 The mahogany baseboard and finished concrete floor played a role in choosing paint colors. Our final selection is Baby's Breath by Dunn-Edwards. Their SUPREMA product is an Ultra-low VOC (volatile organic compounds) paint. We will be using this throughout the house in a flat finish. It's a subtle warm white that complements the bold mahogany detailing throughout the house.