The reigning couple of colorful design complement their pastel-meets-neon palette with a new take on texture.
Slideshow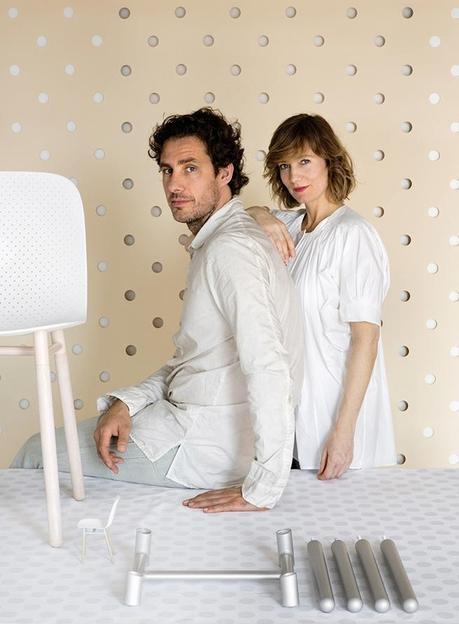 The Dutch design duo Stefan Scholten and Carole Baijings in their studio with the components of their 2014 Dot chair for Hay.
Image courtesy of Inga Powiliett.
For noted color enthusiasts, the Amsterdam-based designers Stefan Scholten and Carole Baijings have taken a slightly different tack in 2014. One of the most unusual—and lauded—commissions they presented during Milan Design Week was made of clear, etched glass. They relished the chance to break down their usual motif of colors applied in geometric grids or gradients. "It's very layered and very new," Scholten says of their Elements tumbler collection for J. Hill's Standard, an Irish crystal manufacturer. "We're using matte and polished finishes to adjust the compositions because texture is a huge influence on the experience of color." Scholten & Baijings applied a similar technique to their new Dot chair for Hay, translating the idea of transparency and pattern not through color, but rather via 1,300 holes punched in its plastic seat.  
Meanwhile, the Scholten & Baijings color machine continues apace, with work for Moustache (a zippy stackable outdoor chair with a fluorescent powder-coated frame), Moooi (a series of pastel gridded pendant lamps), and even Ikea (posters portraying the pair's signature dots). For their first project with Maharam, the American textile manufacturer, Scholten & Baijings developed two versions of large-repeat upholstery juxtaposing layers of subtle colors in tandem with parallel and perpendicular lines. Scholten says of their process, "The density of the grid determines how one experiences color and gives the color a more airy appearance than a monochromatic plane."
Slideshow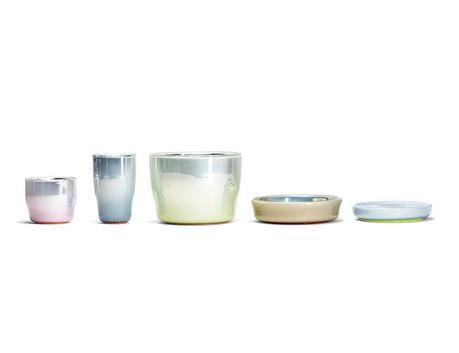 The duo designed Pastel vessels for Verreum that are made of double-walled blown glass with a silver coating in a specialized factory in Prague.
After they formed their studio in 2000, Scholten and Baijings began teaching at Design Academy Eindhoven—Scholten's alma mater—where they honed their sensibility under the tutelage of color theorist Mathieu Meijers. One thing they learned, Scholten says, is that "every material has its own limitations in terms of colors." Instead of applying color as a decoration at the end of the process, the pair consider the design as a composition of form and hue. And research is a crucial element: For the studio's collaboration with the porcelain manufacturer 1616 Arita Japan, they first mocked up cardboard models and then enrolled six members of the Scholten & Baijings team in a three-month course at a ceramics center that is funded in part by the Dutch government. "It's an atelier way of working, this hands-on method," Scholten says. "The only thing is, it's very time-consuming, so we need a lot of hands."
Extending that spirit of inclusivity in 2014, Scholten and Baijings led a course at Domaine de Boisbuchet, which hosts an annual summer workshop in France in cooperation with Vitra Design Museum. The pair gave insight into their proprietary methods to help students "develop their own grammar of color"—a transparent mentality indeed. 
Slideshow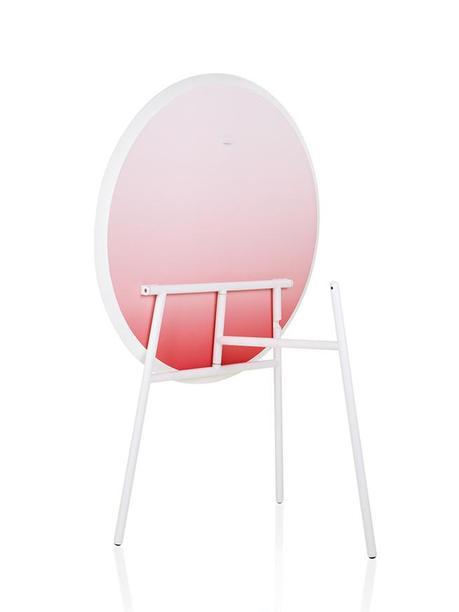 Scholten & Baijings' new products for 2014 include the Tilt-Top table for Hay.
Originally published
in  Modern Dreams as  Scholten & Baijings