It's alarming really when you come face to face with how religiously ignorant this country has become.  Sample dumb ash tweets follow:
Is anyone else watching around the horn right now? Tony Rially has black ink smirred across his forehead #ESPN

— Jon(@Jon2Nyy) February 13, 2013
Hey @aroundthehorn you've got some stuff on your face. Your makeup person should be fired for letting you go on air with that.

— SAL (@SAL_CD) February 13, 2013
@bomani_jones what's up with Reali's forehead?

— Justin (@JustinBauer13) February 13, 2013
Here's a pic of what's baffling many: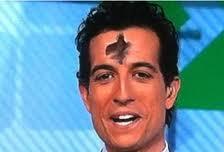 H/T Deacon Greg.