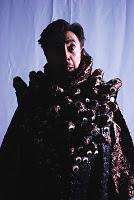 For its mid-season production, Dulaang UP stages "Umaaraw, Umuulan Kinakasal ang Tikbalang," a children's play adapted from Gilda Cordero-Fernando's children's short story "The Magic Circle," written by Rody Vera and directed by José Estrella.
The play runs November 23-December 11, 2011 at the Teatro Hermogenes Ylagan (THY), Faculty Center, University of the Philippines, Diliman.
The story chronicles the adventures of a young boy named Jepoy Baybayin and his pet dog Galis as they go on a magical journey bursting with fantastic characters and strange happenings.
Jepoy and Galis are invited to a wedding underneath a balete tree, in the middle of a dark forest. No exact wedding date. They only have to wait for a sign: when it rains while the sun is shining, that's the time to go and witness the vows of the tikbalang couple. Jepoy and Galis meet the Tatlong Maria: Makiling, Sinukuan and Cacao of the mountains, the enormous Doña Geronima with her clean and shiny plates, the Spanish-speaking dwarf maitre d' Pacqui, talking pythons and frogs, tiyanak debutantes, ballroom dancing aswangs, the four musicians of San Roque and a woeful kapre named Kap.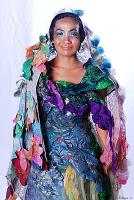 Yet this wondrous banquet is not just frolic and festivity. It is also an urgent plea to the only human guest, Jepoy, no matter how young and poor he is, to tell his world to change things before it's too late.
"Umaaraw, Umuulan Kinakasal ang Tikbalang" is a gentle reminder for children of all ages of the responsibility to care for our environment. It also serves to refresh our memory on the richness of our folk literature with its repertoire of fascinating stories and characters that are rendered nearly forgotten by American popular culture.
Award-winning sculptor Leeroy New's designs the sculptural costume pieces, while another multi-awarded artist, Don Salubayba, lends his talent through unique shadow puppetry that adds yet another exciting dimension to the show. Complementing these are Lex Marcos' set and lights and Tj Ramos' sound design.
For ticket inquiries, contact Cherry Bong Edralin 0917-7500107 or the DUP Office 9261349.