Dukkah-crusted baked salmon fillets are quickly pulled together for a speedy mid-week meal, yet fancy enough to serve to company. The nutty dukkah flavours the fillets as the salmon bakes, and needs nothing more than some simple sides for an easy dinner.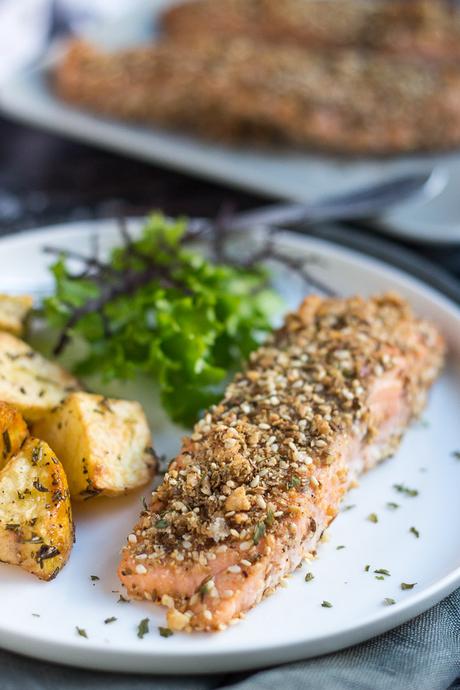 Fish is one of my favourite fast food meals. It is quick to cook, and often needs little more than a simple salad or a few sides to make a complete meal.
I inevitably order fish when out for dinner, however it took years for me to pluck up the courage to try cooking it at home. Many people avoid cooking fish, put off by the fishy odour or the fear of overcooking it and ruining dinner. If that sounds like you, then I have a solution - try baking salmon fillets in the oven. No watching fish in the pan, wondering when to turn it. Just set the timer and walk away.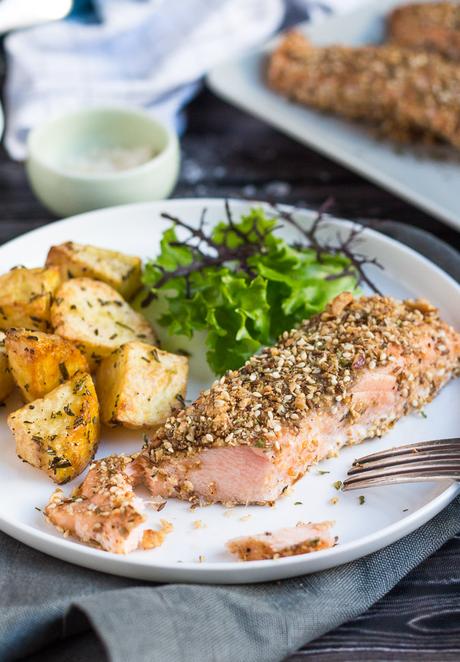 Salmon, usually sold in meal sized portions, is ideal for baking as its thicker fillets reduce the risk of overcooking in the oven. And whilst there is nothing wrong with a simple piece of fish, why not take it up a notch with a nutty crust of dukkah that flavours the salmon as it cooks. Finish the fillets off with a quick squeeze of lemon as they come out of the oven, and you have the perfect mid-week meal that is fancy enough to serve to company.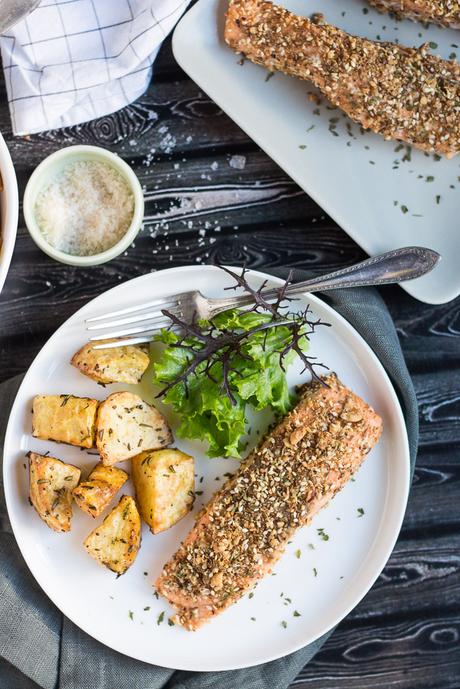 I have made this recipe with both store-bought and homemade dukkah blends. If you can, I urge you to make your own for this dish. The flavour is superior to any pre-made blend I have tried, and by making it yourself you can tailor it to your own tastes. Throwing together your own dukkah blend takes little time, and as it readily keeps in the freezer for months you can whip up these baked salmon fillets on a whim. Leftover dukkah can also be mixed into lamb mince to create speedy koftas, tossed with roast vegetables to add a little crunch, or simply eaten with fresh pitta bread.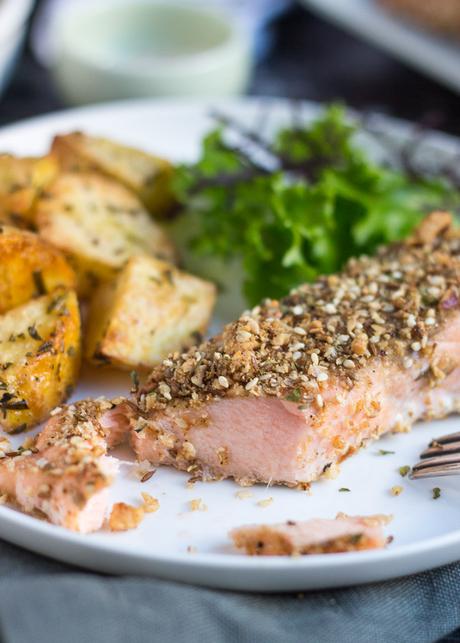 Cook more salmon than required for dinner, and you will have tasty leftovers for easy lunches through the week. Toss the salmon with greens and Caesar dressing for a tasty salad, or flake the fillets into a grain bowl for an easy work lunch. You will never look at salmon the same way again. Promise!
#Dukkah Spiced Baked #Salmon Fillets. Great for mid-week or for company. #dinner Click To Tweet