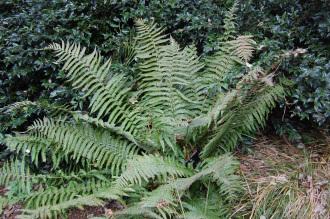 Dryopteris wallichiana (19/04/2014, Kew Gardens, London)
Position: Full sun to full shade
Flowering period: N/A
Soil: Moist, well drained
Eventual Height: 1.2m
Eventual Spread: 75cm
Hardiness: 6a, 6b, 7a, 7b, 8a, 8b, 9a, 9b

Family: Dryopteridaceae
Dryopteris wallichiana is an evergreen to semi-evergreen clump forming fern with an erect habit. Its dark green leaves are in the form of fronds, are lance-shaped to ovate and bipinnatifid. Its leaves emerge yellow/ green. Its leaf bases and crown are covered in black scales. Its roots are in the form of rhizomes.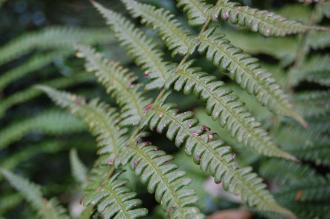 Dryopteris wallichiana Leaf (19/04/2014, Kew Gardens, London)
Dryopteris wallichiana, commonly known as Alpine Wood Fern or Wallich's Wood Fern, is native to the Himalayas region, Mexico, Hawaii and Jamacia. In its native habitat it grows in damp woodlands. Dryopteris wallichiana is synonymous with Aspidium wallichianum.
The etymological root of the binomial name Dryopteris is derived from the Greek drus 'Tree' and pteris 'Male Fern'. Wallichiana was named after Nathaniel Wallich (1786-1854), a Dutch surgeon and botanist.
The landscape architect may find Dryopteris wallichiana useful as part of a woodland understory or edge planting scheme, or other shady locations.
Ecologically, Dryopteris wallichiana is of little ecological benefit.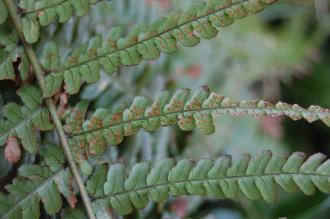 Dryopteris wallichiana Sori (19/04/2014, Kew Gardens, London)
The Royal Horticultural Society has given the species Dryopteris wallichiana their prestigious Award of Garden Merit in 1993.
Dryopteris wallichiana prefers moist, fertile, humus rich, well-drained soils. It tolerates most pH of soil.
Dryopteris wallichiana requires little maintenance.