I tried out a Dry Mee Siam recipe from the Thermomix book but unfortunately, I found something missing from it.
So I cooked this again for a party and I am pleased to find the missing factor.
Using the gadget to prepare this is a breeze and I think from now on, I can easily whipped out this for parties.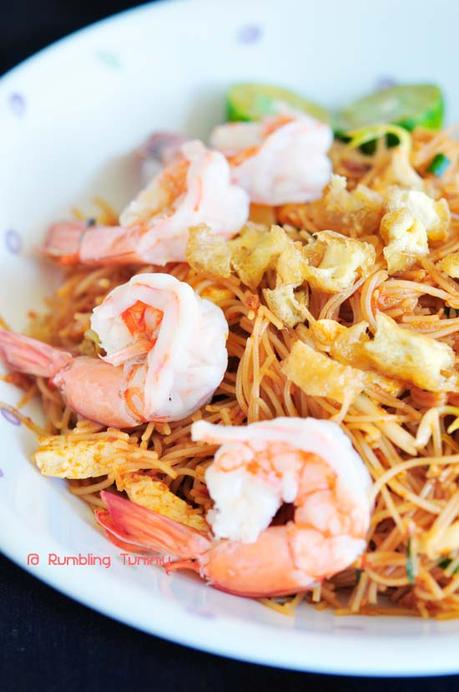 What you need:
400g bee hoon (I used chilli brand), soak with water for 10 mins.
15g dried chillies, de seed, cut, rinsed and soak
5 garlic cloves
100g shallots
20g dried shrimp, rinsed and soak
80g cooking oil
500g water
2 tbsp fermented soy bean (tau cheo)


¼

 cup tamarind water (adjust to your liking)
3 tbsp soy sauce
250g bean sprout
50g fresh chives, cut small
1 egg omelette, cut into strips
1 firm bean curd, sliced into strip and pan fried
lime
fried shallots
1kg prawns, parboiled with sesame oil and salt, deveined, shelled
Method:
Minced dry chillies, garlic, shallot, dried shrimp, tau cheo in the TM bowl.  1 min/Sp 10.
Add in cooking oil and saute for 6 mins/120

°C

/Sp spoon.
Add in soya sauce, tamarind juice and water.  Cook 5 mins/100

°C

/Sp 1  (at this point adjust salty level).  Put a node saltier as the taste will tone down after addition of bee hoon.
Add in bee hoon and and fry 3 mins/100

°C

/Sp spoon.
Add in bean sprout, chives and bean curd.  Stir fry for 1 min 30 sec/Varoma/Sp spoon.
Transfer to serving plate and garnish with prawns, lime, chives and shallots.
Enjoy!


If you have enjoyed this post by Rumbling Tummy, be sure to follow her on Facebook, Instagram, Pinterest, Twitter and Google+ .