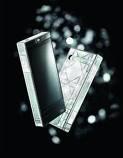 Image source: Dior
Fashion, fragrance and fine jewellery, just a few of things that fashion powerhouse Dior are known for. Mobile phones? Not until now.
Dior has launched a compact high performance phone with pure luxury at its core. Designed to fit effortlessly into the smallest clutch, the Dior mobile phone blurs the lines between fashion and function effortlessly.
In a world where the Apple Iphone and Blackberry messenger rule, this decadent handset is refreshing to say the least. But would you buy it?
Following in the footsteps of Armani, Prada and Dolce and Gabbana, the tech savvy team at Dior have created their own lavish handset that is aimed at the luxury consumer. If Swarovski Crystals don't float your boat, the deluxe diamond edition is guaranteed to delight.
The latest handset comes complete with a mini phone dubbed 'My Dior' that is designed to clip conveniently on to your bag and ensures you will never have to rummage in your bag (bottomless pit) to make a call again.
Before you buy into the latest phone phenomenon it is worth noting that to own this couture creation you will have to shell out a small fortune. Prices range from £2, 500 to a whopping £38, 000.