By Susan Duclos
The photo in question: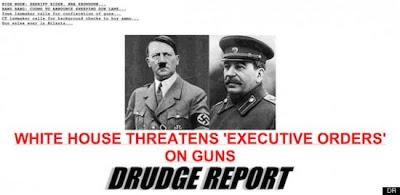 Liberals are upset that Drudge is linking Obama's gun grab against law abiding gun owners, with Adolph Hitler and Joseph Stalin. Poor thangs!
This information was in another piece, but for those that don't understand the associations, two quick facts:
• Adolf Hitler outlawed guns and confiscated them before slaughtering 7 million Jews in the 30s and 40s.
• Joseph Stalin killed 27 million Russians after a complete he banned and confiscated guns from those that had them.
Those were not the only two instances where licensing, permits and regulations were the first actions before eventual genocide. Chart HERE.
The Washington Examiner shows some of the outrage from liberal writers over Drudge's photo associating Obama's White House and Hitler and Stalin:
"Disgusting," tweeted
The Huffington Post's Amanda Terkel
retweeting a Teletubbies parody of the controversial headline tweeted by the @HuffPostHill account. The message read: "Drudge has crossed the line: pic.twitter.com/BYCn6MPE"
"So Drudge is right now comparing President Obama to Hitler and Stalin on his homepage," reported
John Avlon,
a Senior Columnist for Newsweek & The Daily Beast.
Why didn't @Drudge just go all the way and put Obama's photo between Adolph and Josef?" asked Michael Rosten,
a social media editor
for the New York Times.
The Washington Post's Greg Sargent begged his followers not to talk about or visit the Drudge Report.
More reactions shown at Washington Examiner.
I will repeat something I said earlier: Note to liberals that take offense to being compared to Hitler, Stalin and Mao: "If you don't follow in their footsteps and propose the same things they did, you won't be compared to them... simple really. "